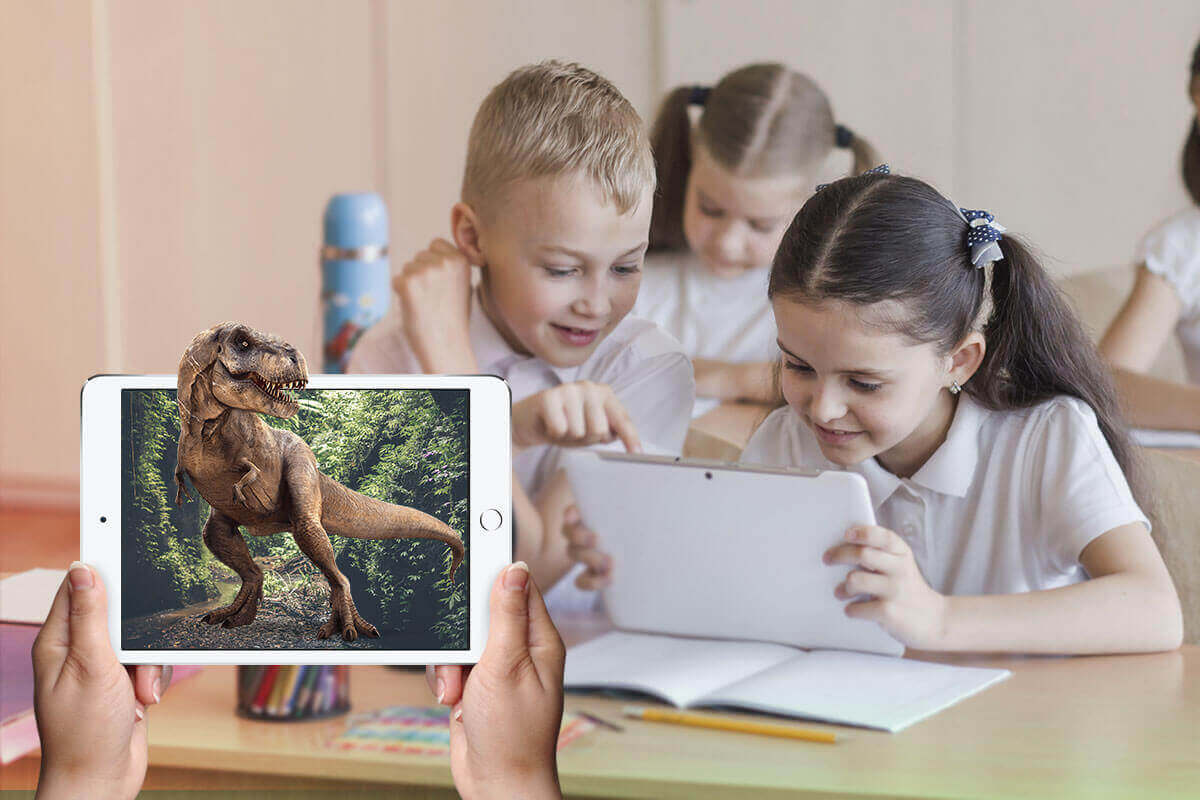 If we talk about Augmented Reality, we all know that it is not a new thing at all and has existed since long time now. With more focus towards offering best mobile and desktop experiences, this technology has now become the part of limelight. We have already seen its imprint in case of marketing and entertainment industry. Slowly and steadily, AR technology is now getting ready to hugely benefit the global education sector by way of augmented reality applications.
Virtual Reality (VR) and Augmented Reality (AR) has been already accepted by many major educational institutions to offer new learning experiences to students through education and training courses.
Educational institutions are now teaming up with education app development company to develop the right VR AR education apps to offer better learning experiences to the students.
Moreover, it is expected that by 2020, the EdTech industry is said to grow at the annual rate of 17% and reach around $252 billion.
Top Augmented Reality (AR) Trends
Across the global education sector, augmented reality is said to create some astounding opportunities. This will be influenced by some of the top augmented reality trends which have been explained below:
Expert learning with AR textbooks
AR will play a key role in the way students study and one of the major things that will see upgrade is in case of study materials. This will lead to new opportunities and build new industry which will work towards fulfilling such an increasing demand. For last few years there has been much speculation over AR textbooks and with AR technology it will not take much time to come up with digitized version in place of conventional paper.
In order to get precision in teaching and learning process, technology is implemented in a good number of educational institutions. The University of Thailand is one of the places where AR technology has been implemented for better learning process. Here AR geology textbooks have let the students to study and understand the layers of earth in interactive and novel format.
The way students absorb information is transformed by AR gaming
The cutting-edge innovations and versatility that AR technology offers is reshaping different industries. How it can affect the education sector can be seen from the gaming industry. Here AR technology is used to develop games which make use of different events that take place in real world and then use it with virtual information. Games have made learning intuitive, fun and interactive and this itself prove AR as the best option to change the way global education sector will work.
Learning environments that are student-centric
It becomes possible for the students to stay in the environment with educational contents like audios, videos or games around them during an AR experience. By changing perspectives it will become possible for students to interact with educational contents using AR technology. AR-based experiences offer ease of interaction and this is one of the main reasons why teachers opt for virtual educational experiences within the classroom space. In short, augmented reality technology will make teaching and learning more engaging, effective and interactive.
Benefits of Augmented Reality Application (AR) in Education
It is said that using augmented reality in the education sector is said to serve a number of purposes. Unlike other forms of study materials, AR offers visual information which becomes easy to be understood, processed and learnt by the students. Again, the way it is represented makes learning fun and engaging.
Availability and accessibility of learning materials anywhere and anytime
Augmented reality has the capability to easily replace the physical models, paper textbooks, printed manuals and other physical learning materials. It replaces them with less expensive and portable learning materials. This makes education more mobile and accessible.
No need for any special equipment
There is no need for any kind of expensive hardware in case of augmented reality like in case of VR. With majority of youngsters using smartphones, it is very easy to make this technology available to the target audience to use.
Student engagement and increasing interest
It is possible to have significant positive impact on the students through interactive AR learning. Such kind of arrangement can make learning fun and interactive while ensuring students are engaged throughout the session.
Improved collaboration capabilities
To make boring class interesting and to open up more opportunities, augmented reality apps help. With augmented reality it is possible to improve teamwork as all the students will be involved together in the learning process.
Learning process which is effective and faster
In the education sector, AR helps students to completely involve in the subject and get better understanding of things through visualization. For everyone, visualization of things is always better than reading long paragraphs of study materials. In short, images always make things simple to understand and process.
AR can prove greatly beneficial for professional training apart from schooling. People get to understand and learn the practical skills of different in-field conditions using AR technology.
Efficient workplace training
Learning is not limited to the education sector. Learning takes place at the workplace level too. Proper training of such skills will help to manage and control risks at the work place as well as avert dangerous situations that can come along due to negligence or ignorance using AR.
Convinced and want to build AR Education App ?

Contact us to speak to our AR App Development experts.
AR is applicable for all Education and Training Needs
Whether it is about learning games for kids at school or some kind of workplace training, AR does not offer any limited services. It works well for everybody and everyone.
Uses of AR in Education
We have seen that augmented reality benefits the education sector in a number of ways. Something that augmented reality offers a student differently compared to other modes of education tools is that it offers experience as a first person to the complete scene rather than looking and gaining information from some pictures or blackboard. There is always difference in what is taught to us through books and what is experienced and felt at the first place. This is now made possible by augmented reality and it is transforming learning process. Some of its uses in education are:
AR can be used for educational itineraries. It can be used to add up the information about the place, museums, exhibitions, etc. in the form of animations, images, videos, audios, etc. Some of the itineraries are developed as a part of project and the students can later use them. It is possible to get such information build using AR if the tools are cheap and use them collectively for other students. This will increase the use of AR based educational materials for classrooms.
Simulations which are built on AR offers a number of amazing features like availability, ease, trial and error learning, safety in practice, cost reduction, etc. Using simulators with AR technology helps to get the real feel of the situation for better understanding.
Getting your concepts on 3D models can support learning in a better way as they can offer another angle for studies compared to the normal 2D paper information.
Using AR technology it is possible to get or translate a text into an image. Now apps are also available which recognizes texts and then translates it into images and shows on the screen.
Growing scope of AR and the future trends to watch on
It is a fact that augmented reality is the future of industries apart from just for the education sector. Some of the top trends that you will see in 2018 and in coming years are:
AR is changing the market through mobile platforms
By bringing AR to the market of mobile audiences, Apple declared itself as the leader in the technology. At WWDC 2018, Apple showcased its ARKit 2.0 which works on to improve the standard of AR technologies for mobile just like the one for AR headsets. Some of the improvements found in there were expected like rendering features, measuring and tracking them. It also followed some of the major features like environmental lighting and detection of 3D objects which worked towards boosting the adoption of ARKit.
Apple also came up with some announcement which included AR spaces and a new AR file format. This file format was declared open for the third-party vendors to build AR apps and is based on Named Universal Scene Description of Pixar.
AR headsets still not ready
The AR headsets which hit the market few years ago is still not ready to be used by the people and this has made the future of AR headsets unsure for the AR market. Not having a proper manufacturing company to take care is the reason for this uncertainty. Once Microsoft was said to be the contender but, the issues with price and use still has developed barriers for them.
R&D to remain the main focus for AR innovation
For the success of business, innovative solutions will be developed to solve the issues that are common or still remain unaddressed. This will remain the trend for technology products and things will not be different for AR technology. For businesses, one of the main issues they are facing now is to identify what problems can be solved using AR technology.
Improvement in AR user experience
There have been attempts to improve the user's view for the AR apps. To make the user experience natural and make the AR software more appealing, most of the developers focused on developing intuitive user controls. The work was done on gaze detection and here the work is done on the software over the focus elements that the user sees through his eyes naturally. For the users, they are not expected to move their heads to get the sight of the objects that is present in front of them. When it comes to detection, detecting head movements is easy than looking for what the user is gazing. Such detection will not offer the best experience.
XR will be moving ahead in the trend
Extended Reality is a single word which can be used for Virtual Reality, Augmented Reality and Mixed Reality in together. All the three technologies together alter or add the kind of the reality we live in now and so bringing them together can be good and easy.
XR software still aims big at entertainment
XR apps can be applied for many business use cases and entertainment remains the option with least resistance and so companies can easily develop XR apps that appeal many. Once the XR technologies will get mature enough and reach businesses it will find a way for solutions too. Currently AR is going through rapid development and this will prove beneficial for businesses as well as different development companies.
Evolution will turn to Revolution gradually
Companies are accepting AR evolution and they are becoming mature gradually. AR is gaining acceptance and put into practical use; this will lead to digital transformation. Based on this evolution, now businesses can start to build innovative products through their own smaller revolution.
Conclusion
If you wish to have innovation in education then you should think about opting for AR education app development. It comes with enormous potential which is still to be discovered and used. The development in hardware and innovations in mobile technologies is playing a big role in making AR more accessible for education industry and easy to use. The use of education mobile app development is on rise too. So if you expect to make significant change in global education sector, then building AR based education app can be a wise decision.