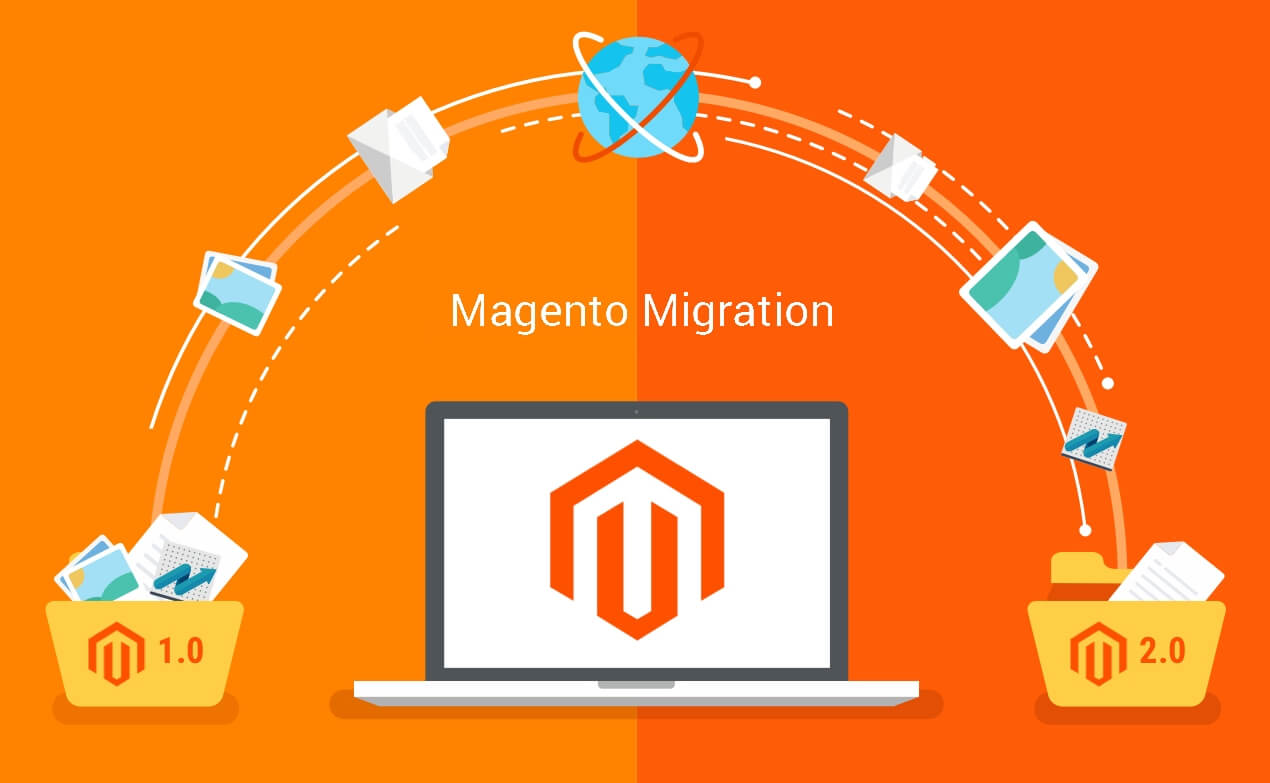 Finally, the date for Magento 1 End of Life has been revealed and it's June 2020; beyond that Magento will no longer offer support for Magento 1. So, the time has come to consider migrating to Magento 2. However, it doesn't mean that Magento 1 will stop functioning, Magento will provide few extensions to the merchants that are essential for the smooth functioning of the platform.
Magento 1 End of Life has been announced to emphasize the use of the Magento 2 framework and shift the focus of the merchants towards Magento 2 framework and let them reap the benefits of the advanced framework. As the date for Magento 1 End of Life is approaching, it's high time for merchants having online stores to quickly migrate from Magento 1 to Magento 2. Most of the merchants haven't planned Magento 1 to Magento 2 Migration of their stores yet and are still using Magento 1.
The ignorance towards Magento 1 and delaying the magento migration can be best explained by the following reasons;
The word "migration" sounds daunting and they feel intimidated taking the big step towards migration from Magento 1 to Magento 2.
Magento 1 framework is still supported by biggies like Adobe.
Merchants don't know the details of magento migration and believe that if they will have to shift their website from Magento 1 to Magento 2, they will have to spend a substantial amount of money.
Why Migrate?
Magento 1 has two editions; Community Edition and Enterprise Edition.
The Magento 1 End of Life date for both Community and Enterprise edition is June 2020. Those using Magento 1 Community edition won't be able to get any kind of software support after the End of Life date.
Businesses using Magento 1 Enterprise edition will have to face vulnerabilities and security issues after June 2020, if they won't migrate from Magento 1 to Magento 2 as the company will cut off the software support after this date and won't release updates and security patches for Magento 1. This will make businesses vulnerable to all sorts of security hacks and breaches.
To keep the store's data secure and its performance intact, the merchants need to migrate to Magento 2.
After the End-of-Life, Magento won't roll out new functionalities, apps or upgrades for Magento 1, therefore it would be impossible for enterprises to keep up with the latest eCommerce trends.
Minimal support will be provided to the existing solutions and extensions.
With the market generally shifting towards Magento 2, there will be a dearth of the workforce for Magento 1 that will impact the site maintenance.
In short, continuing with Magento 1 after the End-of-Life will be nothing but security, performance and reputation risk for your business.
There are chances that you may go offline if you haven't migrated depending on who's hosting your website because some hosting companies demand all of their clients to be on fully supported technologies to ensure the safety of other websites on their servers.
Top benefits of Migrating to Magento 2:
Magento 2 is a more potent and functional framework than Magento 1; the attributes and functionalities that Magento 2 platform offers are aimed towards simplifying the overall digital commerce experience and to help enterprises scale up their businesses without much hassle.
Modified Dashboard and Admin Panel
Magento 2 offers improved admin panel and intuitive dashboard which offers easy navigation throughout the panel and with the advanced features they can easily access all attributes with just one click. The modified dashboard feature allow the admin to easily monitor and analyze the dashboard page which includes things like sales history, last orders, most viewed products, order ID and plenty of such business-related things.
With Magento 2, the merchants can get access to more than 2000 extensions and utilize them for the enhancement of their business. Magento 2 makes installing and harnessing these extensions a lot easier.
State-of-the-art attributes and advanced functionalities such as improved page loading speed allow merchants to upgrade their existing businesses by manifold time. Mobile & SEO friendly interface enhances its usability.
Incorporation of sophisticated features like automatic identification for registered customers and checkout without registration in Magento 2 has streamlined the checkout process as compared to Magento 1. Unlike Magento 1, which has a 5-step checkout process, there will be a 2-step checkout in Magento 2 offering instant sale, purchase & delivery.
Comprehensive security features of the Magento 2 ensure zero data loss with total security patches included in the framework.
Looking for Magento eCommerce Development Services? We provides a full suite of Magento development services for customized online store development as per your needs. Delivering best-in-class Magento eCommerce Solutions at all Times.
Approach for Magento 1 to Magento 2 Migration:
Define your requirement
Evaluation of existing build and data assessment
UI/UX transformation
Core features rebuilding & add-ons
Performance Optimization & QA / UAT
Re-launching site
Methods of Migration:
Upgrading from Magento 1 to Magento 2 requires the shortest amount of time as they both share the same system architecture and the data will be seamlessly moved and reformatted in the latest platform like it was in your previous eCommerce platform. There are several methods of migration, but upgrading from Magento 1 to 2 requires simple direct programmatic migration. For this, you need to use Magneto's M2 Migrate API and all your blocks, configurations, pages, products and any other data will be effortlessly ported from your old website to the new website.
Prerequisites of Migrating to Magento 2:
Before you consider Magento 1 to Magento 2 Migration, the following are some recommendations which you must keep in mind for problem-free transfer.
Start by making a complete backup of all files, folders, and database of your Magento 1 store.
It's better to create a clone of your Magento 1 store.
It's better to not use the live store for the migration process from Magento 1 to 2.
Carry out a comprehensive analysis of your store and determine what's essential and delete the rest.
Assess your installed extensions, custom codes and themes and find out whether they are compatible with the Magento 2 or not.
For the migration, use data from the cloned database of your Magento 1 store.
Go through outdated and useless data from the database which includes stuff like recently viewed items, logs, compared products and likewise data and remove them.
Use the same hosting server for Magento 2 which you used for Magento 1 store to ensure the hassle-free migration.
The Migration:
MIGRATION is not going to be smooth, keep this in mind before planning your migration process. Though there is a migration tool available that aids in moving data between Magento 1 and 2 but efficient usage of the tool requires expertise and there are several limitations that you may face during migration. Some of them are:
Themes: Theme and code customizations and third-party extensions for your store won't be transferred to Magento 2 and you will have to redo them on Magento 2. This means you will have to rewrite your customized extensions and front end theme for your Magento 2 website.
Integration: Integrations on your Magento 1 store need to be reconnected for Magento 2, for instance, if you have integrated with Sage, then you will have to upgrade the custom API code for Magento 2.
Extensions : There are chances that the extensions that were compatible with your old Magento 1 store will no longer get along with Magento 2. For this, you will have to carry out an extensive audit of the Magento 1 extensions and this will give you an idea about which extensions you will be able to use with Magento 2 and which need to be discarded. However, if you get to update all your plugins and extensions before beginning the migration process, then you will be able to use them in Magento 2 as well. Apart from that, the third-party extensions that you purchased of Magento 1 need to be re-purchased for Magento 2.
Cost: All this means that your estimated cost of developing a store on Magento 2 will increase. This will, in fact, be a great opportunity to reflect back on your business and re-think your preferences and decide which will help you in getting rid of some of the legacy code while improving the usability of your store. The final cost will depend upon the addition or deduction of functionalities.

Hosting : Magento 2 is a highly powerful and efficacious platform as compared to Magento 1 but this potent platform requires advanced hosting for seamless functioning. Therefore you will need to fine-tune your hosting and make it compatible for the revamped and upgraded Magento 2 store. However, this will provide you an opportunity to improve the entire infrastructure of your website and make it more robust and efficient.
Migrating to Magento 2 Commerce is worth all the time and efforts but apart from its benefits, the migration process is quite technical and complex therefore you will require Magento 2 developers for flawless migration of your existing Magento 1 eCommerce store to Magento 2. At WeblineIndia, our team of Magento developers will help you in the seamless migration of your enterprise from Magento 1 to Magento 2. Successful migration stories of plenty of small and large stores are just a glimpse of the expertise of our team and our Magento developers are ready to serve you in the best possible way. After migration, the built-in features and advanced characteristics of Magento 2 will not only enhance the performance of your store but will also engage more and more users with the website resulting in more sales, leads, revenue and repeat business. Contact us now and let us guide you through your migration process.