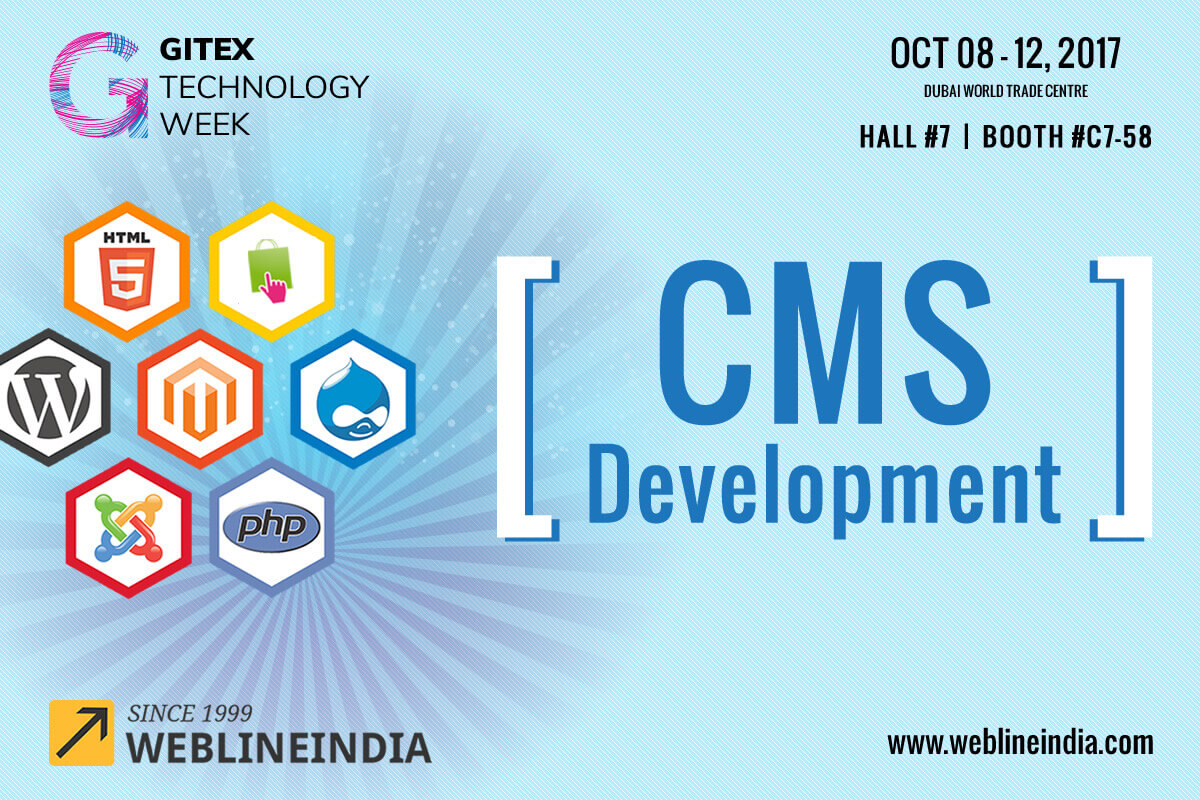 In simple terms CMS stands for content management system. It is a software solution which is generated to take care of the digital content on the websites. By having proper content management system in place, the website owners will be able to have complete control over the content present on the website. They will be able to create, publish as well as edit contents present within the CMS. In short, even if you are not aware of the coding thing, you will be able to still publish blogs as well as add new pages with ease. As businesses have large amount of content to take care of, having a CMS solution in place can turn out to be beneficial.
Choosing a right content management system comes with a set of benefits. You will be able to add in online forms, can have a number of features, can add any type of media files to the content and even offer a better navigation system to the site visitors.
With years of experience in software development technologies, we, WeblineIndia team has been able to offer a number of CMS development solutions to businesses of different verticals. We offer CMS development services for technologies like WordPress, Drupal, Joomla, Typo3, MODX and DotNetNuke. We have put in our efforts to offer affordable CMS development services being an offshore software development partner.
This time WeblineIndia is all set to be the part of the great event – GITEX Technology Week. GITEX can be called as an event or an exhibition or a tradeshow where thousands of companies come on a single platform to exhibit their field of expertise while on the other hand, it offers businesses to strike a better deal to boost the sales of their business using digital technologies.
Through the years WeblineIndia has managed to create a number of satisfied customers.
"I was referred to WeblineIndia by a friend, as I wanted to develop a website for my law firm. From start to finish, the entire process went really smoothly, and I am really pleased with the kind of the end product I received. WeblineIndia has put in efforts to create a beautiful design, and the CMS works at its best with. WeblineIndia is both easy to work with and the team is very knowledgeable. Highly recommended!" – 'Aqilah Zahrah Koury, UAE.
Who doesn't love simplified business operations and better sales results? Everybody does! So when you combine your business skills with that of our CMS development solutions, you will be never looking back.
We will be exhibiting our expertise in CMS development services at this event which will take place in Dubai for a period of five days. You can find us at Hall #7, booth C7-58, World Trade Centre, Dubai. A team of three members who are well-versed with technologies will be there to help you find the best solution for your business.
For any business, there can be no better opportunity to find a better digital solution provider than GITEX and there can be no better offshore development partner than WeblineIndia.
So, grab this opportunity and fix a meeting with our team today! For more details on our services as well as to get free passes for the event, click here.