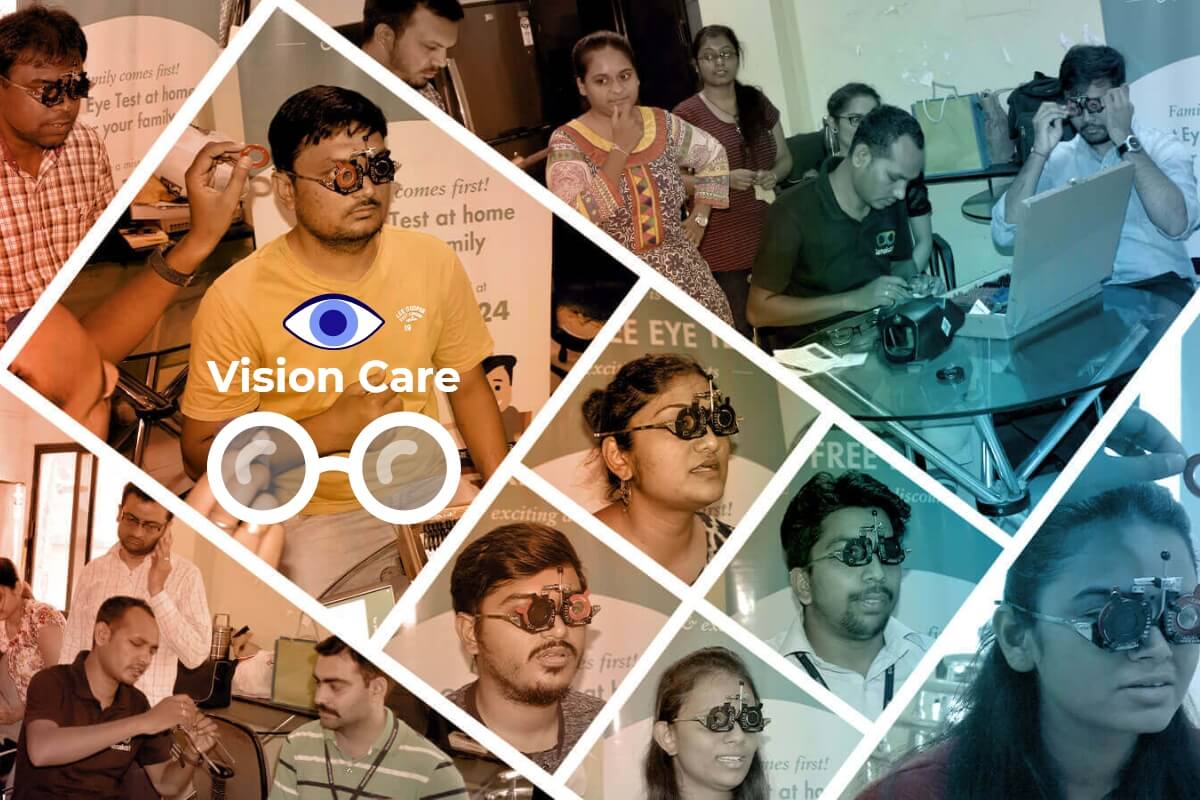 As an initiative to promote the health and fitness of the employees, we organized a free eye check-up camp in collaboration with a leading eye care company. The camp was organized in the month of October 2018 at our premises. We understand the importance of taking adequate care for eyesight, particularly in the software development industry, and wanted to ensure that the Webliners have sufficient awareness on eye care and have a healthy vision.
All the employees were highly enthusiastic to participate in the eye check-up camp. Camp was organized by one of the renowned eye care companies in India, Lenskart. This program was aimed at providing the employees with the status of their eyesight, making them aware about necessary care for healthy eyes and offer solutions to those who required it.
The program had several features for the employees for FREE:
Eye check up and status report.
Counseling to those who required additional care for the eyes.
Informative session on eye care and precautions for healthy vision.
Discount vouchers on various eye care products & services.
Access to wide online store with special rates & discounts.
The complete package was specially developed for Webliners.
THINGS TO KNOW ABOUT EYE SAFETY & CARE
Here are the key things you must know why you need a regular eye check-up,
Eyes are very sensitive organ and with regular eye screening it becomes possible to detect conditions like refractive errors, poor vision and any other kind of abnormalities that exist.
With regular eye check-ups it will become possible to know about any of the underlying eye conditions beforehand it does any damage. When found early, issues can be treated and the condition can be contained.
Particularly for IT industry, continuous working in front of the screen may cause eye fatigue and even eye problems. Regular check ups and proper eye care can help keeping eyes healthy and avoid eye problems in long run.
Some of the tips to take proper care for eyes,
Examine the work area for possible glare sources. If there are any such positions, reposition the screen to minimize the same.
Natural light should be directed at 90 degrees to the monitor screen.
Adjustable window covering to control intensity and direction of light is useful and further, the monitor should be placed directly under fluorescent lights to avoid glare.
Ensure that the font size is atleast three times the visual acuity threshold or bigger.
Heating/air-conditioning vents should have air flow directed away from the computer operator as the air can further dry the eyes.
We are concerned about the safety and well being of each and every employee and this was another step towards ensuring a healthy life for everybody after the #HumfitTohIndiaFit and #FitWebliners challenge.
"Our employees are our most previous assets and we believe in leaving  no stone unturned for their well being."

Asserts Mr. Atul Mehta, CEO at WeblineIndia, An Offshore Software Development Company.