PrestaShop, launched in 2007, is an open-source software that contains a range of tools required to create an online shop. This is a robust shopping cart of a professional grade, which can be downloaded, installed and used without paying any charges. The back end of this tool comprises of numerous features that can be used for the real time management of the inventory, customers, orders and shipping.
PrestaShop Features
With more than 310 features, this software offers the best shopping cart experience for merchants as well as customers, out of which, a few of the features are listed below:
Manage and display products: Management of products has become easier with different features of PrestaShop like quick import & export, sort products, set attributes, single-click update and bulk discounts. Also, numerous options like multiple views and other features are available for inventory display.
Management of website: The back-office allows you manage displays, change languages and edit content easily as well as upgrading to the latest version with a single click.
Marketing and SEO: With several inbuilt promotional and marketing tools, merchants can ensure effective growth and promote their store through SEO features of the software.
Check out: With its one-page checkout, fields can be customized by merchants to collect information alongside making the process simple for the customers.
Payments and Shipping: PrestaShop offers integration with several payment options and major carriers, allowing business owners to use the desired option for payment and flexible modules for shipping. Reception of payment can be ensured and logistics like weight, shipping restrictions, fee and others can be controlled from back-office.
Customer Login: Satisfaction and loyalty of customers are ensured with a personal account featuring customized messages and an easy checkout procedure.
Translations: Being a global community with members spread across 150 countries, merchants can translate and offer their store in 41 languages to enhance the experience of users.
Security: With a secure connection, compliant with PCI to SSL features, PrestaShop offers a platform where customers can feel secure while shopping online.
Analytics and Reporting: Different analytical parameters are recorded in a report, which is made available to the merchant to track and optimize performance by monitoring visitor interactions and sales.
With recent updates, many new features have been added to the tool, including multi-store management, enhanced after-sales service, improved back-office & front office and more.
Advantages of PrestaShop
This free and open-source software is accompanied with numerous benefits for both customers and merchants, contributing to its success, which are discussed below:
Open-source and free: For business owners having a tight budget, this tool is a perfect combination of the essential tools, which helps you save funds for other purposes like advertising.
SEO friendly: This platform offers an easy process to modify title tags, URLs and more to make your online store friendlier with the search engines and gain a better search engine ranking.
Negligible size: This tool is available in a package of 2.2 MB size only, comprising of 1292 files with more than 310 features for merchants.
Fast and easy: With an easy & faster development process and no need of expensive servers, PrestaShop developers can be hired for an affordable price to avail the desired results in a reasonable time period.
A range of modules: While free modules allow you to set up your online shop in a negligible time, more themes and modules can be bought instantly that are validated by the software to make sure that you maintain the quality of your store.
Rapid improvements with a big community: A huge community of experts is working towards the improvement of this tool, making it easier to learn and utilize in a better manner.
Release of PrestaShop v1.6.0.9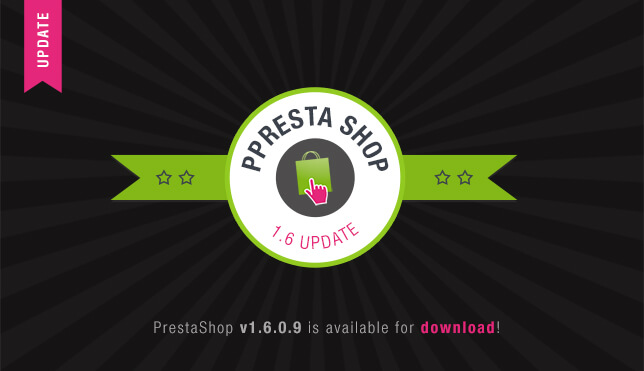 The latest version, v1.6.0.9, of PrestaShop is released on 31th July with numerous advancements accompanied by fixes to several issues reported by the community users. Some vital improvements made to the tool in this version are listed below:
Smarty engine is updated to v3.1.19
Enhancements are provided for Block Layered Navigation
Loading time of the database is optimized for large categories and catalogs
Stability improved with an update to mobile detection
HTML Purifier can be implemented in a better manner
Download PrestaShop 1.6.0.9
Thus, PrestaShop serves as a perfect solution in the eCommerce industry that provides a huge list of features and benefits to both customers and merchants, free of cost.