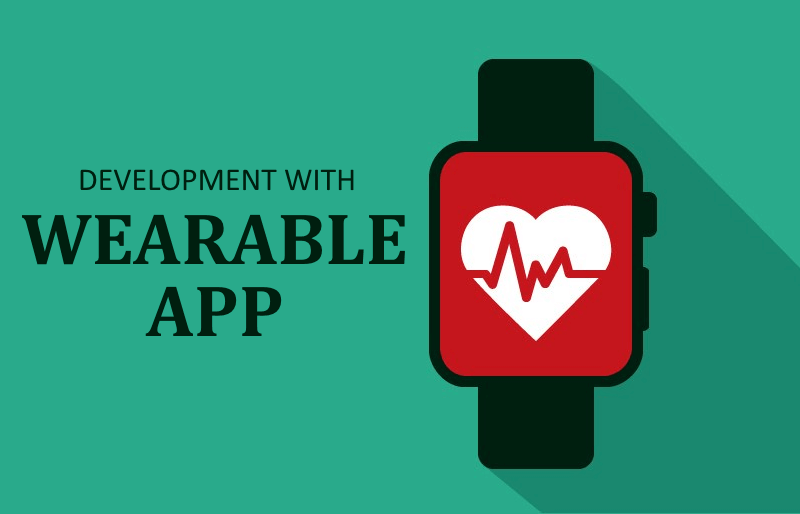 In the recent times, the world of technology has been surprised by a bunch of smart electronic devices that need to worn on the body, and can help you perform a lot of interesting tasks. Let us take the example of the fitness trackers. These are bands that you wear on your wrist and they track your daily activity. This activity can include the number of steps you walked or ran, the number of calories you burned, your sleep cycle, and more. There are many other products that make use of the wearable technology. You can take the case of smart watches, Google Glasses, and more. The applications of these wearables are already many and those will only increase as the field expands further. On the other hand, there are many commercial uses of the wearable technology.
The Wearable App Development technology is currently being incorporated into healthcare, fitness, lifestyle, advanced textiles systems, as well as navigation tools. Lets see further in this post the potential of Wearable App Development it holds for everyone of us.
Where & Why is Wearable App Development Technology Used?
The next question that might come up is the application of such wearable technology. We have already established that there are 2 major uses of wearable technology:
Personal Use
In this case, individuals might buy wearable technology products such as smart watches, fitness bands, or smart glasses. This is for personal use like tracking their activity, improving their fitness, measuring sleep patterns, or simply fashion.
Business Use
This is where businesses are making use of wearable technology to improve the efficiency of their functioning and also developing applications for people using this technology for personal use.
By putting together wearable app development technology for personal and business use, the technology can come in handy to offer some of the following solutions:
Sports Tracking: As a sportsperson, if you need to track your performance and activity; this wearable technology can help.
Fitness Tracker: Even if you aren't a sportsperson, you can use smart watches and fitness bands to track your fitness and activity.
Sleep Patterns: If you are an insomniac, this is a great way of gauging your sleep patterns.
Therapy: Treatment for hearing impairments.
Navigation: With wearable device it becomes easy to use maps and find places and get directions.
Media devices: You will be able to play music or watch videos using wearable devices.
Communication: You will be able to receive calls and SMSes, check emails and even make calls using wearables.
Personal Use:
Let us take an example of the smart watch. It can perform a range of operations and offer numerous applications to its users. You can connect the smart watch to your phone and make a phone call to your friend or colleague. On the other hand, you can also read and write text messages and emails. Apart from that, you can play music and videos; navigate to your location, track activity, measure heart rate, etc.
Plus, there are some other products that are being launched under the realm of wearable technology.  Consider the case of the smart shoe that is meant for the visually challenged. This product will have great scope in the future when more research has been conducted on its applications and use. Moreover, there will be more such similar products that will be launched. One of the systems that are being currently talked about is a monitored system for assisted living and elder care.  
Business Use:
On the other hand, businesses are using wearable technology for a range of other tasks.
Quantifying Physical Work Movements
Workers today are moving among different aisles with physical products. By wearing physical armbands, it will become easy to track the goods they carry. This will free up the time for workers who would otherwise had to spend time on marking clipboards.
Wearable technology can also be used in the analysis of time as well as motion that is required for the performance of a process.
Finally, there is a large amount of data that can be gathered through wearable technology. This can include quantifying physiological functions like heart beats, activity of the neurons in our brains, and more. This will help improve efficiency and efficacy of the healthcare industry.

Advantages of Wearable App Development Technology
Here are some of the advantages of wearable technology:
When you are using many apps on your phone or tablet, you need to spend some time in locating your phone or tablet, turning on the screen, and gathering the information. However, wearable technology can present information to you without delay. As an example if you were on the road and wanted to navigate to a destination, you can do that with your wearable without being required to pull over in order to use your phone.
When you use a smart phone or tablet, you are performing a solitary activity. You aren't really interacting with the environment. In case of wearables, it is a little different. Google Glasses, as an example, will provide you complete immersion with the environment. This opens up the door to a lot of innovation.
As mentioned in point # 1, it is possible to do things with your wearable that you can't do with your smart phone or tablet. As an example, you will see email or FB notifications on your smart watch and you can track those without really disrupting a meeting or a class that you are in.
Because the data is being collected in real time, you can be certain about its accuracy. Take an example of activity related data. When you wear a smart watch, data regarding your body movement activity (running, walking, etc.) is being collected first hand.  That improves the chances of the data being accurate.
Finally, these wearables are now becoming fashion statements. Owning one can be a good way of expressing the fashionista in you. Again, a smart watch or a fitness band can be used as an example. Many users are buying such products to show up their fashion statement.
Disadvantages of Wearable App Development Technology
Here are some of the drawbacks of wearable technology:
This is one of the serious limitations of wearable technology. Because of the small screen size, there are only a limited number of tasks that you can perform. You don't want to write an email on your smart watch, as an example. In this case, you will either have to speak or draw an emoticon. Similarly, a fitness band can only present limited information because of the screen size.
At this point, wearable technology is pretty expensive and difficult to afford for many people. Perform a quick Google Search, and you will know that most of these watches are around the $250 to $350 mark.
Finally, battery isn't the strong point with this wearable technology. The last thing you want is to wear your fitness band for a jog just to realize that you are out of battery. Wearables need regular charge and that is something that the industry needs to work upon.
Why WeblineIndia for Wearable App Development?
Since the launch of smart phones we started working on its usability possibilities. Everyone was talking about what could be done with smart phones, but we were already working with clients on planning apps for the phone. Our App Developers are capable to do similar work with wearable app development technology. We have interesting app ideas for different industries that can help you make the most of wearable apps. We have also developed many wearable applications for our clients for different industries.
Get in touch with us now for your all offshore outsourcing Wearable app development needs.
---
Wearable App Development Infographics

Source: 1, 2, 3, 4