Google is coming up with a new version of Android called Android L. However, rumors are surrounding that partnership of Google with Nestle will name this upgraded version as Android Lion. When Android 4.4 KitKat was released last September, it was assumed that the new upcoming version of Android will be named Android 4.5 or 5.0. Google has structured Android L at its I/O 2014 developer conference. Hence there are various perplexes regarding the release date of Android L, its version number as well as its design and features.
Rumors
Though there have been a confusion whether the new Android version will be Android 4.5 or 5.0, the former wins by major votes. An update on Chrome supports this by building new number 4.4.99 whereas TK Tech News says that it is Android 5.0.
Since the previous Android versions include names of sweet treats like KitKat, Ice Cream Sandwich and Honeycomb, many think that it will be named Lollipop. However, TK Tech News says it will be Lemon Meringue Pie.
The most recent rumor is that Google will partner with Nestle to produce Android Lion.
Existence Of Android L Is Confirmed
Google has however confirmed the existence of Android's next version but is just revealing it as an Android L release. In the conference it was confirmed that Google will release Android L later this year in autumn. Also, Google has made the L developer preview accessible to developers. In order to include necessary support for Google Fit, on 8th August Google unveiled LPV81C build replacing LPV79. Along with this, Google Fit Preview SDK was also unveiled so that developers can start architecting applications for Google Fit.
Features
Material Design
'Material' is a new design language revealed for the Android L release. It is a casual language, clean and a much like Google style that developers can use in building responsive applications. The Roboto font can also be applied anywhere. The navigation buttons are upgraded and changed to shapes like triangle, circle and square.
Shadows and light sources may impact user interface elements in real time. Application interfaces will feature automatic color touch based on the content. In addition to this there are advanced animations as well as touch feedback too.
Enhanced Notifications Preview
Android L is planned to make notification view better. Beginners can get notifications on the lock screen and they will be viewed in priority order. Just a single or double tap will swipe open the respective application.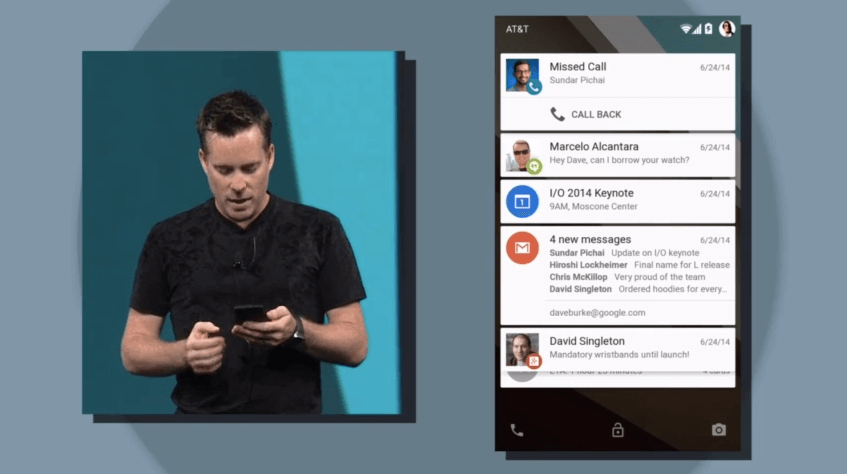 (Source: pcadvisor.co.uk)
New Lockscreen
New lockscreen in Android L will preview notification on the lockscreen. You can just swipe to open the lock and access to your notifications. Swiping right will launch the dialer and swiping left will launch the camera.
Multi-tasking
The recent application section in Android L is similar to the style layout of Google Now Card. The running apps will flow in a carousel and can be swiped in either direction to close them.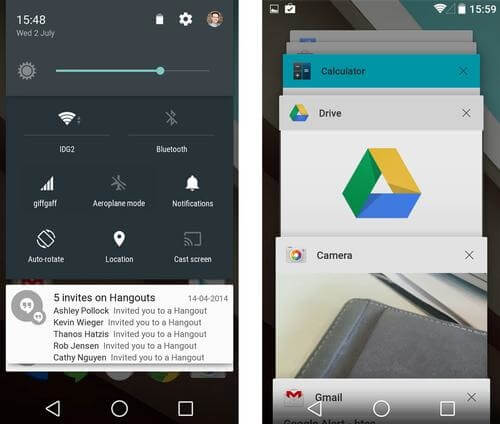 (Source: pcadvisor.co.uk)
New Notifcation Bar
Though appears different than before, the notification bar still works the same.
Personal Unlocking
Android Wear Smartwatch will enable users to unlock their devices though physically far from it.
New Saver Mode
Battery life will enhance with Android L and that may run your device for an extra 90 minutes of power.
Performance
Android L will support 64-bit processors and ART software library.
If you have any questions about Android L, please contact us. We will give you detail understanding regarding Android L and resolve all your queries. We give consultation at nominal rates. All your queries are welcomed and our huge team will be at your assistance constantly. You can contact them through phone, G-mail, IM or any means of communication. They look forward to bring best solution to your queries. We also give correct estimates for your project. We offer developers on hire basis too. If you are looking for an efficient, talented and hardworking android developer to develop innovative apps, then request a quote from us!