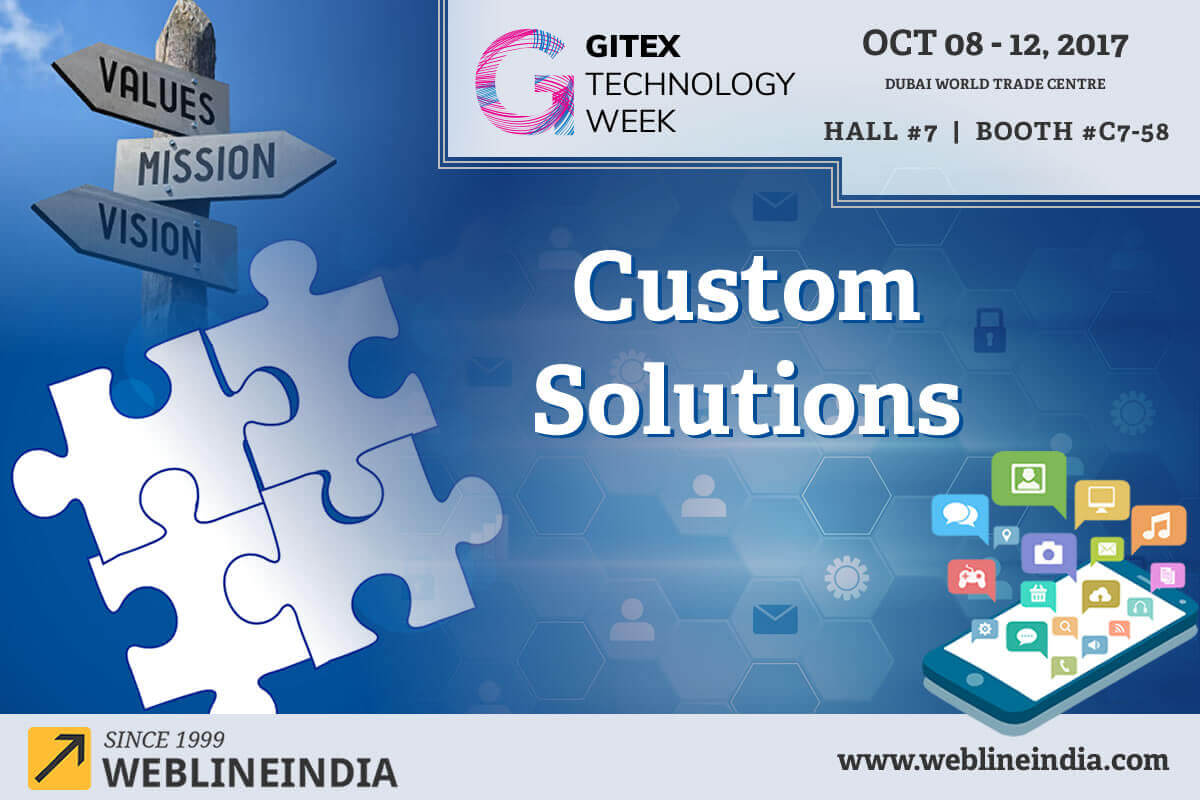 Different businesses have different needs and so the solutions cannot always be the same. What an eCommerce website wants may not be the same as what an education portal wants to showcase. Based on the different needs of different businesses it is not possible to offer the same kind of service for everyone. In short, you need to find an software development company which is capable of offering tailor-made custom solutions to businesses.
When we say the word tailor-made, it comprises of a number of services like application development, application maintenance, and website development. The services are customized to match the requirements of the clients. This way the businesses will be able to use the software easily as it adapts to their needs rather than making them do vice-versa.
WeblineIndia is one of the reputed offshore software development companies based in India known for its reliable and affordable offshore development services. We are in the business of software development for the past 18+ years and have managed to create a large number of satisfied customers. We get client requirements asking for custom solutions every year. Our developers put in their efforts to ensure the client requirements are met at every step. Right from application and website development and application maintenance we cover everything.
Apart from development tasks, we also take care of the digital marketplace of our clients. We offer services like social media marketing, on-page optimization, pay-per-click campaign, app store optimization and online reputation management. These services helps our clients to improve their online visibility as well as image.
"I had really good experience with WeblineIndia. They are good at offshore services and they really take care of their client. They do wonderful work and are a genuine joy to work with. WeblineIndia had a considerable measure of tolerance for every one of my progressions and demands and dependably had an extraordinary disposition to complete things for me. I would definitely recommend WeblineIndia because why not? Sharing is caring right! They are the best for what they are doing. One for all and all for one solution is WeblineIndia. To sum it all, very good quality, trustworthy and time Punctuality is WeblineIndia." – Rajih Shu'aib Kouri, UAE.
In case you are interested to know more about our custom solutions, plan a trip to Dubai and make it to GITEX Technology Week.
GITEX Technology Week is held every year since 1981. It was started with the intention to boost innovation and digitization across the globe. GITEX is one of the biggest and expensive trade show, which showcases the new happenings in the digital world as well as offers an amazing opportunity for businesses to come up with their products and services to attract clients.
This year GITEX Technology week will be conducted from 8-12 October, 2017 and more than 4000 companies will be exhibiting their products and services out there. With more than 1,50,000 attendees this event is definitely going to turn out as a boon to the businesses looking for software development partners.
WeblineIndia team will be exhibiting the services at booth C7-58, Hall #7, of the World Trade Centre. So in case you are desperate to bring about change in your business and want to move ahead, just be sure to meet us there.
To fix an appointment and to get free passes call us today.
If you have any query, get in touch with us by clicking here.