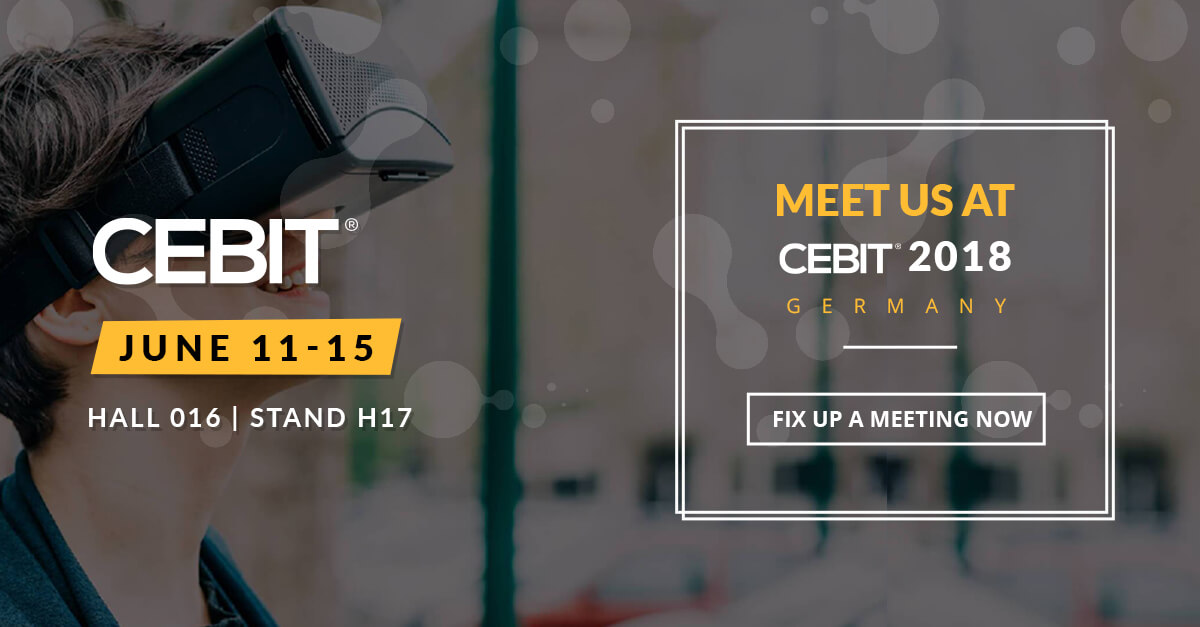 For technology lovers and IT professionals here is the chance to rejoice and experience the best of technology. The largest technology fair of Europe is back, CEBIT 2018. Many of you might have heard about CEBIT and even got the opportunity to experience it. Still, if you are a newbie, here are a few highlights to check about the event.
CEBIT is the world's largest trade fair that takes place in Hannover Fairground, Germany every year. The trade show is all about technology and computers. The event was established in 1970 and later when the Information and technology wing became strong and popular; it was separated from the main event. The new event for the technology was then started separately four weeks before the Hannover Fair in 1986. The full form of CEBIT is Centrum für Büroautomation, Informationstechnologie und Telekommunikation, in German language, which is expressed in English as Centre of Office Automation, Information Technology and Telecommunication.
Over the years, CEBIT has become an effective platform for IT professionals, software development companies and technology aspiring businesses to come together. It has helped businesses to find and get the best services in IT Outsourcing, IT Consulting and Technology while it has helped IT businesses to get clients. Moreover, the exhibition of newest technology happenings has always attracted the professionals and IT futuristic.
This time this five-day technology fair will be held in Hannover Fairground, Germany from 11-15 June, 2018. The fair will concentrate on Virtual Reality, Internet of Things, Artificial Intelligence, Drones, Blockchain Development, DevOps Consulting, Wearables, future mobility and much more. For the ease of attendees, the whole place has been divided into different halls, which represents different technologies and companies. This makes the process to find what you are looking for, smooth.
With CEBIT fever getting high across the time zones, things are not the same at WeblineIndia. This time, it is different for us as we are all set to exhibit our talents at CEBIT 2018. We will be exhibiting our expertise in different IT technologies to businesses across the world.
Some of the key services which we will be offering at CEBIT 2018, Hannover, Germany are:
Next-Gen technology solutions
Enterprise solutions
eCommerce development
Mobile App development solutions
Web Applications development
CRM development
CMS solutions
Frontend & backend development
QA services
Apart from these, our latest service offerings are DevOps consulting, AI/ML development, Blockchain development, chatbot development and many more. We bring down the development costs and reduce lifecycle through lean and agile development methodologies.
Over the years we have made it a point to understand the businesses and offer customized software development solutions. So whatever technology you choose, you are bound to get the right solution for what you paid.
All these sound exciting, right?
So what are you waiting for?
Pack your bags and come to Hannover?
You can find our team waiting excitedly to meet you at Hall 016, Stand H17, at Hannover Fairground. Let's discuss some business which can help you draw the profit graph in the upward direction. We will ensure to take all steps which can make you and your clients feel WOW.
DAY 1 at CEBIT 2018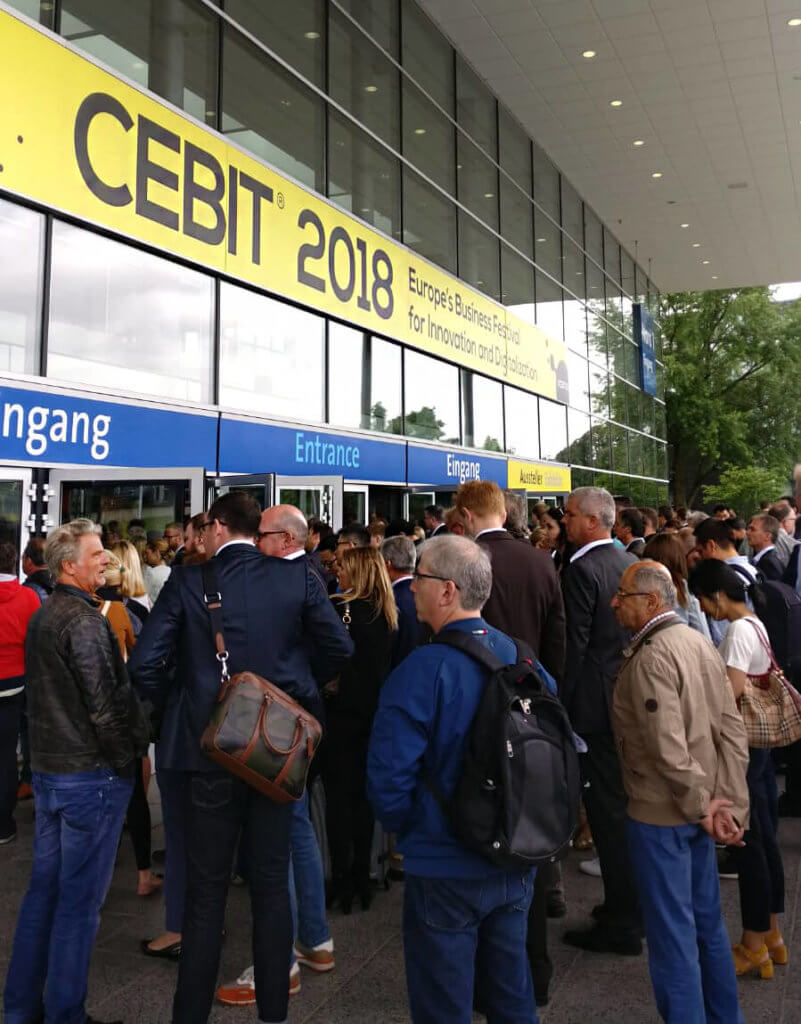 So finally, the D-day has come. The largest & most internationally representative technology fair across the globe, CeBIT-2018 was inaugurated today, i.e. June 11, 2018 with great fanfare. The sheer scale of CeBIT is mind boggling with more than 300,000 visitors from all over the world and 4000 exhibitors spread over 5 million square feet sprawling grounds at Hanover.
Team Webline was all geared up to welcome the first set of visitors at our WOW stall at Hall 016 Booth 17. As expected, Webline booth has been one of the most eye catching booth at Hall 016 with its unique theme of fusion of Indian excellence with the vision of the Western Hemisphere.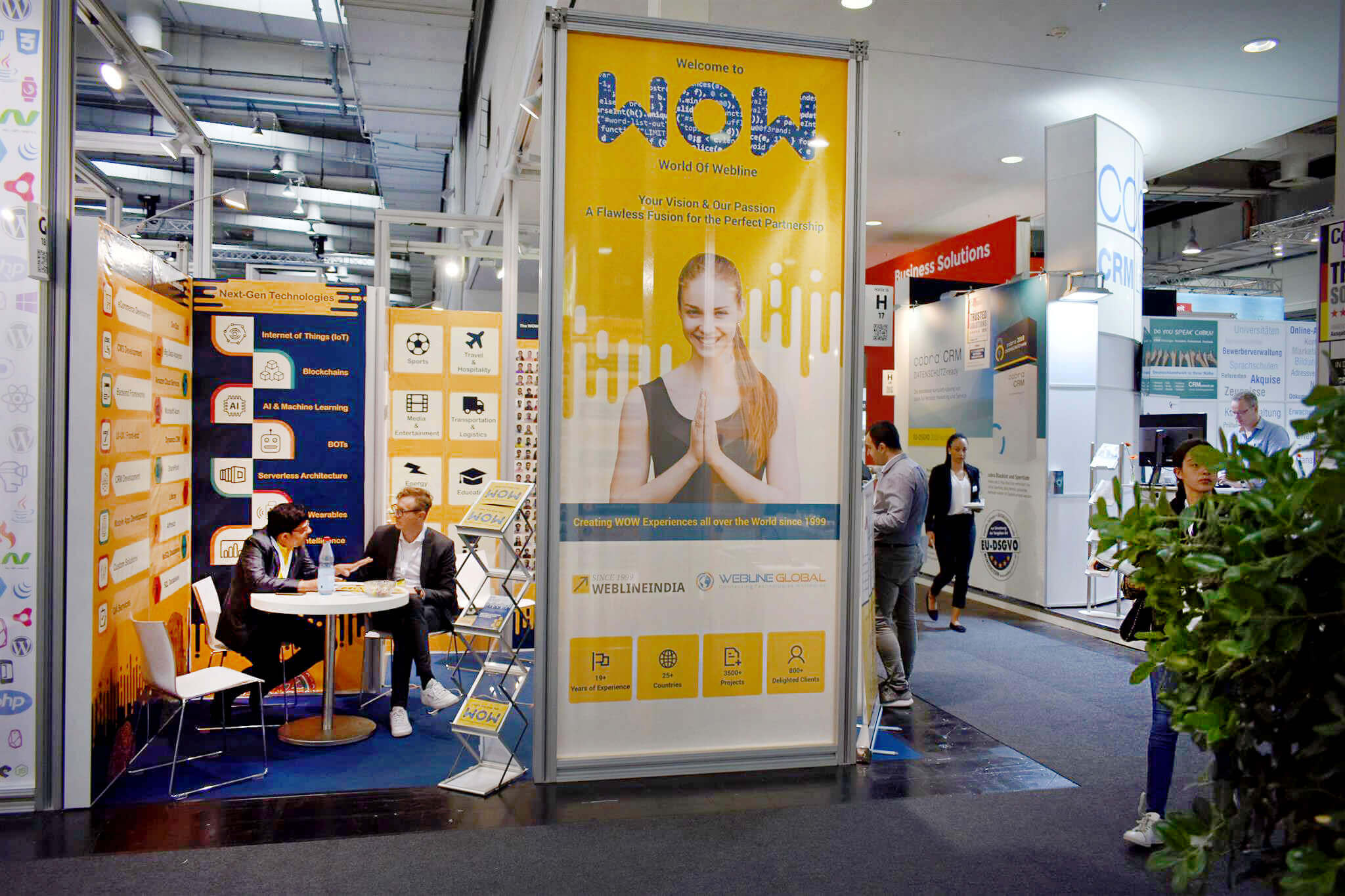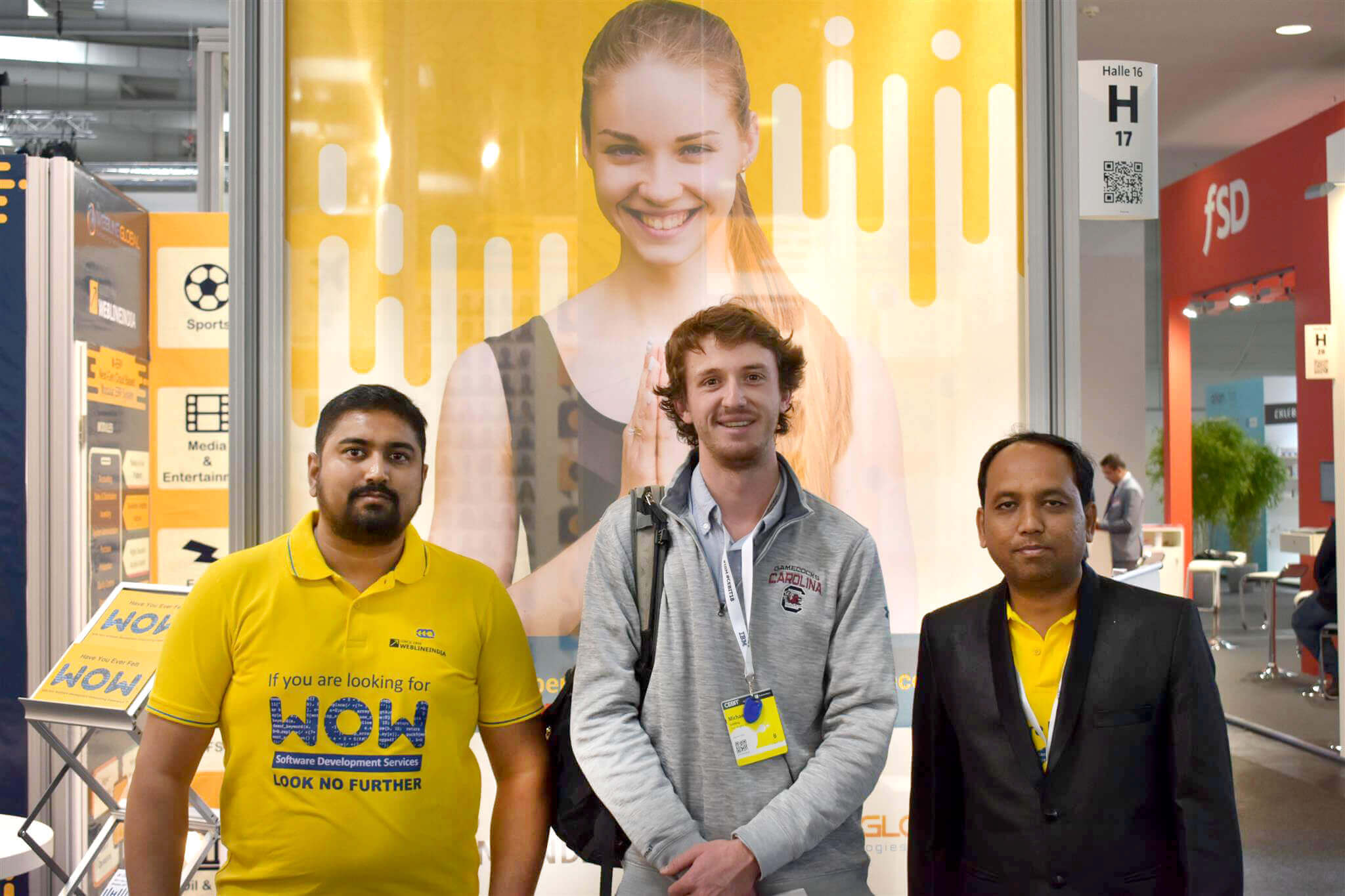 The Day-01 started with a constant throng of visitors from different countries. Various technologies were discussed and demonstrated by Team Webline and the team members patiently attended to different queries by the visitors. Most were quite pleasantly surprised with Webline philosophy of ensuring Client Delight for every project. All in all, it was a highly satisfying day for our WOW Makers.
DAY 2 at CEBIT 2018
After a great Day-01, our WOW Makers were even more excited for Day-02 for meeting new people from different countries and cultures. With every new guest at our booth, a new technology, a new solution and a new product was discussed. After all that is the excitement of being in software industry. Everyday is a new day with new approaches, new products and new perspectives. And true to their expectations, our WOW Makers got busy even before they can blink.
Many of the visitors were particularly excited about our DevOps consulting solutions. Our team explained them how we have easily merged Development and Operations by proper collaboration and deployment using Cloud platforms.
We also saw that the number of visitors inquiring about mobile app development was quite high, not surprising with the way mobile technology is taking over the world. Many of the visitors were curious about the technologies supporting cross-platform app development and one of them was Ms A, who was interested to know how we can help her to upgrade their mobile platforms such that it can take on the competition successfully. Our team members explained her about React Native mobile app development and its advantages. She was thrilled to learn how her business can grow with the latest solutions.
At the end of the day, it was an amazing experience interacting with software professionals from 26 countries across the world. The feeling of exhaustion was overruled by the feeling of elation resulted by being able to satisfy so many people. After all that's what we do best – Make People Feel WOW.
So that's all folks! Waiting for an amazing day ahead!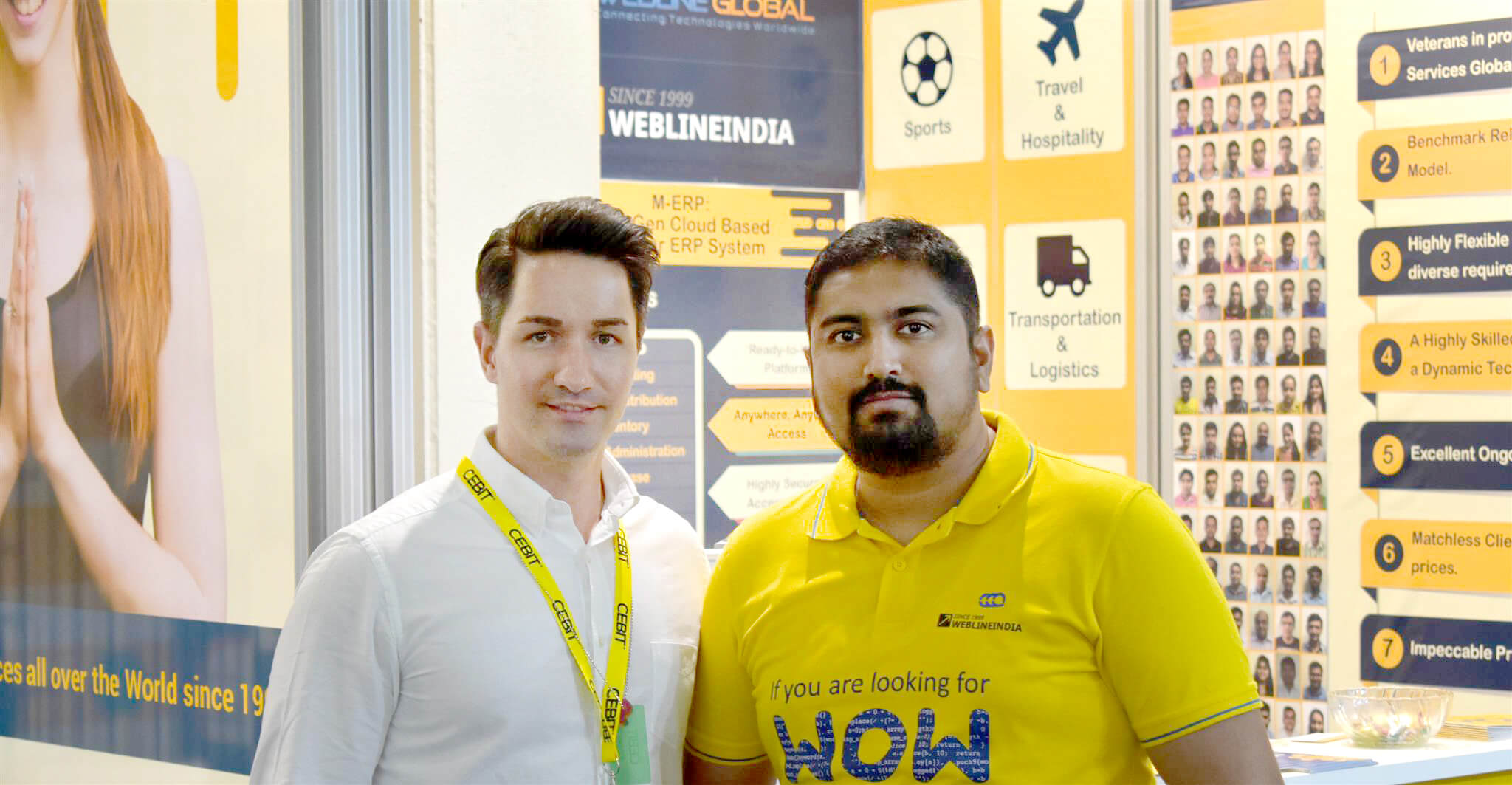 DAY 3 at CEBIT 2018
Every day at CeBIT begins with new possibilities and new opportunities. As we wonder about the infinite horizons opened up by the tech world, we brace ourselves to welcome the new visitors and new questions.
Most of the visitors were intrigued by the 'Namaste' design of our booth extending a traditional welcome to visitors. Many of them complimented our team about the underlying philosophy of seamless fusion between our services and their requirements. Mr. G, who traveled from USA to attend CeBIT shared – "There is no dearth of software development companies from India with able developers; but what makes all the difference is how much you can rely on them when you are sitting thousand of miles away". We fully agree, and that's why one of our tagline spells it out clearly – "Don't settle for ability. Experience Reliability'. Many of the visitors were surprised to learn that we have been in business since as early as 1999. Our sustained growth is purely attributed to the Reliable Services approach we have chosen.
The highlight of the Day-02 were our Next-Gen technology development solutions. Our team explained the curious visitors about our various services on Internet of Things / IoT development, Machine Learning, Bot development, Blockchain development, wearable app technology, BI services and more. We even demonstrated some of our completed projects and explained how we helped our clients not only to achieve their business goals but to achieve accelerated growth.
All in all, it was another day well-spent and it provided us some memorable moments with people from 20 countries and helped to build some new relationships. By the end of the day we were tired but, retired for the day with anticipation to meet new people the next day.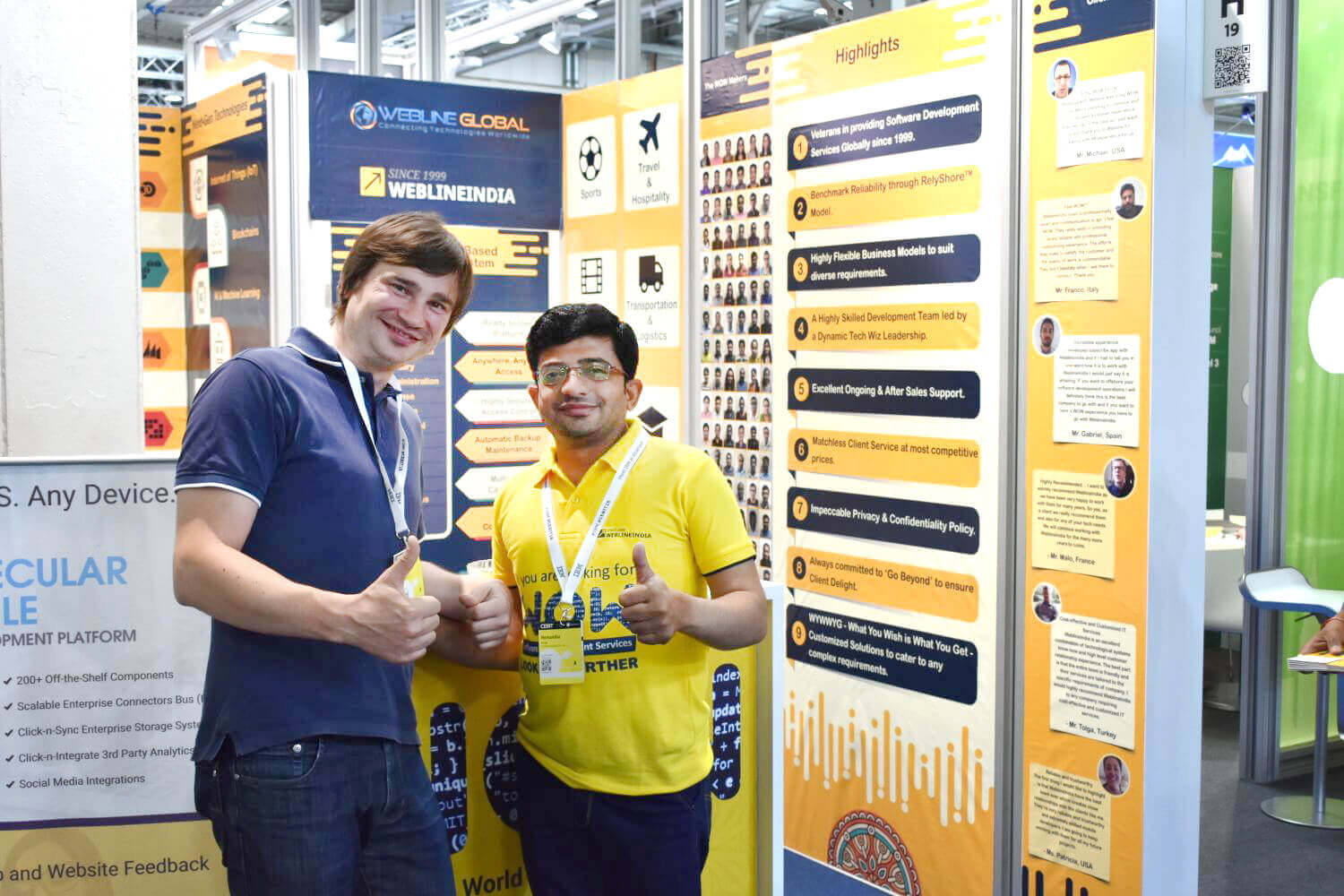 DAY 4 at CEBIT 2018
Day-04 at CeBIT 2018 was really special. This was the concluding day of this mega event. An end of a truly memorable experience, but a beginning of so many new relationships.
Our WOW Makers began the day with lot of excitement and anticipation. No sooner that the event was opened up for the culminating day, the visitors from all over the world started flocking in. It indeed was exciting as we attended one after another visitor from country to country. Every person came with different domain, different requirements, different perspectives and even different accents. It was so amazing to experience such diversity within span of few hours and also was challenging to address such diverse queries. However our WOW Makers were actually thrilled as they were getting the opportunity to share the width and expanse of their skills and knowledge. As they say, 'As the going gets tough, the tough gets going'.
Mr. F & Ms. P were inquiring about our CRM development solutions. They wanted to know how CRM can help them to be on the same path with their clients and offer customized customer service solutions. While Mr. Y, one of the visitors from Frankfurt, Germany was inquiring about Microsoft Dynamics CRM. We showed him demo of few of our projects as it can help him understand how his current business can be benefitted with our CRM solutions.
Similarly, Mr X was one of the visitors who were looking for affordable eCommerce development solutions. Mr. X was into selling sports goods. He wanted to know how we can help him expand his existing business into an online business platform. We took this opportunity to introduce him to different eCommerce development platforms like Magento, WooCommerce, PrestaShop, VirtueMart, OpenCart, nopCommerce etc. We explained him how our team of software developers are equipped with latest technology solutions to offer him the right eCommerce solutions suitable for his business. We showed him some of the eCommerce websites that we had built in the past which had immediately taken the businesses into a completely different level.
Day-04 being the last day of CeBIT, the visitors flow was much more than other days. And while our team was completely exhausted by the end of the day, they also were elated to have met so many people and develop new friends and business associates.
While our sojourn at CeBIT 18 came to an end, our journey for delighting the Clients in every corner of the World continues.