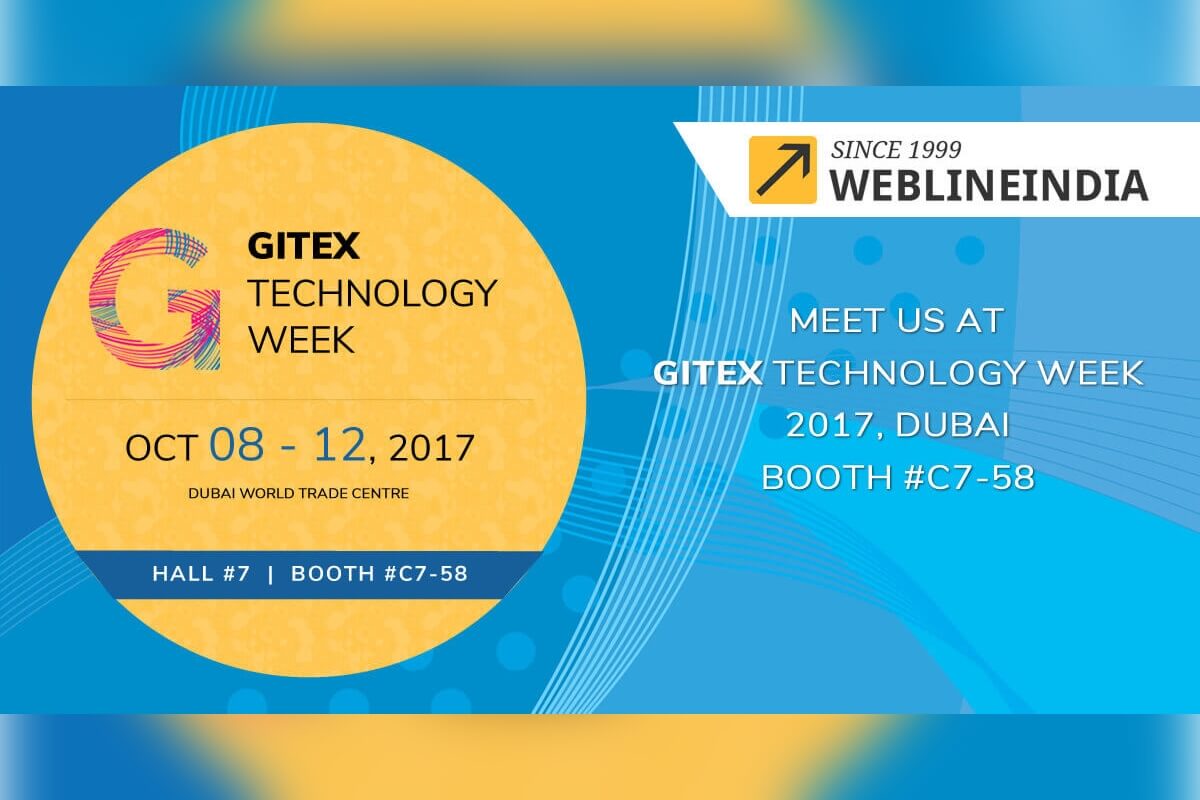 Now here comes October and guess what rules the ignited minds of Tech fraternity? Well, its time for the most awaited event of the year for IT geeks. Yes, you guessed it right, its GITEX time. And does it need introduction? Who in Tech World doesn't know about GITEX? Chances are some of you might have already visited it. But then do you really know why it the most awaited event of the year?
GITEX (Gulf Information Technology Exhibition), being held every year at Dubai, the City of Gold & Glitter, is one of the oldest Trade Show in the IT field and is organized since last 37 years. Yes, you heard it right. The first GITEX was organized in 1981. GITEX also is one of the largest IT events in the World. With latest cutting edge technology on display, GITEX is the hatchway for techno geeks to delve into the future of Information and Communication Technology. It is an amazing opportunity for entrepreneurs and techno giants who are looking for solutions that are based on the emerging next-gen technologies. Participating in GITEX provides ample opportunities to learn about new methods/tools for organizational growth, learn about newer methods of strengthening the business tools like apps and websites and add latest features to it, meet technology service providers and check out their services and products, discuss specific business requirements and support required and a lot more.
This year, the GITEX technology week will be conducted from 8th to 12th October. The previous event included technologies like Augmented Reality, Artificial Intelligence, Virtual Reality, Digital Marketing, Wearables, Robotics, Drones and much more. This year in addition to the previous year technologies, we will witness Smart Manufacturing, Robotics with AI, Machine Learning, Global Smart Cities, Chat Bots and more.
So now you know, why GITEX is the buzzword on every tech geek's mind in October. However, while everyone we know is super excited and exploring ways by which they can be a part of GITEX 2017, the GITEX fever at WeblineIndia is on a much higher level. Because the Team WeblineIndia is not only visiting GITEX but is going to exhibit its WOW services, products and next-gen solutions.
Some of the key solutions WeblineIndia will be showcasing at GITEX Technology Week, Dubai 2017 will include –
Next-Gen Technology Solutions
Enterprise Solutions
eCommerce Solutions
Backend & Frontend Solutions
Web App Development
Mobile App Development
Custom Solutions
Apart from these, WeblineIndia will also showcase how its super efficient MMADP Platform (Molecular Mobile Application Development Platform) has the potential to create sustainable and 'easy-to-develop' mobile applications in any and every type of business sector. If you are a non-IT person and have a very limited understanding about PROGRAMMING, then this platform is just perfect for you. And if you are a programmer, then this platform is a breeze to work with and create your mobile apps.
So what are you waiting for? Pack your bags and book your tickets. It's time to fly. And yes, don't forget to meet us at GITEX to know more about our cutting edge products like MMADP and other solutions.
Our team of experts will be delighted to meet you and consult on how your enterprise can gain maximum benefit by using IT and make sure the business growth continues. After all, We Specialize in Making Our Clients Feel WOW.
---
We will be taking you through the fabulous journey of Team WeblineIndia at GITEX through this blog.
Experiences at GITEX Technology Week, 2017
Day – 01
Finally the excitement has begun. WeblineIndia booth at GITEX Technology Week, 2017, Dubai was opened to the Hundred and Fifty Thousand odd tech wizards from about a 100 countries participating in one of the largest IT Trade Show on earth.
The GITEX got inaugurated amidst much fanfare and glitter on 8th October 2017. WeblineIndia also opened up their booth at one of the most strategic locations in hall#7. WeblineIndia takes pride in their tagline – 'We Specialize in Making Out Clients Feel WOW' and its booth at GITEX designed based on this WOW theme already started attracting the visitors from all our the World within minutes of opening up. The tech geeks were immediately curious to know the mystery behind the WOW. Team WeblineIndia was more than eager to attend to visitors and update them with the wide spectrum of the software development services offered by WeblineIndia. The visitors were particularly excited about the Molecular Mobile App Development Platform (MMADP), an ingenious platform, which can build Apps across any Operating System and for any Devices without writing a single line of code. MMADP is strengthened with a very Solid, Secure and Scalable Backend mBass.
Few glimpses of WeblineIndia Booth at GITEX with some WOWed visitors –
By the end of the day, Team WeblineIndia was equally exhausted attending hundreds of visitors and excited with the amazing interest generated among people from different parts of the world. Visitors from about 21 countries attended the WeblineIndia booth on Day 01 and left with WOW in their minds.
Day – 02
After awesome experiences from Day 1, Team WeblineIndia was back to the booth at the GITEX event with more excitement and thrill to unfold the things that waited for them today. Team WeblineIndia was delighted to have a continuous string of visitors at the booth and were successful in making them feel WOW.
Things were not much different today – team WeblineIndia witnessed a large crowd at the event and were happy to see a number of curious faces checking out the booth. A large number of visitors inquired about one of the highlight products of the event – appOwiz. It helps the users to track bugs and report feedback about websites and mobile apps. It even helps with crash reporting, as well as screen image and video capturing to explain the issues nicely. Better feedback help the developers build effective apps and websites and with appOwiz anyone can achieve it with a breeze!
Have a look at a few memorable moments from Day 2 –
The whole experience was enthralling and exhausting at the same moment. No doubt it was to happen after a hectic day interacting with hundreds of visitors from 24 different countries at the booth. Some of the visitors namely Mr Dorothy C. Sadowski, Mr Mustafa Suhail Arian, and Mr Robert E. Harper expressed their appreciation for the efforts the team took to take them through the journey of WeblineIndia. At the end, it is all about the efforts of Team WeblineIndia to make the visitors feel WOWed before they exit GITEX!
Day – 03
For Team WeblineIndia, the first two days of GITEX Technology Week were really awesome. The team had a great fun meeting people from different nations and from different professional backgrounds, all united by the world of Technology! So when the Day-3 started, the team was quite exhilarated to meet and engage with the more business delegates from across the world.
Day 03 followed the same pattern of a steady flow of visitors from different countries. Most of the delegates were intrigued by the WOW theme of WeblineIndia theme and wanted to know about how WeblineIndia can help them to get the right advise as well as the right services for their software development requirements. Members of Team WeblineIndia happily took them through the wide gamut of services offered by WeblineIndia and also helped them by addressing their specific queries. One such visitor, Mr James A. Hampton from South Africa was very much interested in learning more about our Next-Gen technology development services. He was particularly impressed by the advanced services on Next-Gen Technologies like Internet of Things, Machine Learning, BOTs, Serverless Architecture, Microservices, Blockchain, Business Intelligence Solutions and Wearable app development. He even took our 'Walk Through Demonstration' of some of our successfully completed projects. By the time he was through, he had no doubts that he has finally found out the kind of trustworthy and highly skilled service providing agency, which he had been looking for since long.
A look at a few 'Click' moments from Day 3 –
Throughout the day, Team WeblineIndia had a busy time meeting people and it makes WeblineIndia feel proud to have met representative from 27 nations. For business magnets as well as fast-growing companies like WeblineIndia, GITEX has proved to be the best platform to bridge the gaps between the needs and thr solutions.
Day – 04
With three days over, we are moving towards the fag end of the GITEX Week with just one more day to go. And as we prepare to start one more day at GITEX, we marvel at the wonderful opportunity this Trade Show has created to meet so many people of different cultures and ethnicity and learn so much from the short but meaningful discussions we have with each visitor. And the best part is that every meeting is just the beginning of a long lasting relationship. After all, one of the most important values followed by WeblineIndia is 'We Value Relationships. Business is a By-Product'.
The Day – 04 witnessed growth in the number of visitors. Team WeblineIndia had a busy time attending all the visitors and addressing everyone's queries and interest area with the same level of patience and pleasure. Many of the visitors expressed their wish to understand more about the Mobile App Development Services of provided by WeblineIndia. Many of these were surprised to know about some of our projects with integration of Voice Based Payment technology in Mobile Apps. Mr Levin Schillings, one of our visitors from Germany wanted to understand more about how app development technologies can help his business and what will be the best solution. One of the senior team members from WeblineIndia explained him about the importance and reach of mobile apps and how it has transformed a number of businesses in the past. He also suggested him possible App Development options that can really boost his business. Mr Levin Schillings was pleased to learn about the different app development services offered by WeblineIndia on platforms like Android iOS, Windows, React Native and Hybrid app development using Xamarin. The demonstration of a few successful apps built by WeblineIndia helped Mr Levin Schillings to clear out all his doubts.
An Overview with a Few 'Click' Moments from Day – 04 –
For many people GITEX may be a platform to gather knowledge but, for many entrepreneurs and businesses it is a place to find the right technology partner who is capable to help them grow their business. Team WeblineIndia is happy to have met so many of such entrepreneurs that were looking for the right partners to help them. Altogether the day was awesome and the team retired for the day to come back with full throttle for the concluding day of GITEX 2017.
Day – 05
So finally, we have approached the last day of GITEX Technology Week. While the Day-05 was the concluding day for GITEX, for WeblineIndia it was the beginning of so many new relationships developed within a short span of five days. And that is why Team WeblineIndia was as enthusiastic about attending the visitors on this day as it was on the first day. One of the Team Members was busy explaining Ms. Christine R. Montes about enterprise solutions provided by WeblineIndia including Dynamics CRM, Microsoft Azure, Liferay, SharePoint, Database development as she was looking for someone to help her company with their business processes.
Simultaneously another visitor Mr. Jared A. Kile was looking for solutions, which can ensure customer delight for his enterprise. Our senior Team Member happily took him through the variety of CRM solutions and explained him different solutions provided in Salesforce, SugarCRM, Vtiger CRM development and Microsoft Dynamics. He was very much interested to learn how the whole thing works and how customization can be applied to boost customer experience and business sales.
The visitors kept coming and discussions kept shifting from one topic to another, someone looking for Website Development and FrontEnd development & Backend development, while someone interested in CMS development and QA services offered to build effective web solutions. Some of the visitors who were new to the digital market were inquiring about eCommerce development solutions. They were shown demonstration of some of the live projects of WeblineIndia covering technologies like Magento, WooCommerce, PrestaShop, VirtueMart, osCommerce, nopCommerce, Zen Cart, OpenCart and X-Cart.
Few memories of Day 5 in pictures
Even though this amazing technology-based event is organized every year since 1981, the essence and thrill of it has never gone dim. The event still succeeds in creating a charismatic image over the visitors by offering something 'new' and 'more' every year.
Some of the new things discussed this year were:
1. Smart Technology
2. Next-Gen Technology
3. Cognitive technology
4. Big Data and Analytics
5. 3D Printing
6. Cyber Security
7. Smart apps
UAE Government also announced the launch of Start-Up Accelerator Innovation Program at GITEX to encourage and facilitate the new enterprises. WeblineIndia has always been supporting the entrepreneurs and enterprises in providing the right software platforms for establishment, management and promotion of their products. We were particularly happy that GITEX provided this opportunity to interact and demonstrate our wide spectrum of services useful for Start-Ups with IT professionals from more than 30 different countries.
With this GITEX concludes this year, but we will be back next year. Because for us, being there at global events of such magnitude is just another step towards achievement of our vision – "To be one of the Most Reliable Solution Partner for Software Development Globally".
With that we bid adieu. Au Revoir.