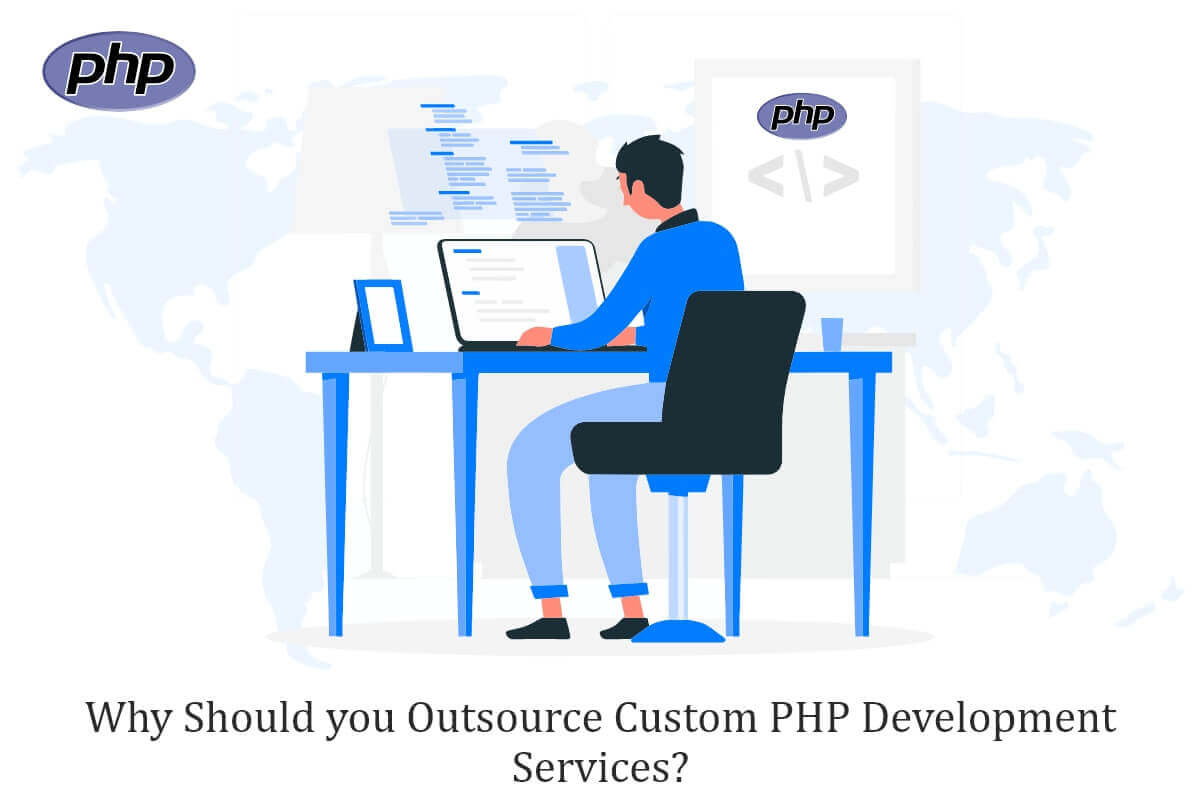 Facebook began with PHP and continues to rely on it! Wikipedia has done the same. Both are perfectly scaled. PHP Framework was formerly known as Personal Home Page before being renamed Hypertext Preprocessor. It is the most extensively used web design language on the planet. PHP is simple to learn and to work with. Furthermore, this programming language works well with MySQL, MS SQL and Oracle databases. If you have a custom project requirement then you can outsource it to a reputed PHP application development services company that has the experience to build such a project. Given that it is one of the most popular web development frameworks, it will be interesting to observe where PHP development will go in an ever-changing technological environment where new technologies grow up like mushrooms.
What exactly is PHP?
The server-side programming language is PHP (Hypertext Preprocessor). It is one of the most important web technologies and the majority of websites use it. PHP contains a number of precise functions and exceptional capabilities that enable firms to construct feature-rich web pages and database-driven sites.
Why Choose PHP Over Other Programming Languages?
In today's technological environment, organisations can construct websites and apps using a variety of programming languages such as Python, JavaScript, Node JS and PHP. The majority of them are looking to hire or outsource a PHP application development company. So, what makes PHP different from other programming languages?
PHP's functional design makes it easier to learn than other programming languages such as JavaScript. Because of its intricacy and use of the event queue, JavaScript appears to be more difficult to master. PHP & JavaScript are in an interesting battle and PHP shows no signs of abating.
When we compare Node.js with PHP from several aspects, such as performance, frameworks, hosting and coding, PHP comes out on top. Similarly, the war between Python and PHP is never-ending and we can't get away from the truth that Python is cooler than PHP in many areas and vice versa! Python outperforms PHP in terms of performance thanks to its code compilation process. With 79.0% of websites using PHP and 1.1% using Python, we may conclude that PHP outnumbers Python. This is the reason why many firms providing custom PHP development services are emerging in growing numbers.
Also read our post on Top PHP Development Companies
Outsource PHP Development Services | Top Benefits
With so many alternatives for producing amazing dynamic websites, PHP remains the platform of choice for our customers. This is why:
As previously said, even non-technical persons can create PHP projects. No, we do not recommend that you begin learning it. This demonstrates that competition among such specialists is fierce, so you can obtain better value for money than with any other .NET or Java EE project.
Third-party code is supported by PHP
PHP is user-friendly. It easily interfaces with different programming languages (once the platform's functionality is lacking). As a result, you can reuse some components without fear of rebuilding the system. Many clients like it because of the feature. You can also utilise the code of others who have encountered the same issue and copy and paste their solution into your project. There are official communities such as PEAR (PHP Extension and Application Repository) and PECL (PHP Extensions repository) where you can get the capability to enhance the capabilities of your project.
Once your team has created smart PHP code, it can be readily ported to various operating systems without losing functionality. Custom PHP development services are sometimes an excellent concept for entrepreneurs that have multiple similar businesses and want to save time.
PHP is faster than other script-based websites because it requires fewer system resources. Even when additional software is used, the speed remains high.
As an entrepreneur, it is critical that your idea be implemented as soon as possible. PHP projects take less time to complete than .NET projects. As a result, the sooner people receive your software, the higher your cost-efficiency. Let us reiterate: PHP is not the finest language, but it is unquestionably the best online platform. You are free to investigate any other option for building your web project, but there are reasons to rely on the experience of millions of successful PHP-based projects.
PHP Trends That Will Keep You Stay Ahead of the Competition:
The Best Solution for Small and Medium-sized Businesses, as well as Startups
Because of its ability to manage enormous amounts of data, the PHP framework is the greatest solution for SMBs and startups. Startups can use PHP to swiftly construct a Minimum Viable Product (MVP) and begin their journey at a low cost. PHP is less subject to changes in the web development field because of ready-to-use libraries. Additionally, the cost of engaging a PHP development company is fairly low, which startups and SMBs may take advantage of.
Important for Website Security
Every day, cyber threats grow at an alarming rate. These are the most severe attacks, which can cost companies throughout the world millions of dollars. As per Statista, The average cost of a data breach worldwide, according to estimates, is $4.35 million USD. As frightening as this may sound, we recommend that you take all precautions possible to protect your website from cyber threats.
Trends in User Interfaces
Have you heard of the Receptive Web? So far, the responsive web has been one of the most widely discussed PHP trends. It is not just a buzzword; it refers to responsive web designs that adapt to any environment to provide end users with an optimum web experience. The responsive web is built on the idea that space should not influence user behaviour. As a result, it caters to users of a variety of platforms, including PCs, smartphones and tablets.
Cloud Integration at its Finest
Cloud computing is the most fantastic technology ever produced, with minimal infrastructure costs, a high level of security, and omnipresent accessibility adaptability. More PHP sites will be incorporated into the cloud in 2022 as the cloud's popularity grows. In terms of scalability, while connecting to the web, the PHP framework easily beats Ruby. More PHP-powered websites are flocking to their infrastructure as a result of their aggressive cloud strategy.
The Internet of Things (IoT) is a game-changing technology with three distinct levels of virtual infrastructure. PHP framework, as a dynamic and popular language, is fast adopting this architecture. PHP 7, the most recent version of the technology, provides simple synchronisation programming threads capable of doing several activities with a single script. You may stand out if you can outsource PHP development to a reputed firm.
The PHP development industry's outsourcing business is expanding at a rapid pace. This year's development trend is worth keeping an eye on. Outsourcing is becoming more popular by the day and it is one of the key drivers for the industry's rapid rise. For cost-effective custom PHP development services, most European and American countries engage a PHP software development company in various regions of the world.
Streamlining Smart Chatbots
Chatbots are the best thing that has occurred to the internet in recent years. This adventure began with artificial intelligence. However, NLP (Natural Language Processing) and deep learning chatbots are rapidly changing the scenario in the field of 'Conversation Agent' by answering website users' questions as if they were humans. As a result, companies providing PHP web application development services are rapidly streamlining the chatbot to improve online responsiveness. The communication of the deep learning chatbot is evolving to the point where the user cannot detect the difference between a human and a chatbot.
The End Game
PHP is simple to learn and less expensive to deploy on appropriate platforms. It is also a server-independent scripting language that runs flawlessly on any Linux or Windows server. As a simple and flexible scripting language, the PHP framework has absorbed all of the most cutting-edge technical developments to date. If PHP development continues at its current rate, it will have a dominant effect in the world of web development.
Social Hashtags
#phpdevelopment #phpdevelopmentcompany #phpdevelopmentservices #customphpdevelopmentservices #php #phpwebapplicationdevelopment
Frequently Asked Questions
PHP (Hypertext Preprocessor) is a server-side programming language. It is one of the most important web technologies and the majority of websites use it.
PHP's functional design makes it easier to learn than other programming languages such as JavaScript.
What is the cost of PHP Development?
PHP developers' hourly wages typically vary between $61 and $80 per hour. Keep in mind that the rates may change depending on your hiring requirements and the location of a PHP web application development company.
What exactly is the significance/importance of PHP development?
The following are some of the reasons to outsource PHP development:
– Simple to learn and put into practice.
– Cost and time efficiency.
– Strong community support.
– Solutions that are completely secure.
– Rapid Improvement.
Is PHP going to have a future?
Yes, the simplicity of PHP is what gives it a bright future because other languages are more sophisticated than PHP.
Outsource Custom PHP Development Services: INFOGRAPHIC