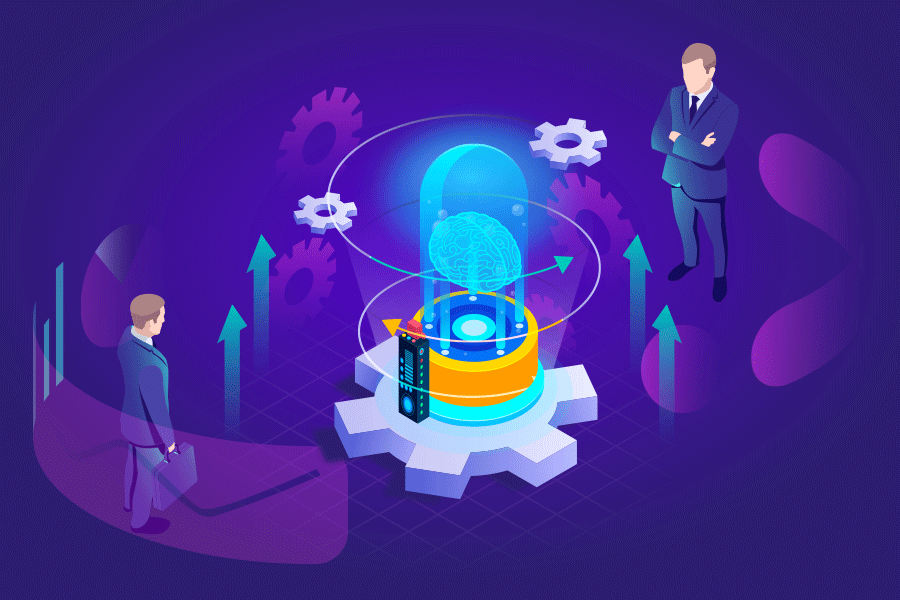 Artificial intelligence is all about developing intelligent machines which is capable enough to work like humans. Some of the tasks that you can target with artificial intelligence are problem solving, speech recognition, learning and planning tasks. Artificial intelligence has been now implemented by different businesses so as to do things differently. For all this you need complete artificial intelligence software services to automate and maximize your business outcomes.
So let's check out how artificial intelligence is bringing out new possibilities and changing business scenarios.
Intelligent Customer Engagement
Many of the customer service leaders in the market are now not able to create and continuously deliver the kind of the service that their customers expect from them. Failing to do so affects the business negatively in the form of reduced customers and decreased number of selling opportunities. Ultimately the business will fail the competition and fell back.
By making use of AI technology in business you will be able to get better insights like never before and make use of it to develop intelligent processes. Such created processes will help to offer excellent customer experiences but at affordable costs. You can make use of the AI power in your business to resolve queries to troubleshooting customer issues and even helping the customers making payments with AI Chatbots: Future of Customer Service and Support. You can have AI integrated into your existing business to delight your customers and simultaneously empower your workforce.
Some AI applications are:

Deliver customer interactions based on customer intent and context on timely manner
Improve customer service drastically by making use of intelligent automation tools and virtual agents .
Scale and automate consistency across all the channels
Take your customers towards digital experiences in such a manner that it improves quality and speed.
Work on to offer personalized interactions to the customers through digital adoption.
Intelligent Revenue Growth
Relevance is considered as the new key towards boosting revenue across different industries like retail and consumer goods, media and entertainment. Customers have much to explore and to choose from and so they keep on evaluating their choices. This means businesses needs to stay relevant for everything in between making sales and offering customer service. This is their only option to keep the customers engaged, find new sales opportunities and grow.
The solution for this is to apply AI powered service across different channels in the business. By analysing the data, it will become possible for the business to get better profile view of the customers and get some valuable insights that they could not have found earlier otherwise. This will help with gaining capabilities and strategies which can be used to optimize each and every level across business growth.
Some AI applications are:

Reach customers across different channels by making use of decision engine and simultaneously work on increasing customer engagement by continuous optimization with AI.
Work on to maximize value of every customer by offering relevant offers and products to current buyers and prospects.
Make use of machine learning and AI to boost the productivity of your marketing techniques.
Intelligent Healthcare
The healthcare industry is now experiencing a strong shift which has come up from the new changing landscape, socio-economic realities and the process of consumerisation of healthcare. The changes are occurring swiftly due to the digital advancements, technology and data insights. The businesses that are already into the healthcare industry have an added advantage to focus on the new market and deliver healthcare which is efficient, effective and affordable in nature. This will help them to lead the market with ease.
By combining AI into the healthcare you have the scope of creating processes that are intelligent and generating insights so that you will be able to offer customer experiences that are excellent but at a very genuine cost per customer. You need to go for artificial intelligence development services in India for such projects as they can deliver AI and analytics powered services through innovative partnerships.
Some of the AI applications are:

Develop and deliver complete patient service programs focused on to improve patient care. The service can be developed from clinical trials to treatment management.
Improve care planning by delivering better patient care by the use of new digital services and chart reviews that are accurate.
Grow and expand the business through proper patient retention and improved medication adherence.
Improve operational efficiency in the healthcare business by streamlining claim and payment management, augmented processes and optimized scheduling.
Offer better treatments to patients by opting for newer approaches for clinical trials and using data to identify new treatments.

Intelligent Supply Chain
With customer preferences and expectations evolving continuously, the supply chains that follow the traditional legacy systems are having a hard time to find the right product when and where the customers need them. While growing on the global scale, companies are now opting for intelligent technologies and advanced analytics to meet the changing demands of the customer and transform their business in the process.
Intelligent supply chain helps to achieve visibility for clients across different supply chain functions. This helps to create integrated operating model which is customer-driven and offers more agility, efficiency and transparency. AI will help with data-driven insights, augmenting decision making, and improving precision forecasting. It also helps to increase the human potential for carrying out strategic analysis and for working out innovation to meet customer demands.
Some of AI applications are:

In order to increase collaboration and visibility AI can help you build a transparent supply chain.
Come up with a supply chain that is self-optimizing and self-learning with real-time insights and dynamic segmentation to deliver precisely.
Open structured and unstructured data, process and utilize it so as to know the unique needs of customers through meaningful prediction.
Automate processes to take care of disruptions in the supply chain so as to maintain the ecosystem and take care of any upcoming complications.
Intelligent Financial Crime Detection
There is an increased pressure on financial institutions and banks to improve data security with increasing digital financial crimes. For many online shoppers security plays a crucial role when making payment online. They want to be sure that the transactions are risk free. So the businesses need to stay compliant with the complex regulations coming up and conduct strong investigations. Without affecting their business margin these businesses are going after new and innovative processes that is intelligent and self-learning such as AI powered solutions.
A Leading AI development services provider company will work on to use the flexibility of technology environments that are cloud-based by combining the power of machine learning, intelligent automation and advanced analytics to achieve measurable business outcomes for their clients. Today's AI driven solutions are capable to help banks and financial institutions to completely transform their processes. They do it by augmenting investor performance and by streamlining operations to detect and examine threats in large volumes thoroughly and quickly. The best thing is that everything is done maintaining client privacy and sticking to the compliance.
Some AI applications are:

Develop standard and policies across enterprise
Make use of AI to decrease false positive rates, prioritize case investigations and increase the accuracy of rule targeting.
Enhance compliance with Know Your Customer (KYC), Anti-Money Laundering (AML) and other regulations.
Benefits of Artificial Intelligence for Businesses
Artificial intelligence is said to offer good number of development opportunities which businesses can use to make profits. Based on the kind of the business and its goals and requirements, contact us to hire AI developers for custom AI software development company to get personalized solutions build. There are some notable benefits of artificial intelligence and they are:
1. Automating Customer Interactions
Today human interactions are needed in most of customer interactions that include social media conversations, emails, online chat and telephone calls. By using AI, it will become possible for the companies to easily automate those communications. The computers will be able to respond to the queries coming from the customers and offer solutions that best suit the situation by analyzing the previous communication data. The communication with the customers can be made even better when AI gets combined with machine learning.
2. Improving Personalized Shopping Experience
Today more companies are opting for AI as it helps them offer personalized marketing and reach customers. This step helps to improve customer loyalty, increase engagement and boost sales. Using AI it will become possible to identify the patterns in the buying behaviour of customers and know about their browsing habits. Based on such learning, companies can make right offer to individual customers which can help with conversions.
3. Data Mining
During big data processing, relevant findings and important information can be found by using advanced cloud-based AI apps. These way business insights can be obtained out of data which was not previously worked on and the business can manage to get an added advantage in the market place.
4. Real-Time Assistance
Artificial intelligence can prove to be a boon to the businesses which needed to talk to and handle large number of customers continuously on daily basis. For example, the transport industry that comprises of train, airline and bus services needs to have regular and continuous interaction and communication with the customers. By making use of AI powered apps it will become possible to offer real-time information. They can send personalized travel information, real-time transport arrival and departure information and interact with the travelers in real-time.
5. Predicting Outcomes
It is true that AI is best to make prediction when carrying out data analysis. For example, it can analyse the customer data to make predictions on the future sale of current products in the store and will let the business know to concentrate on which products to increase volume. This means it will also make prediction about the decreasing demand of certain products. For a company it is very much important to know as it will help with inventory management.
Apart from retail industry, AI can be used to make predictions in case of healthcare like to know about the outbreaks of diseases or in case of banking sector to know about stock price fluctuations.
6. Intelligent Analysis
Instead of looking back in to the data, artificial intelligence helps to analyses real-time large volumes of data to offer you recommended decisions and live insights. Right at the moment opportunities are creating and coming up, AI can help business to be agile and become more reactive.
The ability to identify the issues at the earliest and make predictions accordingly will help the business make responses that are in its best favour. Now this includes, having an understanding of the payment that has to be made on short-term basis, quantifying the benefit and much more.
Conclusion
It is true that artificial intelligence is not a new technique but different industries are now coming forward to make use of it in their business. Artificial intelligence when combined with machine learning and data analytics can help to efficiently streamline business processes, offer better customer experience, improve customer retention, know customer buying behaviour, get insights for market predictions, take better marketing approach and much more. Today more and more number of businesses across different industries is opting for implementing artificial intelligence and this step will turn them better and smarter in the coming years.