'Extraordinary', 'fun', and 'memorable' were some words that one could hear as Weblineindia's troops headed back to their homes after a day of frantic excitement and fun. Retaining its promise of organizing a thrilling trip each year, Weblineindia drove its employees and their spouse with kids to Ajwa Fun World & Water Park. Based in Vadodara, the place is recognized for its adrenaline rushing rides and activities. It was certainly a day that de-stressed all Weblineindians, and inspired them to look forward to another year of hard work, success and accomplishments.
A BIT ABOUT WEBLINEINDIA
Weblineindia is a leading Information Technology company that offers a range of services to international clients across the globe. The company has been in existence for over a decade, and has served a number of clients in that period. The management of the company considers employees to be its most important assets, and continually comes up with ideas that could keep all employees motivated and inspired. The yearly event is just a small endeavor of Weblineindia to thank its large family (employee + management) for the efforts everyone exerted in the previous year towards the company's success.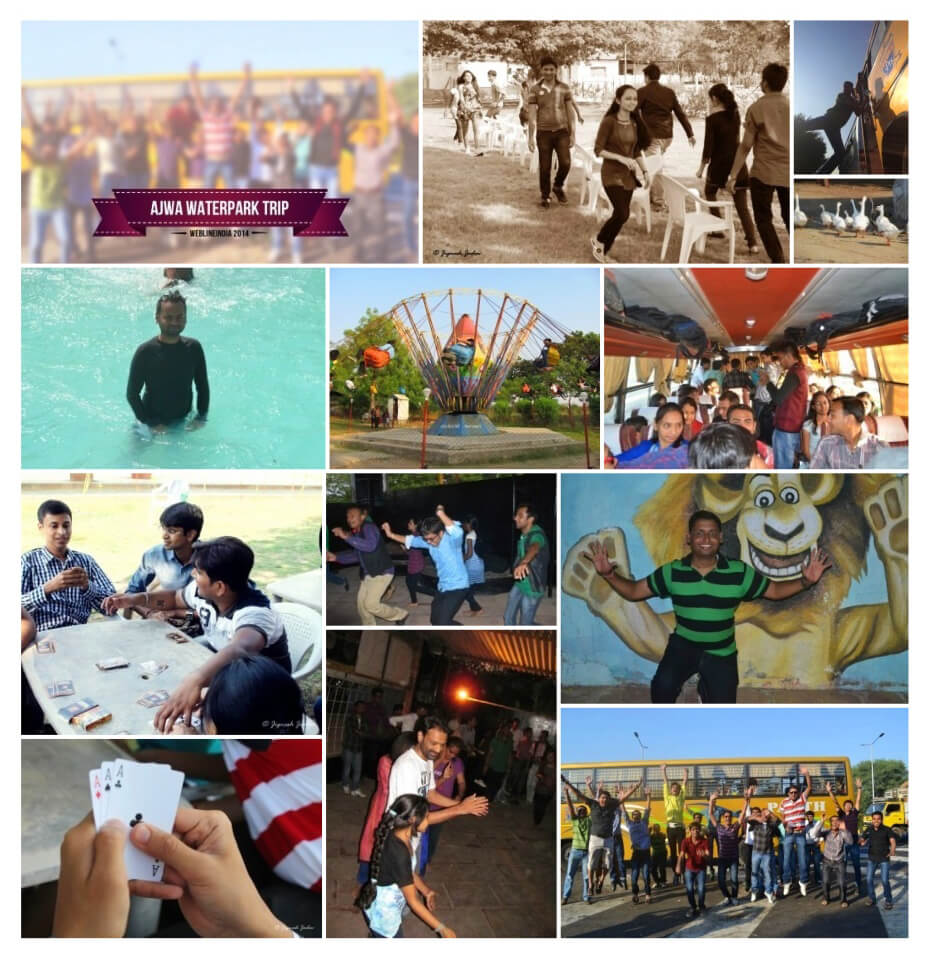 ABOUT AJWA FUN WORLD & WATER PARK
Ajwa Fun World & Water Park is one of the biggest amusement parks in the state of Gujarat. Over the last few years, this tourist destination has turned into being a popular one in the state. There are a number of water rides and other fun rides that enthusiasts can participate in while at the amusement park. Some of these rides are first timers in Gujarat, and by that virtue they manage to catch instant attention of the revelers.
A DAY WORTH REMEMBERING
As a part of our tradition, we make a memorable trip every single year. This year's trip turned out to be extra special because it was organized at Ajwa Fun World & Water Park. Every single individual in the organization had heard about the place and wished to be there once. Our Fun & Event Committee was on the lookout for an ideal place for the annual trip, and this decision of theirs reaped results.
The trip was organized on the 29th of March, and we started early in the morning. This way, we had the entire day to engross ourselves in a range of activities. The drive till Ajwa it was quite happening as we participated in various activities on the way. We all chatted around, sang songs, cracked jokes, and we never knew when our destination arrived. On reaching the destination, we all changed into our swim wear as it was time to indulge in some thrilling and breath taking water rides. There were various moments that still make us laugh when we think of them. That instance of one of our employees being scared of getting on the Italian Coaster, and another instance when expressions of another employee were picture perfect when her Water Marry Go ride commenced.
All in all, this was a great opportunity for all of us to break some ice and shed all our stress. This trip has helped us all refocus on our work and look forward to another memorable trip next year.