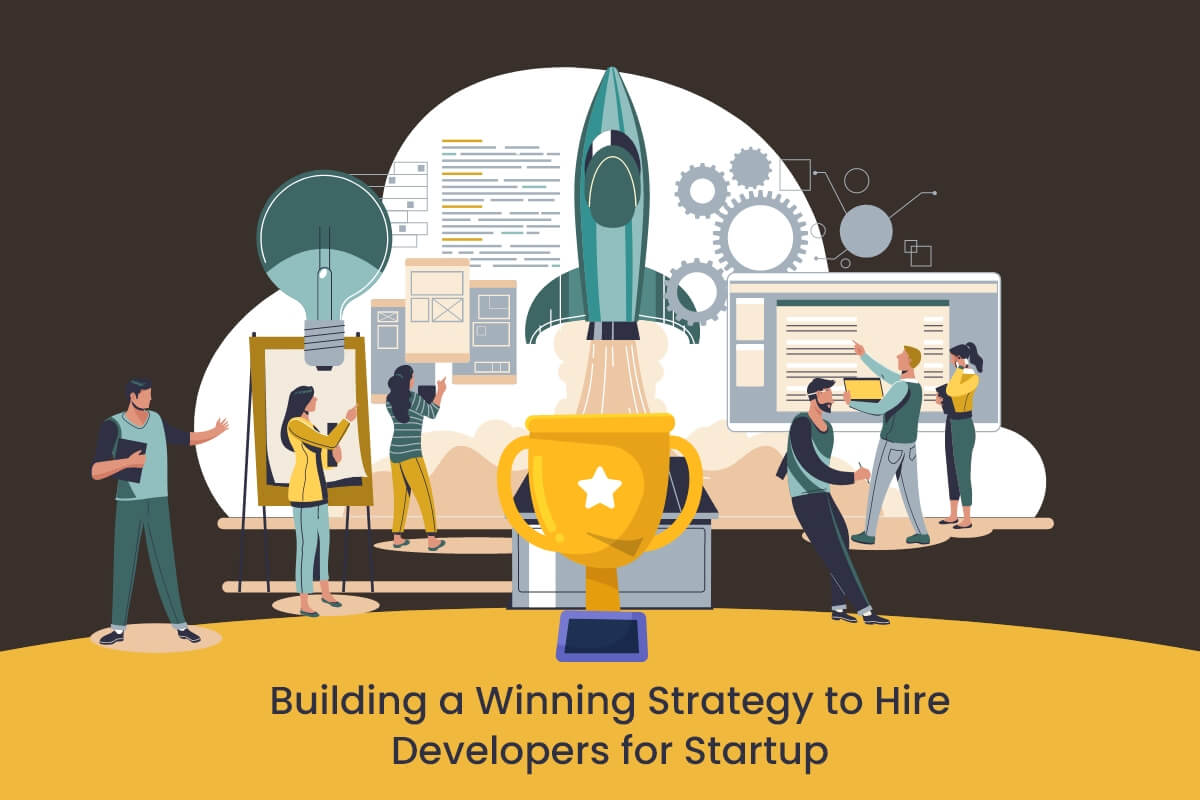 An efficient strategy for hiring software developers is essential for the success of startups in today's competitive landscape. Startups require a talented software development team to:
foster innovative thinking,
deliver high-quality products, and
beat the competition from peer companies
Despite the benefits of hiring programmers for startups, recruiting top talent in the IT industry can be a tedious and challenging process. This is more so the case with startups who have access to limited resources and know-how. To overcome these hurdles, partnering with a software development company, like WeblineIndia, that specialises in providing remote software developers for startup projects can offer many advantages such as:
Saving of Costs
Work with a Dedicated & Talented Team
Faster Development Process
Flexibility
Exceptional Support
Global Talent Pool
Moreover, research indicates that more than 80% of developers are open to new and challenging job opportunities. When you have an efficient strategy for hiring software developers for startup, you can access and choose from the large pool of talent available looking for growth opportunities. To find developers for startup, collaboration with some software development company allows startups to access a diverse pool of remote software developers with various skill sets, expertise and experience.
Let's look at the most preferred and winning strategies for hiring developers for startups.
1. Understand Your Software Development Needs before you Hire Developers for Startup
Before beginning the process of hiring software developers for startup, it is vital for startups to identify their specific custom software development needs. For example,
What Skill Sets are required?
Which all Technologies will be utilised?
What level of expertise as well as experience will be required for the projects?
What is the budget?
A clear understanding of these requirements enables startups to effectively communicate their expectations to the software development company, ensuring to find programmers for startups who possess the relevant skills and experience. A best fit is only possible with clear communication of expectations for hiring programmers for startup to the software company.
Partnering with us at WeblineIndia, a leading custom software development company will offer numerous advantages such as:
Access to a diverse pool of remote software developers: To find developers for startup with expertise in various technologies and programming languages, you need to collaborate with top software companies like ours. This will allow you to build a skills diversified and strong software development team.
Smooth Communication Process: We act as a medium for connecting startups with software developers who possess the necessary skills and knowledge for your startup's software development requirements.
On-Demand software developers as per the requirement: We can provide on-demand software developers based on the project needs, technical skill requirement of the startup.
The needs for remote software developers are unique to each business organisation. Domain knowledge is a key factor that must also be communicated by startups to the software company while hiring dedicated software developers and programmers. For building efficient software for any business, a sharp understanding of the industry and domain is also one of the essential requirements for a developer.
2. Choosing the Right Software Development Company to Hire Developers for Startup
Selecting the best software development company is critical for the success of the hiring process to find programmers for startup.
Startups should consider various factors when evaluating potential partners. The most important criteria are:
The experience and reputation of the software development company.
A proven track record and client list as it speaks for itself, for any software company.
Analyse the record of successfully providing remote software developers to other startups before considering any partnership.
Startups should look for a software development company with experience in working for startups in their industry or similar domains. Due to the nature of the job (building startup software from scratch), experience is a very crucial factor for a majority of the hiring decision-makers at startups.
Industry awareness and knowledge goes a long way in building robust software for clients.
Expertise and skill set evaluation is also important when looking to hiring programmers for startup from software companies.
Startups should aim to look for a custom software company which specialises in providing software developers with the skill sets and expertise levels they require. For example, if a startup is focused on developing web-based applications, partnering with a software company with expertise in web-based app development would be advantageous.
A cultural fit is as important as experience, skill level and expertise of programmers.
Startups should choose a software programming company that understands and aligns with their own vision, values and work culture.
This ensures that remote software developers can coordinate well with the startup's objectives and have a higher productivity in their work assignments.
3. Assessing Software Developer Skills and Expertise
It is vital to assess the skills and expertise of programmers before making any hiring decisions. This is a factor that can either make or break the hiring decision of startups.
Here are a few ways in which you can assess the skills & expertise of the programmers before hiring a Software Development Company:
Efficient Screening & Interview Process: The software company must have an efficient screening and interview process to ensure that only the most technically sound and industry aware candidates are presented to startups, for further screening.
Look for Developers' Experience & Technical Knowledge: By evaluating developers' technical capabilities, domain knowledge and experience, the software company helps to hire developers for startup; who are not only technically proficient but also a good fit for their dedicated team.
According to industry research,
Around 85% of IT hiring managers give more importance to technical skill proficiency during the recruitment process.
Use of Various Assessing Methods: The software company should utilise standardised assessment methods, coding challenges and technical interviews to accurately evaluate the skill level and expertise of developers.
Ask for Transparency from the Software Development Firm: Transparency for startups in this assessment process is vital to build trust and long term relationships with software companies providing remote programmers.
Startups should have visibility into exactly how candidates are evaluated, what is the screening procedure like to ensure confidence in the quality of software developers presented to them for further screening. With better transparency, future recruitments for projects become easier for both startups and software companies.
4. Transparent Communication and Collaboration
Concise and transparent communication is very important for effective collaboration between startups, the software development company and remote software developers.
While hiring a software development company, always evaluate below points for a successful collaboration.
Effective Communication Channel: As a startup, you must look for a software development company that facilitates effective communication channels, allowing startups to convey their requirements and expectations directly to the remote developers.
Many reputed software development firms like ours use Slack, Microsoft Teams, Skype, etc to have a seamless communication with clients in a remote setup.
Progress Reporting: Progress Reporting is very important when looking for a successful and efficient product delivery. We understand that lack of communication and transparency can lead to frustration between software developers and hiring startups and also affect productivity negatively. So, at WeblineIndia, we provide regular progress reports and work completion updates to keep all stakeholders informed about the project's status.
Effective Collaboration: Research conducted by Atlassian indicates that 97% of employees and executives believe that the level of collaboration directly impacts the outcome of a project or task. Effective collaboration helps programmers to function with innovation, be better problem-solvers and perform at optimum levels to ensure the timely delivery of software projects.
Seamless Software Project Management: The software company should also enable seamless project management, even in remote work arrangements. This can be done by providing tools and platforms for effective communication and collaboration, such as project management software and version control systems.
With these systems in place, startups can ensure that their development projects get implemented as per estimated plans made before hiring programmers for startup via software companies. Custom software development is a technical job and hence all the technical back end support must be provided to developers, to ensure their maximum productivity.
5. Flexibility and Scalability to Hire Developers for Startup
Startups often face constantly changing requirements and fluctuating workloads. Partnering with a software company like WeblineIndia allows startups to be flexible and scalable with their offshore software development team in the following ways.
Flexibility with Team Size: With remote software developers working at an offshore location, startups can easily scale up or down their team size based on project requirements. This results in lesser wastage of time and resources and ensures optimal resource utilisation.
A recent report by Deloitte highlights that
42% of startups consider the ability to scale and hire on-demand developers as the primary reason for software development outsourcing.
Customised Time Allocation: The duration of the contract can also be customised to suit the hiring needs of startups. Whether startups require software developers for short-term projects or long-term projects, the software company can provide the necessary flexibility in hiring. This benefits the developers who are hired as well, as there is no ambiguity in work expectation. No precious time is wasted as 'on the bench', which is common for software developers working in leading IT companies.
Adjustments in Skill Sets as per the Software Project: Also, if startups want to add to their dedicated software development team with specific skill sets and expertise for a particular project phase, the hired software development company is able to provide such talent as required.
6. Dedicated Support and Project Management
The contracted offshore software company must provide dedicated support and project management throughout the project duration by,
Allotting a single Point of Contact: This includes assigning a project manager responsible as a single point of contact. The project manager would be liable to ensure efficient two way communication, timely delivery of software project and optimal resource allocation for talent.
Assigning a Dedicated Project Manager: It has been proven by research and industry studies that efficient  project management is crucial to improve the rate of project success and decrease failures and snags in project output by developers. Project management brings a streamlined process flow for both startups and outsourced hired developers for each assignment. The project manager acts as a liaison between startups and offshore software developers, ensuring that client requirements are communicated and comprehended, project milestones are met, timely updates are provided and possible problems while working on assignments are resolved at the earliest.
A Streamlined Guideline: The software company must have established processes and guidelines for project management, ensuring that startups can focus on their own core business, instead of worrying over the productivity and delivery quality of offshore software developers.
Project management ensures that developer projects are streamlined in accordance with the requirements of the client company. Issue resolution after proper communication with clients must be an ongoing process to ensure lesser project failures/ discrepancies.
7. Cost-Effectiveness and Resource Optimisation
Hiring software developers for startup through WeblineIndia, a custom software development company will bring various advantages including that of cost-effectiveness as compared to traditional hiring methods.
Working with a Software Development Company can result in cost-reduction in the below mentioned areas:
No HR Related Costs: Startups are usually struggling for funding and it is a good idea to focus their funds on their core business and operations. HR related costs like job postings, candidate screening and interview processes, recruitment costs, hiring costs, etc. can be saved by opting to find programmers for startup via specialised offshore software companies, tailored as per their requirement.
Savings on Administrative Costs: The startup is able to get rid of overheads and administrative costs as the whole hiring process is outsourced. With such cost reductions possible, startups can pay better attention to their business and optimally utilise their limited resources to reach business objectives and profitability goals. Software development also entails additional hidden costs such as IT hardware infrastructure costs, software licence costs, maintenance costs, training and development costs, technical support costs etc. which can be also saved when remote software developers are hired.
Reduction in Capital Expenses: No investments or capital expenses are required to be made by the startup for software development. This is a big advantage for startups as upfront costs related to software development are eliminated.
When the entire software development process is outsourced to a talented and efficient company like WeblineIndia, the startup can virtually eliminate all of the above mentioned costs from their financial statements. 
8. Success Stories and Testimonials
To further enlist the benefits of hiring software developers for startups from offshore software companies, it is important to evaluate success stories and testimonials of the offshore companies. These success stories provide practical examples of the positive outcomes that can be achieved by outsourcing software development requirements to specialist software firms.
Software development is a large cost for any business organisation. More and more startups have begun to outsource this task to the professionals to obtain maximum output with minimum hassles.
Here's one of our "Success Story" with a startup who had engaged us for building a billing software application that resulted in their success in the long run. 

The client was looking to create an exclusive flagship billing software product aimed exclusively for people looking for a bill sharing app solution. As a result, they decided to hire an offshore software development team. As it was nearly impossible to build an extensive dedicated software development team in-house in such a short period of time which would  equally be costly.

We scaled the specialised software development team of 3 to 15 software developers according to our client's need to successfully complete this flagship product development within budget and time. As a result of having their product developed as per the need and within the time-frame, our client could collaborate with significant banks and financial institutions, allowing them now to be among the segment's market leaders.

You can read more about it here, Bill Sharing App.
Conclusion
To conclude, an efficient strategy to Hire developers for startups is vital for their success. By fostering partnerships with us, startups can have access to a diverse and wide pool of talent. We can also customise the offshore software development team to the specific requirement by utilising a streamlined recruitment process.
The right software company brings expertise, experience and cultural fit to the table, along with making sure to find developers for startup who align with their vision and work culture. At WeblineIndia we follow transparent communication and project management, which enable effective remote work arrangements, encourages innovation and builds positive work environments for both startups and remote developers.
We can conclude that by building a winning strategy for hiring remote developers with a well-reputed software development firm can help you to succeed as an entrepreneur because of the following advantages:
The flexibility and scalability to hire on-demand software developers.
The freedom to alter team sizes, team compositions as per their own requirement and budget constraints without affecting workflow and final project outputs.
Cost-effectiveness and optimal resource usage are additional advantages. Startups can save on recruitment and administrative costs by leveraging the software company's existing infrastructure and technical expertise.
It is indeed a strategic decision for startups to consider partnering with a reputed software company like WeblineIndia to access top remote developers for their projects. Contact us now if you are looking to hire programmers for your startup.