E-commerce web development has gained immense preeminence with advancement in internet as a technology. Availability of internet in mobile phones has boosted e-commerce web development. E-commerce has promoted 24/7 shopping from any corner of the world. With faster shipping and safe payment modes, people prefer to make an online purchase transaction. Also, it is convenient for customers to order at their leisure without any legwork.
E-commerce web development is highly recommendable for small upcoming businesses as it is a means to generate rapid customer base in a short span. It is a base on which a small business can make its international position in the market. However, e-commerce web development is a factor to be crucially handled. A wrongly implemented and complicatedly designed website will steep the growth graph of your business. Even choosing an appropriate e-commerce web developer can be daunting for you. However, do not worry if you are confused as the following points will guide you through as to what points are to be considered in order to run an e-commerce website efficiently:
Define your target
In any business, none of the activities are undertaken without defining targets. It is essential to know where you are and where you expect yourself to be in the near future with successful establishment of your online store. As a store owner you need to be aware that establishing an e-commerce website is not an overnight process. It takes days and sometimes week to gather web hosts, suppliers, website developers, affiliate reliable networks etc. Hence set realistic targets only.
Research
A lot of time is to be invested in making research about your competitors in the market, what they offer and what people further expect from them. Keeping all these factors in mind, ask your e-commerce web developer to remove limitations of your competitors in your website. Learn if any mistakes have been made by your competitor in the market and try to rectify the same.
Follow rules
As a store owner be completely equipped with knowledge of all the rules and regulations to be followed as an online store. You must know what you can and what you are not supposed to do over online transactions.
Ensured safety
Confidentiality of your customer information must be your first priority. Also safe modes of payment will establish long term relation with the customer. Choose reliable payment service provider that is worldwide recognized like PayPal. Notify your customers via emails regarding update of stock, discounts, sale or offers. Let them take benefit for being your valuable asset.
Online Marketing
Customers will not get a day dream that you have started an online store. So efficient marketing of your online store is necessary. For this use of social networking sites like Facebook, Twitter or YouTube can be done.
Ask for customer feedback
Responding to customer feedback will satisfy a customer as well as push him to make new purchases from your store.
Don't be ambiguous
In your content, make sure you specify all your company policies, after sale services or return policy criteria clearly. The language must be precise and not ambiguous.
Factors To Consider For E-Commerce Portal Development
Ecommerce portal development needs to consider:
Right Services
With immense competition, there are numerous e-commerce web developers out there. Choosing the best one for your business is challenging. For e-commerce website, you need highly experienced, innovative and hardworking developer who can bring you success without any hassles. You need to hire e-commerce website developer of a company that is skilled in the following services:
SEO ( Search Engine Optimization ), SEM ( Search Engine Marketing ), SMO ( Social Media Optimization ) and SMM ( Social Media Marketing )
PPC ( Pay per Click )
Strategy Management
Complete Campaign Analysis with tracking fulfillment of campaign objectives.
Link Building
Affiliate Programs.
Work within deadline
All the expected result must be handed over to you within or before the deadline assigned to your website developer. Every minute counts in business and as we know earlier the better. Hence, get your store designed as per the timeframe estimated by you. This will give you a sense of confidence and positivity.
Which Platform To Choose? Windows Or Ubuntu?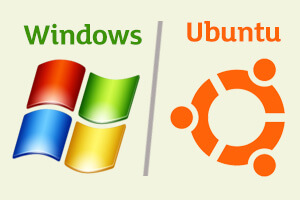 Choosing the right platform for your e-commerce website is a crucial decision like Windows or Ubuntu. There are plethora of platforms based on which you can execute your website. However selecting the best can be done with the assistance of your expert developers. Every platform has its own pros and cons. However, selecting a scalable platform with numerous themes, easy to execute features and with customizable features should be selected as an ideal one. It totally depends on the purpose your website wants to serve.
Though Ubuntu has gained tremendous popularity, developers remain partial towards Windows still. Windows as a base operating system will generate more money. PCs are pre-installed with Windows whereas finding PCs pre-installed with Ubuntu is a little cumbersome. This sometimes gets time consuming and expensive. Also, built-in features offered by Windows are purely royal and offer you the best experience to work with.
Consult few expert e-commerce developers before you land up on any conclusion.
See More:
E-Commerce: Revenue Progressive Platform For Small Businesses