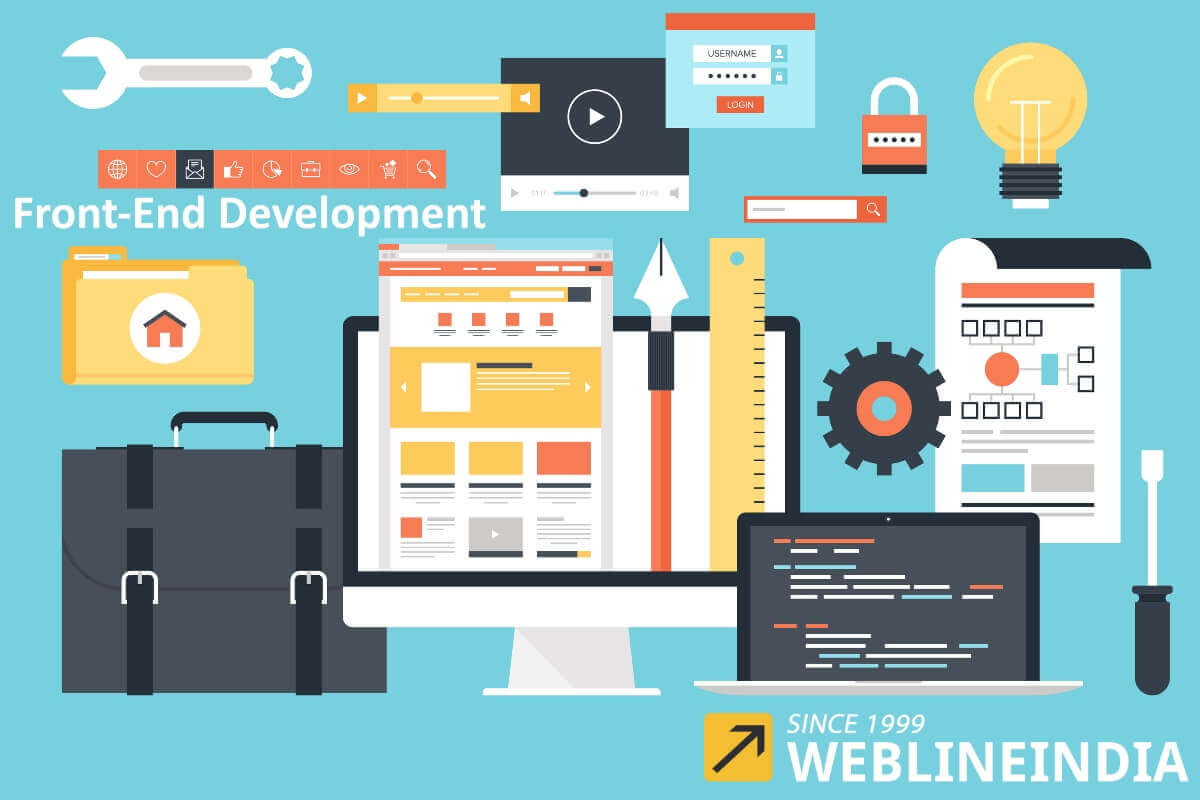 Let's dive into the most buzzed tech segment that's the most lucrative part where entire web compulsorily has to link to. It's the Front End web development. Every existing website or an application that you've gone through has the magical touch from Front-End developers who ensure that all visual appeal comes into existence. In recent times, professional outsourcing of Front-End web developers is rising so as to bring explosive interaction, beautiful visuals and lively designs work into whatever web work / digital journey, the development is targeted for.
In simple words, "Front-End" is that part of the web, where we are experiencing the elements that can be visualized or interacted with. It majorly comprises of two segments – the designs and the Front-End built-up or its development. Earlier when it was discussed anywhere about the development, the conclusion or interpretation was directly related to the back-end. But, now the scenario differs and the need to separate both the domains is critical where design creators that really turn around magnificent objects through only Photoshop and the other brains who work out the coding phases to make it work. All that, is achieved with a mixture of HTML, CSS and JavaScript including objects like buttons, fonts, indexes, menus, notification bar, any sliders or tabs, etc. Making all these things function dynamically and to secure all the data that is laid in the Front-End objects, is when back-end comes in picture.
While observing any eye-catching and user friendly website, it may definitely keep you wondering that how these amazing products must have been created. Top uprising companies are offering customized services for Front End web development. Developers utilize their creativity along with the modern tools and frameworks to get amazing features and visual designs for any type of requirement. You can outsource Front End web development services for the now preferred responsive websites. Front-End developers are the superstars who perform the coding as well as entire layout that drives the visuals and engagements of the website / application. It is the major linked structure without which the systems are of no use at all.
Move to the Modern, Responsive & Interactive Web with Front-End Development Services
Front-End Development Services is Outsourced Mainly for:
Creating features or interactive tools for any online store
Building modern day responsive websites or web app for mobility segment
Developing secured, bugless and consistent products for high traffic web zone
Upgrading the traditional look of any brand
UI & UX
Advantages / Pros of Front-End Development:        
We have already seen how important front end plays in the entire scenario of web segment, whether it's design and elements or the entire well-organized structure to make everything work smooth and perfect. For Front-End development, offshore services and outsource models is up on the rise. Here are some advantages that will convince you to outsource front end services for your upcoming web project.
Speedy Development and User-driven Outcomes

Using certain modern frameworks will enable faster development of elements. Also, the journey towards making it work is shorter. For example, if you've a sure shot plan in your mind for an app for which the back-end is all set to go and you need the front end part to go hand-in-hand with it then the front end space can be all in full bloom within few days.

Secured

One more feather in the cap while using a framework in front end development is that the coding is fully secured. This is a boon and you may never have to worry about your site's functioning on any existing browser.

Quickly Reacting Features and Apps

Latest frameworks and technologies used by the developers enable them to build fast responding features and structures finally powering the app to respond, react and work fast.

Easy to Learn, Use and Scale Technologies

Most of the modern frameworks and technologies preferred for front end development have passed through most stringent recurrences and so they extend very user-friendly constructing layers that are very easy to follow and learn from.

Powerful Features and Layouts

When any feature or element is built for the website, a major concern will also include ensuring its robustness. Frameworks that are used by  front-end developers will provide an extra edge for development of powerful website due to its default styles.  Finally the whole outcome will shine powerfully on web with the extraordinary functionalities.

Real-time Programming

Now, it is possible for the developer to observe the modifications in the browser without any fear of losing the status of application and repetition of loading the browser pages.
Few Disadvantages / Cons of Front End Web Development:
Yes, there are certain flaws that are observed in front end segment but fortunately they are linked to specific technologies and frameworks. Let's see some drawbacks that the developers can absolutely overcome and set aside while development. You need not bother about these technology-driven limitations as the advantages are abundantly high in comparison.
Not at Par with Hefty Computation Back-end Systems

Few sites or apps involve hefty computations with tons of data transits happening every minute and here few full stack technologies fail to be at par. Then again, you don't have to be disappointed as there are solutions to tackle such situations.  This can be done by dismantling complex situations into organized small self-dependent modules, that haul better fitting technologies and interact swiftly with the back end in case of heavy computations.

New Immature Technologies

There are giants like PHP and Java while we have seen server side JavaScript that has been introduced not so long back. So, finally what results is a small sized knowledge support and bounded integration possibilities. There are few programmers who are against these factors and so cite about its immature behavior. Even this problem, that is technology specific, can also be resolved.

Custom Development

Every website has at least some elements that need customization if not all. So, for building custom features or site, you are required to rely on certain frameworks that allow you to do so. This task is quick and simple but it will be quite common that many of tasks would be prevailing in the default modes. Results of doing so is like inflating codes that stand against the traditional thumb rule of DRY – Don't Repeat Yourself.

New Versions

Whenever you learn that there's some fresh update in a framework, it's a disappointment rather than bliss. As, if you are unable to get the latest update, you will lack behind from modern standards, and again if you succeed in doing so, there are many possibilities that you may end up messing things. Learned developers can overcome this limitation by staying in constant touch with the modifications and updates.
Final Wrap Up with the Best of Front-End World
After breaking up to bits, it's quite fair to suggest Front end web development as a much needed evolution for today's web requirements. Modern apps and sites cannot afford to ignore this space at all and many companies with noticeable expertise in this field work out wonders with proper usage of frameworks. Well, which framework to go with will totally depend on what is to be achieved, how much budget the client wants to allot and what size of the project it is.
Top companies are hiring front end developers from offshore companies including WeblineIndia and the future is very promising. These companies inculcate strong base that will enable developers to put themselves on the right path and build amazing works using HTML, CSS, JavaScript and other frameworks. The developers own advanced skills and can manage everything from design implementation to bug elimination and functional testing. Front end developers can be hired for any web project and you can get started with your project instantly without worrying about high repeated costs of having a team on-board. You can utilize their skills for futuristic digital web services and give outstanding front end to your website / app.
If you are a front end enthusiast or a service seeker, the time has arrived. Contact Us NOW to get started!!!
References
http://www.kgntechnologies.com/pros-cons-using-front-end-development-frameworks/

https://anadea.info/blog/modern-front-end-pros-and-cons