Are you a gym owner and unsure of how to run your gym most efficiently? Managing a gym includes a myriad of tasks, and it can be extremely time consuming. Gym start-ups have to consider such tasks as managing memberships, scheduling employees, ensuring timely payments, and more. If all of this sounds daunting to you, a Gym Management App can be the right solution for your needs. As the name suggests, this is an app/software that can help you more efficiently manage your gym by automating mundane tasks. Also, what is worth noting is that implementing a gym management software is a good idea for many types of buyer. Whether you are a small company looking for a low-cost gym management app for start-ups or are the CEO of a chain of gyms, there are 2 objectives you must have: improving your member's experience and operating efficiency. The gym management app can help you achieve just that.
In this blog, we will talk about the 3 essential features that your gym management app should certainly have. However, before diving into that; let us have a brief look about why having a gym management software has almost become mandatory in today's times.
Benefits of Gym Management App

1 ) Improved Efficiency
No one enjoys spending long hours in performing manual tasks that could in fact be automated. Your gym management app can do that. The app can help you with automating functions such as:
Reporting (Daily, weekly, and/or monthly)
Collection of dues
Schedule Management
Member Check-ins
Contract Management
and many more…
As you can imagine, the automation of these functions can significantly augment your work efficiency. The time you save can be used to further grow your business, and thus increasing your overall revenue.
2) Happier Members, More Revenue
Hand on your heart; isn't member management a pain in the neck? Members sign on a piece of paper, and you use that to track their attendance. Moreover, you have to manually send emails to follow-up with members for dues. A gym management app will instead save time by storing your member's information in a central database by the use of tags, fobs, or pin codes. This will be simpler for you to store member documents, view member history, view/add/delete invoices, and even get instant payments for members and their guests for using services of buying a protein shake/snack. This will save you a significant amount of time and pain. At the same time, by streamlining the dues collection process; you will be able to increase the total revenue your gym gets from your members.
3) Easier Employee Management
If there's anything closely as difficult as member management, it has to be employee management. Having an app can help you automatically track your employees' time. At the same time, it allows for employees to view and manage their schedule from their mobile phone. They can add new members to the class, set their availability, or even create appointments. Moreover, you can also segment employees into various departments. If you have a tiered commission structure, such grouping will be a blessing to you. So, you can see how this will bring more efficiency into the department. Moreover, it will open up more time for you to promote your gym.
4) Streamlined Gym Promotion
With a gym management application, you can manage and convert your leads right from your mobile phone. This ensures that you are never missing out on your prospects. You have instant availability of prospect information, and marketing automation with the app ensures timely follow-up and attention. Moreover, the in-built reporting systems with these apps can help you track conversions. Such insights can be used in improving your processes and hence further improving your promotion efforts.
5) Solid Insights Lead to Better Decisions
As you know, sound insights are generated from great data. Gym Management system automates reporting that you can use to grow your business. Whether you want to track daily billing system or about delinquent information or anything else, you can have a report for that. This data facilitates sound decisions that eventually lead to business success.
6) Efficient Payment Processing
You don't have to manually send emails to members for processing their payments. Members can be automatically contacted via phone, email, or text for the management and collection of their dues. Again, this leads to saving of time which can be used for other tasks for the gym.
Want to develop GYM MANAGEMENT APP but CONFUSED where to start ?
Essential Features in Your Gym Management App
Here are 3 of the most important features you should ensure your gym management app has: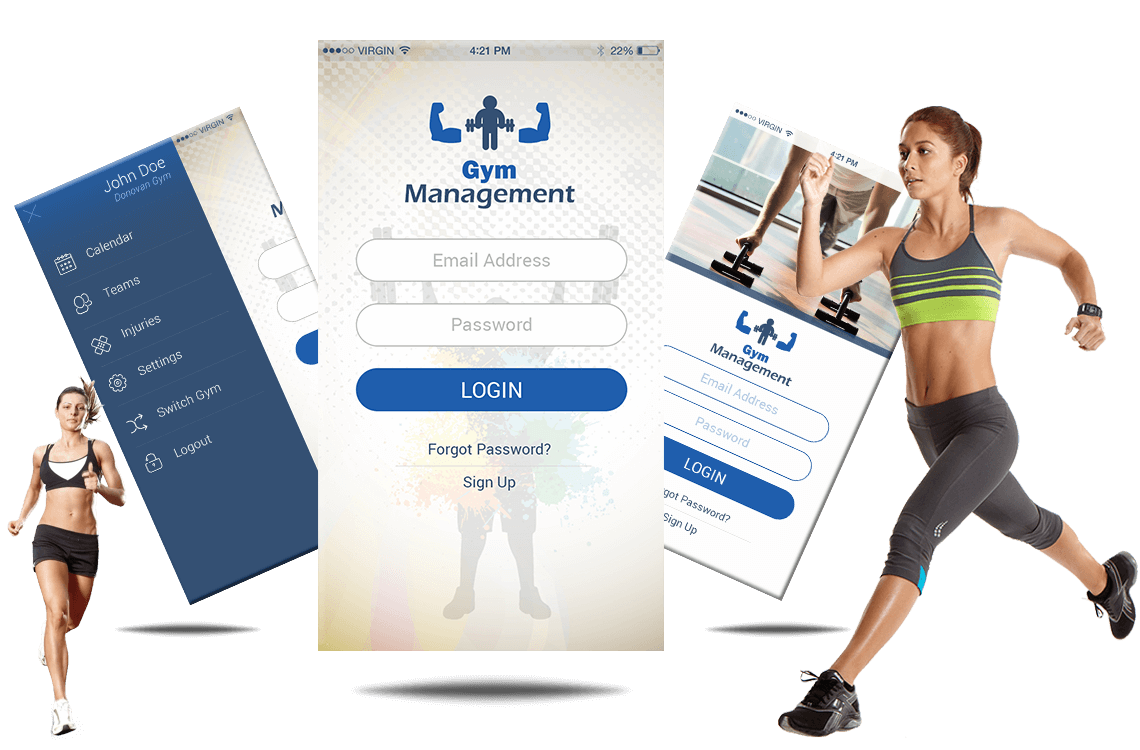 1) Member Management
We spoke earlier about how important and daunting member management can be. Not only do you need to track membership records, you also need to know which coaches they are assigned to and perform multiple other tasks like printing ID cards and so on. Therefore, it is imperative for you to consider including this feature in your app. A good app would be able to keep a track of your members attendance and payment records. At the same time, it will tell you about the classes each member attends, their goals and status, and more. In fact, it will also allow you to print ID cards for newly joined members, right from your mobile phone.
2) Gym Promotion
As a gym start-up owner, you have to manage all tasks yourself. This includes marketing as well. However, with all the time you spend on other tasks; there are chances you might miss important follow-ups or calls. A gym management should certainly have a way for you to email and text your members and prospects in order to stay in touch with them. There can also be automated emails going out on member birthdays and membership anniversaries. In fact, some of these apps can even send out information about milestones and status to the members. So, the one side of this feature is to market to the prospects. The other side is for you to be able to retain your members and facilitate referrals.
3) Forums and Support Groups
Now, this one is interesting. It is easy for many people to miss this. By creating forums and support groups, your app can allow your members to be in touch with you and fellow members. They can connect and have chats on topics of similar interests. People can share their achievements and motivate their fellow members. In fact, it will be wonderful if the app can also have an expert consultation feature. This way, members can drop questions about their fitness and receive expert advice on the same.
4) Bonus Features
Apart from these 3 top features, there are few other features which will be good to have in your app. This includes access control for the gym, point of sale, as well as online booking and automated marketing. All of this will go a long way in making the gym more efficient and profitable. As an example, access control will be able to maintain visit logs for members and also administer time restrictions for certain membership types. This could eventually lead to member usage patterns which can be used to develop better milestones.
—
This is just the very initial stage. We understand that you may have questions about the cost of such apps, the amount of time it takes to develop such app, and the type of app you should get. For all such questions, we will be happy to offer our two cents. We have been a successful and trusted software development & mobile app development company for start-ups and SME's for over 19 years. By that virtue, we know our work and can help you set the right strategy for your business.