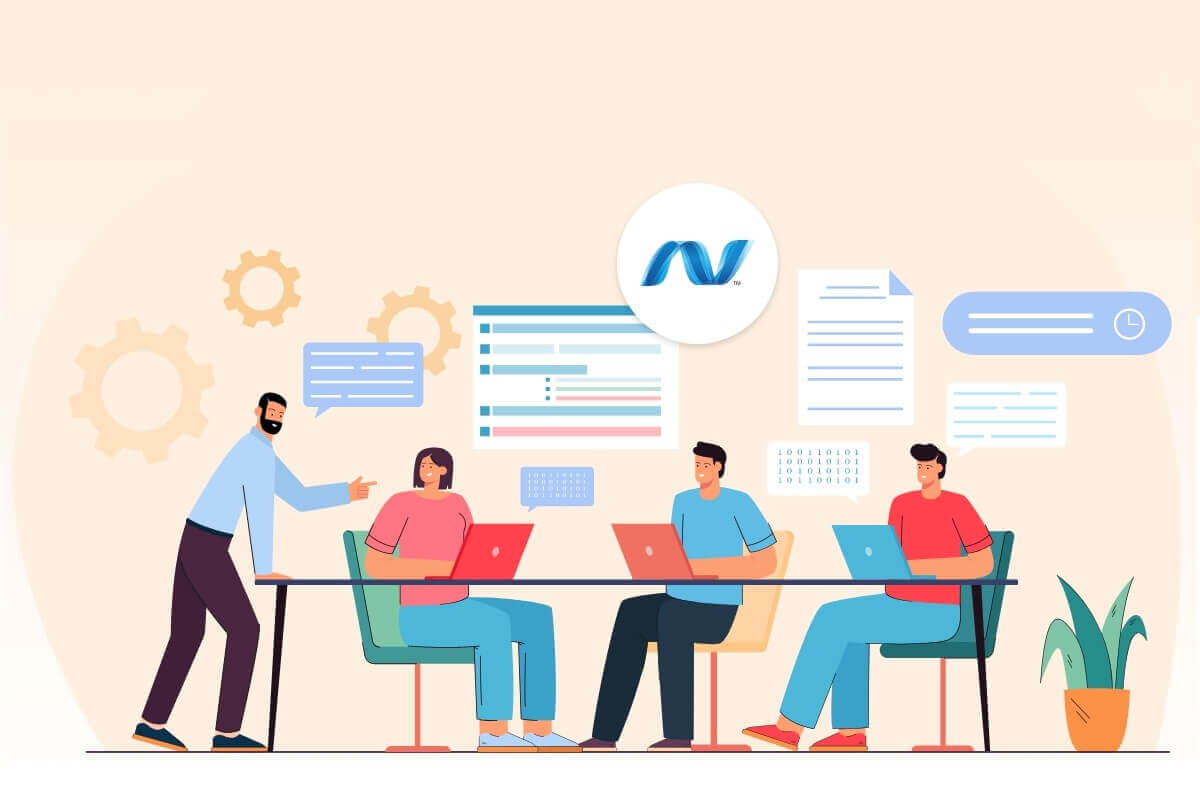 When it comes to developing new applications, businesses have a large variety of platforms, technologies, and frameworks to choose from. However, only a few frameworks stand out as well as Microsoft's open-source .NET framework. If a business is not only employing the .NET framework but also hiring seasoned developers or working with a well-established .NET development company, they stand to enjoy some unique advantages. However, before we can get into the advantages of working with a custom .NET development company, let's first understand the benefits of using the .NET framework.
Is .NET Still in High Demand in 2022?
While there are other frameworks that are more popular than the .NET framework, it is still among the top ten most used frameworks worldwide. This is because of the unique advantages offered by the .NET framework. Some of these are discussed below.
Advantages Of Using .NET Framework
.NET is still being used widely, and the future of the framework also looks bright. Here are some of the reasons that businesses and software developers continue to use this framework:
Highly Suitable For Gaming Applications
The sheer versatility offered by the .NET framework makes it perfect for creating immersive gaming applications. The same versatility also enables seasoned developers to use .NET for developing web applications and enterprise applications.
Interoperable Applications
The way .NET framework is designed makes it perfect for developing interoperable applications that work seamlessly across different platforms.
Multi-Tiered Software Architecture
The multi-tiered architecture of the .NET framework allows it to physically separate the functions used for presentation, app processing, and data management. This allows editors and software developers to work on specific layers of the code without having to rework the entire application every time a change is required.
Ability To Build High-Performance Applications
.NET is well-known for enabling the creation of efficiently performing applications and websites. The most popular example of the same is the Stack Overflow website that uses the .NET Core Framework and manages the traffic of 5.3 million page views with just 9 servers.
These are just a few of the many advantages of using the .NET framework. Now, let's look at the benefits of working with a custom .NET software development company.
Read the full interview of Our CEO Atul Mehta on the GoodFirms website.
Why Work With A Custom .NET Development Company
While .NET does offer more than a few advantages, in order to enjoy these advantages, it is important to use the framework in the correct manner. Working with a custom .NET development company enables businesses to do exactly that. Here's how: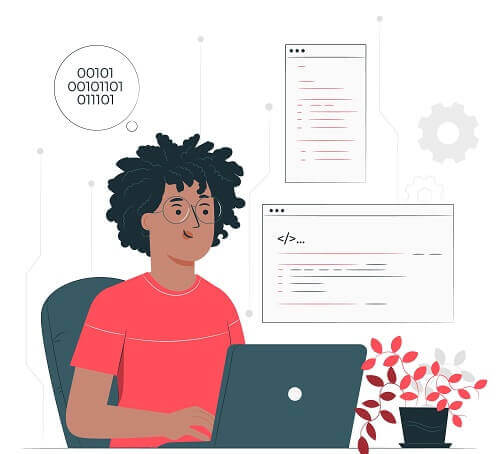 A seasoned developer will always develop applications with clean code, ensuring the absolute absence of superfluous or cluttered code. Moreover, the code will be accompanied with easy to understand and detailed documentation.
This means that the time required to develop, and the time required to subsequently make required changes post-development will be short. At the same time, without the presence of unnecessary code, the application itself will perform fast.
Access To Seasoned Developers Without The Associated Cost
Hiring .NET developers is not easy and it is certainly not a pocket-friendly undertaking. Moreover, if a business only needs one application, then hiring a full-time software development team does not make sense.
This problem is effectively solved when a business chooses to work with a custom .NET development company. The development company has seasoned developers on their payroll and the clients of these companies get access to their experience and expertise at a fraction of the cost.
Since most custom .NET development companies have already hired .NET developers with experience on their teams, they have the required resources to speed up the turnaround time for urgent projects. The best part is, a quicker turnaround time is usually not accompanied with a significantly higher cost or a compromise on the quality of the finished product.
Also read our post on .NET Core VS .NET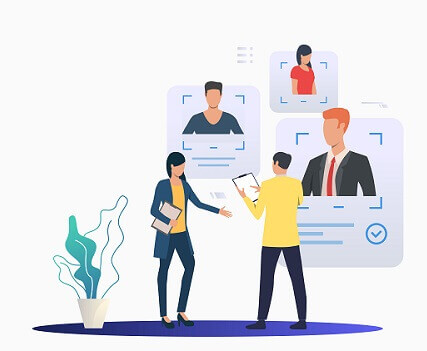 Most custom .NET development companies offer their clients a variety of hiring models to suit their individual needs and budgets. The three most common models are:
As the name suggests, with this model, the client of a development company gets to define their requirements for a dedicated team of developers that will exclusively work on their software project. While this model is usually more pricey than the others, it offers exclusivity, flexibility, and control to the client.
With this model the project scope is determined at the beginning and based on the scope, different progress milestones are determined. Then, the development company charges their clients after achieving every milestone, based on the cost of resources used by the development company to achieve that milestone.
This one is pretty self-explanatory. With the fixed price model, the client declares the scope of the projects, defines the times, and determines the budget of the project right at the beginning.
Read our related post on .NET Developer for Hire, Key Points to Consider Before Making That Decision
Another benefit of working with a reliable .NET development company is that they understand the importance of privacy in such software projects. That's why, before any client shares any project-related information with them, these companies sign a strict non-disclosure agreement with their client. This means businesses can share their ideas with their development partners without worrying about their idea being leaked to a competitor.
Access To The Latest Tech Stack
Custom .NET development companies have access to state-of-the-art tools and technologies that allows them to make cutting-edge applications using the .NET framework. Meaning, when you work with a custom .NET development company, you get an application that is built using the latest version of .NET and will be compatible with all the latest tools, technologies, and platforms.
Conclusion
By now, the benefits of the .NET framework must be crystal clear. Working with a .NET development company is the easiest, most cost-effective, and the most surefire way of ensuring that your project and business enjoy these benefits to their full extent.
Frequently Asked Questions
Yes, .NET is a framework that can be used to create both Windows and online applications utilising a variety of programming languages.
Is there still a high demand for .NET in 2022?
Yes, this framework will continue to be in great demand in 2022 due to its ability to create high-performance, secure and modern web apps.
What are the Benefits of Using the .NET Framework?
The following are the benefits of utilising this framework:
– Object-Oriented
– Caching
– Simple to maintain
– Time-Saving
– Simplicity
Why Hire a Custom .NET Development Firm?
Here are a few reasons:
– Improved response time and clean code
– Excellent value for money
– Developers with extensive experience and certification
– NDA terms are strictly enforced
– Option for choosing hiring models
– Assist in the development of secure solutions for your company.
– The most recent technology stack
How much will it cost to build an ASP.NET application for my business?
The cost for developing your app depends much on requirements and the scope of work. Therefore, you need to consider several things like the project's overall cost estimation, app type, technology stack, no. of software developers, etc.
What are the different kinds of applications built using Microsoft .NET?
With the .NET framework, you can create a different types of web and desktop applications. One can develop an extensive range of products like POS, ERP, forex, project management solutions, and learning solutions.
Social Hashtags:
#net #dotnet #dotnetframework #customdotnetcompany #customdotnetdevelopmentcompany #dotnetcompany #dotnetdevelopmentcompany #dotnetdevelopers #hiredotnetdevelopers
Custom .NET Development Company: INFOGRAPHIC