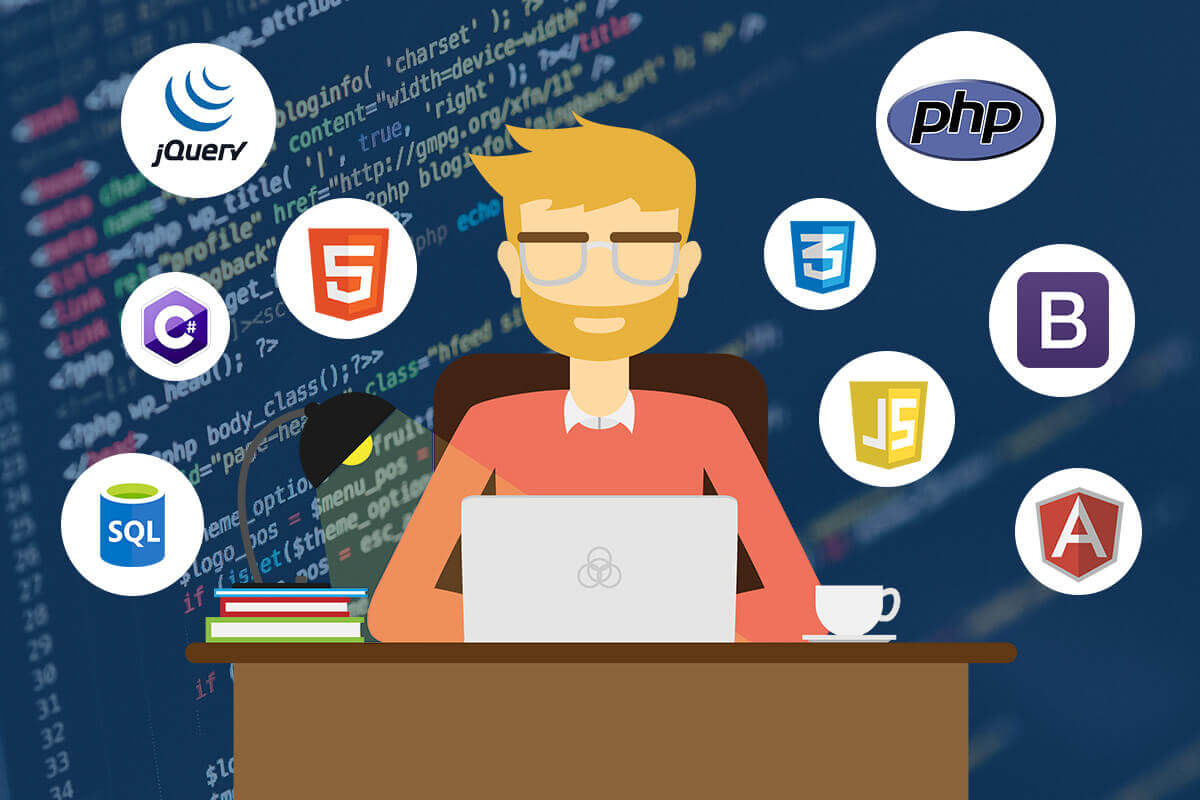 Change is the only constant and in our ever changing world of technology, this has been proven time and again. With growing demand and constant development, technology is always reinventing itself to provide consumers with better and sharper products and software tools. With more and more people moving towards the virtual world, anyone with any sort of business or enterprise needs to have an online presence as well. While there are options for business owners to build and to develop their own sites, there also exists the option of hiring a professional website developer for the purpose. A website would need a professional hand. This is because consumers have numerous choices online. Hence, their attention span is very limited; so one's webpage has not only to be a platform to sell or promote for the owner but also a platform that is informative, technically sound and is easy to use with all the required security codes in place. One would be wise to invest in an best offshore Full Stack development company in India that offers this service like a complete package for both back end as well as front end development.
What Is Full Stack Development Used For?
There are multiple objectives that Full Stack development can help you achieve. Here are some of those:
Unique Code for Multiple Technologies
The individual developer or the agency can work with all kinds of software tools that are complex and simple in order to create and design a unique code for the client.
Multi-technology Project to Create a Great User Experience
A Full Stack developer will be proficient in programs like JavaScript, HTML, PHP, CSS etc along with many others and will have the experience and knowledge to work these into a site design. This means that s/he will look after the creation of both, how the site looks and the way the site functions to put it in simple terms. Working with animation and graphics will also be an added plus in a Full Stack developer's repertoire. Professional Full Stack development process will also have developers who are proficient in converting complex Photoshop designs into front end code.
Read also : MEAN Stack – An Implementation of Full Stack Development
Advantages Of Full Stack Development
Still wondering about how to develop your site and whom to hire? Let's look at the advantages of choosing Full Stack development:
Easy Switching
A professional Full Stack developer is always able to switch between front end and back end development based on the requirement of the project. This is a big saver for time and money as complexities and problems can be solved by the same person. The same developer is aware of what the end result is that s/he has in mind and s/he can come up with a solution or a way around the problem without having to explain the code and design to another.
Entire Design Structure
One of the major advantages of hiring a Full Stack developer is that s/he is not tied down to just web development but in fact can look at the entire design structure and work on any level as required. As s/he is aware of the coding and the design of the site s/he can have a view from above and prevent slip ups that come up during web development.
Cost Saving
Hiring a specialized front end developer and a separate back end developer will only increase costs while a Full Stack development agency can do the job of both. An experienced agency offering Full Stack development will have staff that are proficient in all the software's that are required for the creation of a site.

Easy to Take Ownership of Design & Implementation
A professional Full Stack development agency will be able to take ownership of the entire design and implementation process of the site. An agency that takes on work for a website is able to work better on a project with its Full Stack development team as the solutions are all in-house.
Easy to Upgrade
Studies have found that a Full Stack developer is able to get up to date with new technology and tools faster than someone specializing only in front end or back end technology. This is because s/he has so much of useful knowledge of all aspects of the trade that upgrading is easier.
Comprehensive Work
A team of Full Stack developers is able to divide the work of design and development as the flow requires, working in tandem with each other. An individual Full Stack developer is also able to move from task to task according to the need of the project on hand.
Complete Solution to Problems
Professional Full Stack developers have the ability to go to the root of a problem without just focusing on solutions. This ability to focus on the problem is because of their all round knowledge of the technology that is to be applied.
Perfect for Small & Medium Enterprises
Full Stack development is an ideal option for smaller business and for individuals. Larger corporate websites might need teams with specific specialized front end and back end development skills as the complex website requirement can be broken into segments to save time.
Read also : Front-end Web Development – All You Need to Know
Disadvantages Of Full Stack Development
Here are some of the Disadvantages of Full Stack development:
Can Cause Delays
If your app involves any form of heavy computation and/or data processing on the server side, Full Stack development can lead to delays. The app can be blocked by computational intensive tasks, and that means that the app doesn't work on other requests. However, there are already solutions being developed for the same. Examples of these include the creation of child processes, breaking complex processes into smaller micro-services, etc.
Smaller Knowledge Base
Full Stack development is a relatively young technology, and that means that there is a smaller knowledge base available. This also limits the opportunities of integrating capabilities.
Drawback of Other Tools
Finally, it is also pertinent to note that Full Stack development can stack together multiple technologies. This brings together the disadvantages of all the technologies that are stacked.
All these disadvantages, however, are just minor when you compare these with the advantages. This approach of Full Stack development has a strong following and is evolving very quickly because of its scalability and other benefits that force one to disregard disadvantages.
Top Companies Are Hiring Full Stack Developers
Hiring an expert in Full Stack development is not a difficult option anymore with the many agencies that offer their services for hire. Outsourcing is a sensible option as the site owner can leave the development process to these experts after explaining his requirements while being free to pursue other aspects of the business. There are many benefits to hiring an individual or an agency for ones website development and simply put it definitely saves on time, money and effort. Professional agencies have their websites for one to browse through and the sheer convenience of the internet ensures that a business owner can look for options from the comfort or convenience of his home or office and at a time convenient to him. Comparing pricing and services is also so much easier while browsing online and one can always ask for an estimate for web development too.
Contact us to hire top-rated Full Stack Developers to get an excellent one-stop solution for your Web & Mobile App development projects at the reasonable cost.
A professional agency will always respond as every new client helps to add to their experience and to their client list. The internet helps to conduct meeting and discussions virtually too without having to travel to meet the other. An agency with ample experience in Full Stack development can also help to add suggestions and ideas during the planning process and eliminate ideas that won't work for the client. Hiring a professional agency will also mean that deadlines are met and that regular feedback is given to the client. Test run and trials are also conducted by the Full Stack agency during the development process so that errors can be recorded or avoided.
One of the major benefits of hiring a Full Stack development expert is that there is no time lost while correcting errors as the solutions are available with the same team or individual. There is no need to look for someone else to find a solution for any problem. Ask around for recommendations from people who have used Full Stack experts or browsing through an agency's client list will also help in estimating their potential. Outsourcing has two fold benefits as it helps the business owner to get a great professional service at competitive rates and it benefits the agency with additional experience.
An ideal Full Stack developer or team is someone who can closely work with the client to offer a practical, easy to use site that helps his business to run successfully online.