What is the Definition of Offshore Software Development?
Offshore software development occurs when a company hires a dedicated software development team and establishes a new office in another nation known as an offshore development center. They are full-time employees, exactly like your local staff, except they are stationed overseas. Because of the cheaper operational expenses, large talent pool and ability to scale quickly, they may boost output and improve technical skills without undue stress, difficulty or cost.
What is the Difference between Offshore Development and Outsourcing?
Outsourcing can be great for short-term projects that require an application to be built without the need for continuous iterations and delivery. It provides advantageous arbitrage but often introduces hazards because the developers are not yours and are juggling your project amid a slew of others for a variety of clients. 
With offshore, you select the developers who will work solely for your company. The suitable offshore partner will commence recruitment on your behalf, screening and assessing prospects to match your needs and then present you with a shortlist of the best candidates from which you will make the ultimate hiring decision.
Read our post on Offshore Software Development Team
What Exactly Is an Offshore Development Center (ODC)?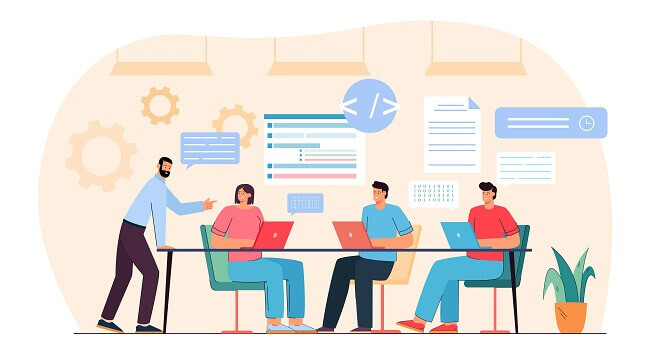 It is a remote facility occupied by a specialist offshore development team in charge of developing and maintaining certain software products and services. They help a corporation establish a presence in another country, improve access to IT talent and save money. It consists of developers, testers, project managers, designers, copywriters and UX/UI specialists. It is in charge of software development and maintenance, as well as project planning, testing, migration and other information technology-related activities.
What are the Advantages of Outsourcing Software Development?
Obtaining Engineering Talent
An offshore development center offers your organisation access to a vast pool of talented developers who can assist you in scaling your product more quickly. You may hire more engineers with an offshore development company without increasing your overhead or spending more money on recruiting. This allows you to keep your costs low and invest in other aspects of your organisation that will help you develop more quickly. 
One of the most significant advantages of running an offshore development center is cost savings. It is frequently less expensive than traditional in-house development. This is because ODCs do not often have the same overhead expenditures as in-house centers.
The Ability to Scale Quickly
Scalability and adaptability are the two most critical aspects of a business nowadays. In today's competitive business world, every corporation requires scalable and adaptive business processes. With the help of an ODC, you may expand your company at any stage and you won't have to spend a lot of money on operations and infrastructure.
The Ability to Concentrate on Your Primary Business
An Offshore software development company will design your workplace to match your individual needs. To put it another way, you'll have total access, authority and control over everything. Simply provide the ODC partner with the appropriate information and they will coordinate the resources to fulfil your needs. As a result, you will be free to concentrate on your primary business.
Various Work Models for Each Use Case
You may use offshore IT resources for a variety of reasons. As a cost-effective hiring approach, startups in their early stages frequently hire a dedicated offshore workforce. In the absence of a CTO or Product Owner, the lone in-house team member is typically a driver of innovation. SMEs typically recruit 1-2 offshore developers to bridge talent gaps or to help them achieve tight deadlines. Medium and large firms are establishing dedicated software development centers or engaging offshore dedicated software development teams to develop new product lines or subproducts. They also use end-to-end offshore software development for internal products.
When is it Appropriate for your Company to Outsource a Project?
Your Operational Costs are Out of Control
Engineers are currently the highest-paid workers in the world. With employee compensation accounting for more than half of an average business's fixed costs, employing local talent in the West means paying through the nose. That's only for the paycheck! Your operational costs will skyrocket when you factor in employee-centric benefits like travel allowance, insurance & yearly bonuses. Instead, by beginning offshore development, you can save a large amount of money while increasing your margins without sacrificing output.
You're not Scaling Quickly Enough
No company wants to be forced to reject away profit-generating, growth-enabling opportunities because they lack the internal capacity to accept them. However, without the proper technical team in place, it is quite likely to occur. If you're seeking a long-term solution, don't outsource your software development to an outside company. You need to scale your team as soon as possible. 
Read our related post on Tips to Communication With Your Offshore Software Development Team
What Methods do you use to Manage Your Offshore Dedicated Software Development Team?
After you've laid the framework, the next stage is to begin creating your offshore team with a reputable offshore software development company. Your offshore partner will handle everything from recruitment to administration. However, as a business stakeholder, here are some pointers on how to manage your offshore workforce.
Share your company's vision and mission. The first step toward a successful collaboration with your offshore workforce is to describe your company's vision and objective to them. This is a time to formally explain your organisation's aims, goals and needs, as well as define where you envision your company in the following several years.
Often, corporations perceive their offshore staff as nothing more than an execution partner for their development processes. Establishing a relationship with your remote workforce, on the other hand, is critical. The more they understand about your brand, what you want to build and why the more committed they will become to your company's vision and goal.
You should always have a clear vision and objective for your project from the start of developing your offshore team and that vision should be regularly and continuously communicated to your offshore workforce.
Conclusion
Overall, there are more benefits of offshore development than drawbacks. There is no longer a debate over whether or not to use offshore software development. The only challenge now is how to do it correctly. Analyse your company's needs, and management resources and present team skill set, then match all of this information with generic offshoring choices. After that, you'll know what kind of firm you require for offshore software development services and which cooperation model will work best for you.
Social Hashtags:
#offshoresoftwaredevelopment #offshoresoftwaredevelopmentcompany #dedicatedsoftwaredevelopmentteam #offshoredevelopmentcenter #offshoresoftwaredevelopmentservices #offshoredevelopmentteam
Frequently Asked Questions
How Does the Offshore Software Product Development Process Work?
The following are typical project execution steps:
– Analysis: Gathering requirements, examining best practices and conducting competitive research in order to organise the best offshore product development process.
– Technical information: Technical documentation writing
– UX/UI design: Using the company brand book or building a new design from scratch.
– Web development, server-side development, blockchain technologies and high-load system development are examples of development and quality assurance.
– Integration of production.
– Technical help and maintenance after development.
– Complete code transfer.
How should the Process of Hiring Offshore Software Developers be Organised?
The selection procedure includes the following steps:
– CV selection and review: The HR department analyses team requirements and gathers the best candidates. Typically, the stage takes 3-10 business days.
– Client validation of CVs: Managers deliver the pre-vetted CVs to the client and if necessary, comment on the prospects' skills and experience.
– Skype interviews with the chosen applicants: The client chooses the most suitable individuals. Managers set up convenient interview times and dates.
– Project start-up: The client and company negotiate final engagement terms and conditions, sign the agreement and begin working together.
What Factors Should be Addressed Before Selecting an Offshore Software Development Company?
– Select an offshore development model: There are two fundamental models for offshore dedicated software development teams. They are as follows: project-based outsourcing and personnel augmentation.
– Create a budget: When negotiating the cost of a project, ensure that the agency explains the services and infrastructure that are and are not included by the overall cost.
– Select a vendor: Examine your portfolio, rates, skills and recent instances. If it is an agency, go to their website to see a portfolio of previous projects they have worked on. Request resumes and personal portfolios from individual freelancers.
– Work conditions and legal agreements should be finalised.
Which of the Top Offshore Software Development Countries should you be Aware of?
– India: While Western corporations may pay $75 per hour for software development, you may hire someone in India for $10-$15 per hour.
– Ukraine: The average hourly wage in Ukraine is under $25, comared to $100-120 or more in Western Europe and the US.
– Hungary: They provide services to a variety of organisations and companies of all kinds at reasonable rates ranging from $39 to $52/hr.
– Philippines: A great pool of skilled, English-speaking professionals, includes a growing proportion of developers with a solid understanding of cutting-edge mobile and online technologies, with hourly rates ranging from $4 to $10.
What Processes are Involved in Hiring an Offshore Dedicated Development Team?
1. Recruit an Offshore Team.
2. Select the Most Appropriate Team.
3. Put all agreements in writing.