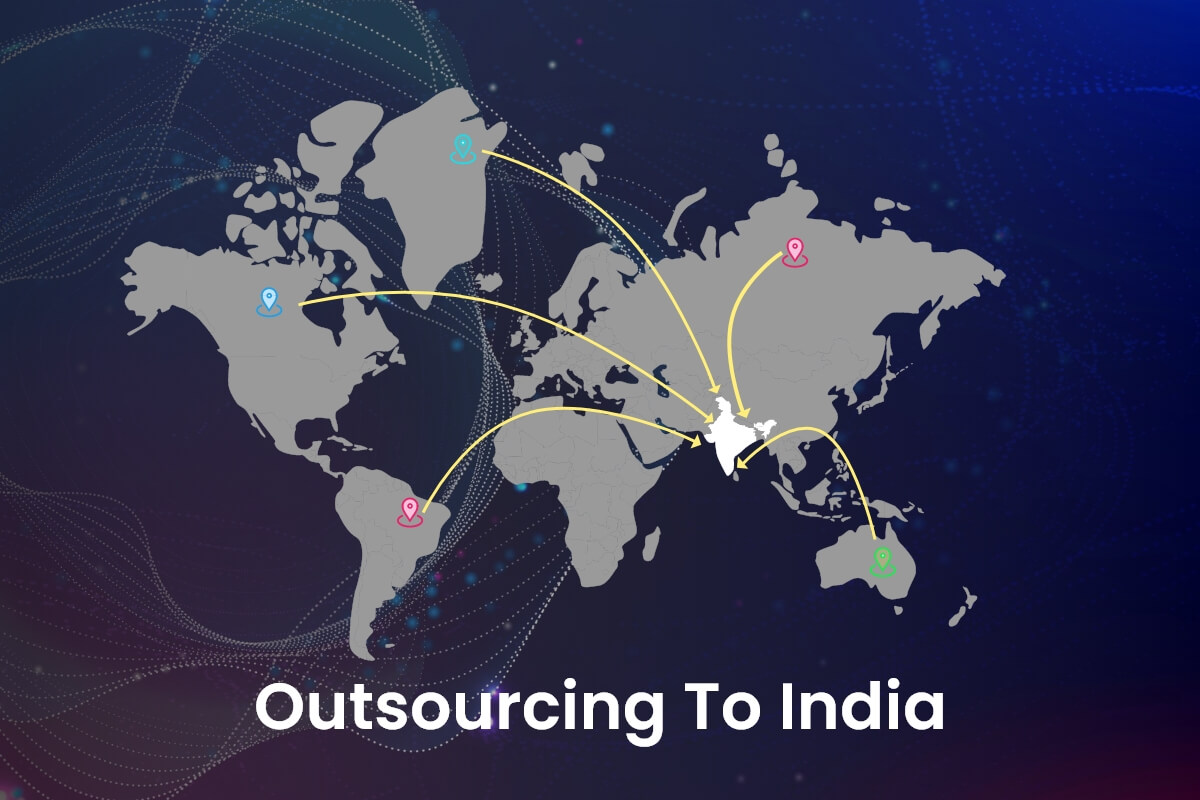 For the past several decades, organisations have been outsourcing to India to minimise costs, achieve scalability for growth, and tap into desired expertise.
India is a technology hub. Enterprises all over the world have put their trust in Indian IT outsourcing companies to meet their technological needs. Whether it's product engineering, building digital experiences, growth hacking their way to success, or full-fledged digital transformation, Indian IT companies have excelled at providing unrivalled services.
According to the National Association of Software & Service Corporations, half of all Fortune 500 companies choose to outsource to Indian software companies (NASSCOM).
So, do you want to outsource as well to India? Let's continue reading.
What is Outsourcing?
The practice of contracting out services or work tasks to a third party, providing the service of custom software solutions is referred to as outsourcing. An information technology outsourcing project with a technology provider might contain a wide range of operations, from the entire IT function to discrete, easily defined components such as disaster recovery, software development, or QA testing.
Why do businesses outsource?
Cost-Cutting Measures: Outsourcing allows businesses to cut expenses on recruitment, infrastructure, and training development by leveraging the knowledge of low-cost external teams.
Adaptability to Scale: Companies that outsource have the ability to grow up or down quickly as their current project requirements dictate.
Time to Market: Outsourcing companies in India are noted for completing projects with a shorter turnaround time, resulting in a shorter time to market. Furthermore, outsourcing reduces the time to employ by 40-50%, resulting in faster time to market.
Availability of New Technology: When it comes to developing technologies like cloud computing and big data, businesses prefer to outsource. They believe that outsourcing is less expensive than training an in-house team.
Agility: Outsourcing allows businesses to become more nimble by responding rapidly to changing business demands.
Given the benefits of outsourcing, it's no wonder that large corporations and startups subcontract certain business operations. Outsourcing can be a cost-effective way to fuel your company's growth.
Types of Outsourcing
Regarding outsourcing, three terms are used interchangeably: onshore, nearshore, and offshore. However, they are not the same. So, let us clear the air by explaining the distinction between them:
It is the process of contracting out specific business tasks and services to a third-party vendor based in the same country. When compared to nearshoring and offshore, onshore outsourcing ensures fewer cultural barriers and ease of communication; yet, it often results in high expenses and a limited pool of talent.
It is the process of having work completed by a third-party provider in a nearby country at a comparable timezone. Nearshoring, like onshoring, ensures fewer cultural differences; yet, when compared to offshore, nearshoring costs more.
It is the process through which a company relocates certain business tasks to another country. Another type of outsourcing occurs when a corporation partners with a third-party offshore enterprise. The offshoring firm provides infrastructure, support, and offshore resources/teams that work directly with the client. Because of a dearth of IT specialists in the local market, offshoring is most common in the IT industry.
Numbers That Show India Is Better Than Everyone Else
When it comes to software creation, no country is more advanced or wealthy than India. Its young population is eager to learn everything it can and give it everything it has. It has become a magnet for businesses searching for a development partner, a technology partner, or an IT outsourcing company for any type of technology need. Here are some statistics and figures showing India outperforms the others regarding software development outsourcing.
According to the A.T. Kearney 2019 Global Services Location Index, India is the world's top outsourcing country.
80% of European and US outsourcing corporations selected India as the number one location for outsourced IT services.
According to a recent Deloitte survey, 59% of organisations are already outsourcing to India and 22% are expecting to do so in the future.
Top 5 Benefits of Outsourcing to India
Access to an Extensive Talent Pool
One of the key reasons why businesses want to outsource their projects to an IT outsourcing services company is the availability of a big and diverse pool of skilled labour. Every year, more than 3.1 million graduates, 300,000 postgraduates, and over 500,000 engineering students graduate from Indian engineering institutes and colleges. India will have the world's largest developer base by 2024.
Because of the simple availability of trained workers, companies ranging from enterprise-level to fledgling startups are outsourcing to India. You may easily discover an IT specialist with the required experience in India, whether you need to employ a Laravel developer, Flutter app developer, or Python developer.
IT Infrastructure of World-Class Quality
Software development businesses in India that provide online, mobile, and custom software solutions have cutting-edge development centres outfitted with cutting-edge technology. Furthermore, most Indian businesses have high-speed internet bandwidth to ensure constant, uninterrupted communication and support for their global clients. As a result, they are known for providing their clients with high-quality software solutions and services.
Communication that is Seamless
India is presently the world's second-largest English-speaking country. Thus, developers and engineers in India not only have technical talents but also outstanding communication skills. Furthermore, they are specialists at leveraging globally popular collaboration technologies such as Slack to enable flawless communication. Without having to worry about communication challenges with your offshore software development workforce, you may outsource software development projects to India.
Hiring remote developers from India is relatively inexpensive when compared to hiring developers in other industrialised countries. Furthermore, by outsourcing to software development businesses in India, you save money on office space, infrastructure, and team training development, resulting in considerable savings in business expenses.
Government Policies That Are Beneficial
The Indian government has policies that are beneficial to the IT industry. The Information Technology Act and other IT laws in India promote the growth of the IT industry and make it easier for foreign firms to engage with an Indian IT outsourcing services company.
Factors to Consider: Outsourcing to India Vs. In-House Development
| Factors | Outsourcing to India | In-House Development |
| --- | --- | --- |
| Cost | Low (because of India's low resource costs and lack of investment in infrastructure, training, and recruitment) | High (since you need to pay for recruitment, monthly compensation, training, infrastructure & more) |
| Time to Market | Faster (as you receive rapid access to approved and skilled specialists) | Slow (since employing an in-house resource can take months) |
| Scalability | It is Undemanding | It is Demanding |
| Tech Expertise | Access to new technologies | It is Limited |
| Staff Turnover | It is High | It is Low |
| Communication | Smooth Communication | Due to time zone differences and language barriers, there may be a communication gap. |
Most Popular Outsourced IT Services in India?
One of the most common reasons for outsourcing Mobile app development nowadays is that the world is drowning in smartphones and smart apps. Every minute, a new innovation emerges, leaving you torn between using the current one and adopting the most recent one. Your original and one-of-a-kind mobile app concept can be realised with the help of an outsourcing app development business, complete with all of the necessary features and functionalities to ensure its success. Outsourcing service providers can help you with native app development or cross-platform app development swiftly and easily.
Many businesses outsource their web development needs to Indian software development firms. It covers user interface/user experience (UI/UX) design, website development, web application development, content management system (CMS) development, online marketplace development, e-commerce development, and other services.
India is a global leader in IT outsourcing. Outsourcing software development, app development, and web development to India can help multinational organisations fill talent shortfalls. Outsourcing software development has been a popular trend since it provides numerous unforeseeable benefits in addition to access to top-tier expertise. Software development outsourcing is a decision to reduce operating expenditures in favour of your organisation's development process.
Information Technology (IT)
IT outsourcing is quite frequent in software outsourcing. You can also refer to them as IT outsourcing. With the increasing demand for software technology and digital platforms, it is critical to keep ahead of the competition in the business sector by utilising outsourcing services correctly. IT outsourcing can significantly help businesses acquire a competitive advantage. IT services require specialised knowledge as well as the appropriate tools and technology. As a result, it is required to train individuals and build the appropriate infrastructure. This procedure is costly & time-consuming.
To accelerate their digital transformation journey, businesses outsource many enterprise solutions, including legacy application modernization, application maintenance and support, application migration, enterprise application testing, and integration.
Customer Support Services
Customer support services are the last but not least prevalent industry for outsourcing services. You must respond to your consumers' wants and concerns, whether you manage an e-commerce site or a software development firm. Handling a huge number of client calls and responding to their emails, on the other hand, can be time-consuming and tiresome. As it is not a particularly technical responsibility, you can hire call centres to handle your client's needs. They will have all of the dedicated people and technology needed to deliver 24-hour service.
How Can I Find Reliable Outsourcing Companies in India?
Define Your Project's Needs
Before you begin looking for the appropriate IT outsourcing company, make a general plan of where you want to go. If you identify your goals and have a good sense of your project requirements, you'll have a clear direction to pursue as well as a better grasp of the type of partner you need. You'll know if you need a partner or if an advisor or support is sufficient.
Examine Proven Track Records
The second thing to remember is to keep track of the company's growth figures. Examine the company's performance over the last few years to discover where it stands. Discover the kind of clients to whom they have offered software development services, as well as the number of projects completed.
When it comes to finding offshore outsourcing partners, some of the most obvious options might yield the best results. There are several internet markets available that make offshore IT outsourcing more affordable and manageable. These online marketplaces connect businesses with hundreds of vendors from across the world in order to provide the most relevant matchmaking and optimal outcomes for basic project management requirements. You can look for people based on their talents, geography, category, services, and reviews.
Keep your data and intellectual property safe
Signing an NDA is a surefire way for organisations to protect and safeguard their data. The NDA easily conceals your trade secrets, intellectual property rights, code details, and other information.
What Can WeblineIndia Do for You?
WeblineIndia is the most prominent software development firm based in India & USA. Both of our software development company in USA & India have a dedicated team of developers who can deliver trustworthy and high-performing software solutions to solve all business difficulties. WeblineIndia provides a variety of software development services to businesses of all sizes and sorts. Expertise in a variety of technologies, including .NET, PHP, Java, Python, iOS, Android, and hybrid frameworks. WeblineIndia provides startups, and small, medium, and large organisations with all forms of online and mobile development and consulting services.
Conclusion
People are concerned about outsourcing as a result of the outbreak of the pandemic. It had altered people's perceptions of outsourcing and how they were hired earlier. Following the pandemic, IT outsourcing was completely upended. However, as most firms scale and accelerate their digital transformation projects, IT providers in India are winning new business. As a result, the Indian IT outsourcing business will almost certainly witness an increase in revenue in the coming years.
If you are looking to outsource your IT operations, WeblineIndia is a great place to start. WeblineIndia, a software development company USA & India, is a renowned IT firm. To learn more about our services, please contact us today.
Social Hashtags:
#outsourcing #whatisoutsourcing #outsourceditservices #itoutsourcing #itoutsourcingcompany #outsourcingtoIndia #outsourcingcompaniesinindia #typesofoutsourcing #itoutsourcingservicescompany #softwaredevelopmentservices #customsoftwaresolutions #softwaredevelopmentcompanyUSA
 Frequently Asked Questions
When a corporation contracts a third party to handle and conduct non-core duties, this is known as outsourcing. Manufacturing, data entry, client assistance, healthcare, and other jobs that are not necessarily required to be conducted in-house are included in outsourcing.
Why do corporations choose to outsource?
In addition to performing certain duties themselves, corporate organisations contract third parties to focus on their core business, which is critical to their success. Furthermore, the majority of outsourcing service providers are headquartered in nations where professional human resources are available at a low cost; so, corporate houses seek benefits from lower expenses.
What are the true advantages of outsourcing?
Below are a few real benefits that you can get via outsourcing:
– Professional Hiring
– Rapid Deployment
– Custom Technologies
– Modern Workplace
– Highly Skilled Staff
– Continual Training
What services are available through WeblineIndia?
Below is the list of a few types of outsourcing services that you can outsource to WeblineIndia:
– Enterprise Solutions
– Ecommerce Development
– Backend Frameworks
– CMS Development
– CRM Development
– QA & Testing
Is it possible to reduce my operational costs by outsourcing to WeblineIndia?
Yes. By collaborating with WeblineIndia, you can cut your existing operational costs by 40-60% without sacrificing quality or timeliness. In fact, you will soon see a significant rise in your ROI because our services are accurate and of high quality and it's always supplied ahead of schedule.
Outsourcing to India: INFOGRAPHIC