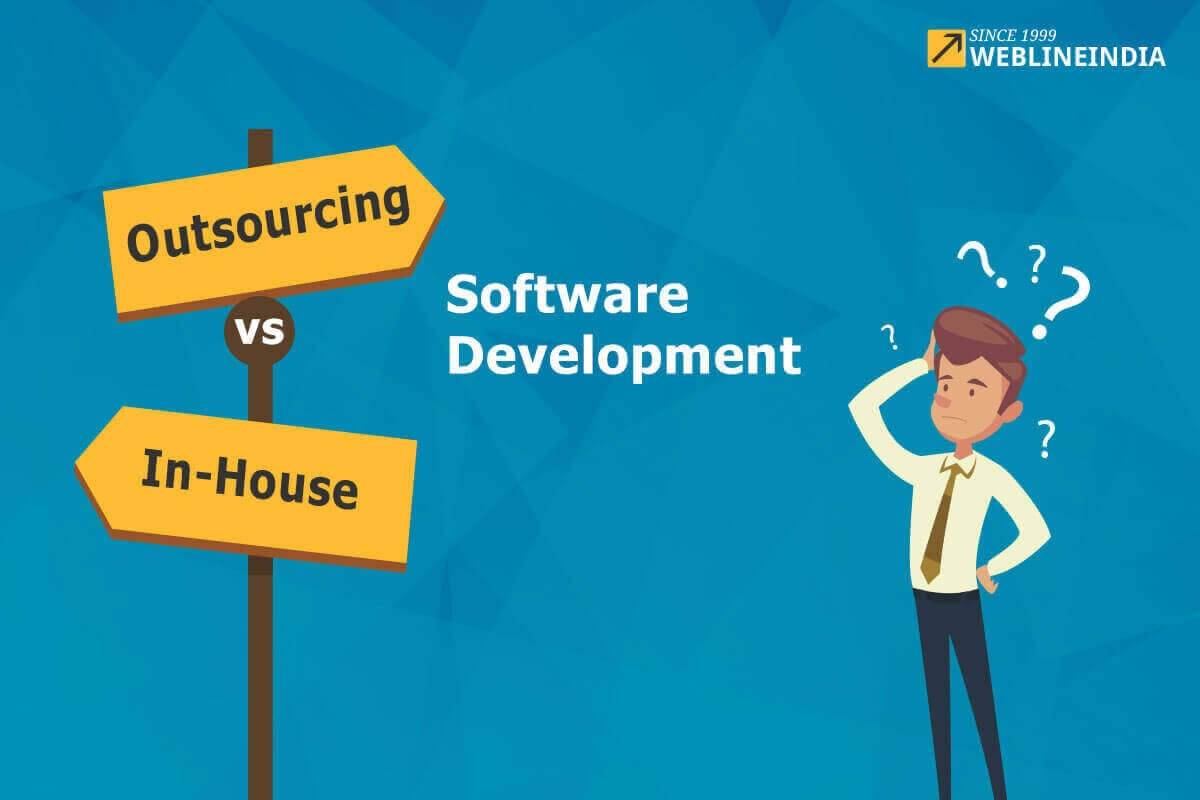 INTRODUCTION
Many companies face the dilemma of in-house versus outsourcing software development. It is a question that doesn't have one correct answer. There are advantages and flaws with both approaches. It depends on a variety of factors including the way of working of the company, its nature of business, availability of financial resources and so on.
Not all businesses have sufficient resources to afford a full in-house team. While there are many who do not prefer to hire a lot of people for tasks that can be outsourced. Both of these contribute to make outsourcing a popular choice. IT Outsourcing particularly gained popularity with growth of software development industry. Many companies have adopted the practice of outsourcing software development to offshore companies in India like WeblineIndia.
According to Data Center Journal,
IT outsourcing hit the highest percentage of a company's total IT budget in the year 2017.
So what exactly makes outsourcing software development so popular? Let's first understand what in-house and outsourced software development mean.
IN-HOUSE SOFTWARE DEVELOPMENT
In-house software development is when companies hire software programmers as their full time employees to do the job. Generally, they only work for one particular company and devote all their time and skill to it. Such association is usually long term.
OUTSOURCED SOFTWARE DEVELOPMENT
Outsourced software development is when a company allocates the software development work to an external agency or a team of individuals or an offshore outsourcing company. In this case, they do not hire anybody as an employee. They hire services of a professional software development company or an individual. Freelance developer or the agency takes instructions and completes the work. The association is only limited to the specific development task allocated to them.

OUTSOURCING SOFTWARE DEVELOPMENT VS IN-HOUSE
Let us now examine the differentiation factors between the outsourcing software development model versus the in-house software development model to help you make the right decision.
Cost

Human Resource Cost
Personnel Management Cost
Training & Development Cost
Cost Center
Cost of Hiring Software Developers with Niche Skills
Expert Services at cost of Average Software Developer
Performance Based Expense.

Software Developers

Skills & Experience
Access to Large Talent Pool
Knowledge
Resource Scalability

Work Factors

Workload Sharing and Allocation
Quality Control
Collaboration
Guaranteed Results
Professional Quality Assurance and Testing

Communication
Stress and Challenges
Business Focus
Overheads
Access to Proven Software Development Tools and Resources
One Stop Solution
1) COST
Cost is always an important decisive factor for any company. Every company has to take into account what they want vis-a-vis what they can afford. Sometimes, it is a better solution to employ an in-house software developer. Other times IT outsourcing looks more effective.
Global Outsourcing market size of IT services in 2017 was about $89 billion.
Let's break down the cost of employing an in-house versus outsourced software programmer.
(

I

) Human Resource Cost
Hiring a full time software developer can be quite expensive. It requires a lot of time, resources and mind space. Human Resource department has to place an ad. Then go through hundreds of CVs and conduct interviews. It is a lot of work before you even finalize on the person you want. There will be other human resources costs as well. For example, signing up bonus, allowances, overheads etc.
Selection of an outsourcing partner also may take some time and involve some work in terms of identifying appropriate agencies, short listing them, getting proposals from them and finalizing and contracting. However it may be little easier to review the proposals specifically in response of the scope of work and finalize. Also a review of previous works & clients of the short listed offshore software development companies allows you to judge quickly and without incurring lot of HR costs.
(

I

I

) Personnel Management Cost
When you outsource there is little to no personnel management cost. But in-house software developer has to be provided with all the benefits of a full time employee. Company has to pay medical, travel and other allowances. In-house developer is more expensive to manage.
(

I

I

I

) Training & Development Cost
In-house software programmer may need initial training. They need to understand the work before they start coding. That means company has to spend more money to get them working.
(

IV

) Cost Center
Hiring in-house software programmer means you have to provide for all required equipment. On the other hand, in case of outsourced software development the agencies usually possess all necessary equipment required for the software development as well as a wide range of equipment for testing. In-house developer also means dedicating a work space and work station. In-house software development thus leads to additional expenses. You can save a lot of cost by outsourcing your software development needs.
(

V)

Cost of Hiring Software Developers with Niche Skills
Developers who are expert in a niche ask for a lot of money. You may have to pay more than $100,000 to hire one. But outsourcing allows you to get similar services at a lower cost. Also you can hire the services only for specific time and/or task you require it for as compared to in-house developers who are a recurrent cost center for all the time irrespective of the degree of their requirement. Thus outsourcing software development gives you flexibility to manage your resources and also allows you to spend only as per your requirement and nothing extra.
(

VI

) Expert Services at Cost of Average Developer
An average developer can cost around $60,000. That is a huge amount to pay, especially for a small business. For the same amount, you can get expert development services from a offshore software development company. Outsourced software development brings you high quality service in affordable prices.
(

VII

) Performance Based Expense
When you hire an in-house developer, you have to pay. It doesn't matter if his performance is up to the mark. But when you hire an offshore IT company, you only pay when they deliver. If you are not satisfied with the work, you don't have to bear the expense. Similarly outsourcing does not have overheads of maintaining in-house resources once the project is over.
Read also : Top 14 Tips When You Consider Software Development Outsourcing for Your Business
Deloitte's 2016 Outsourcing Survey revealed some interesting stats.
Outsourcing was used as a cost cutting tool 59% of the time. It enhanced service quality by 31% and also solved capacity issues by 47%.
2) SOFTWARE DEVELOPERS
Just like other professions, software developers are vastly different as well. Some are highly educated from top universities while some have natural talent for coding. Some have a lot of experience under their belt while some know how to tackle algorithms.
That is why a company needs to plan what they need the most. Then they are in a better position to make a decision. Consider the following factors:
(

I

) Skills &Experience
Outsourcing to a top software development company means you have unlimited skills and experience at your disposal. You want a PHP expert? They would have it. WordPress developer? Immediately available. Whether you want to hire app developers or want to hire web developers, all will be available at your beck and call. The tasks that require little experience can be carried out by junior software developers while senior software developers would be looking after more complex requirements.
With in-house staff, you have limited choice. Obviously, it would not make sense to hire in-house developers for all required skills and technologies. Thus outsourcing provides you an unlimited access to all kinds of resources without paying anything extra.
(

I

I

) Access to a Large Talent Pool
Software Development companies providing outsourcing services hire dozens if not hundreds of software developers. They have got every type of talent and skill in their staff. When you outsource you have access to this diverse talent pool. If you need specialized service, you can get it.
Whatever skill you want, it is at your disposal. This is not possible with in-house software development. It is not feasible for any business to maintain a huge software development team.

(

I

I

I

) Knowledge
Since offshore development companies work with many clients, they have more industry knowledge. They also keep their software developers up to date. Their business depends on keeping up with the technology. If they do not move with the industry, competition gets ahead. They simply can't afford that.
In-house developers tend to get stuck in whatever they are doing. They are not exposed to diverse projects. Experience they gain is limited to a particular project or industry.
(

IV

) Resource Scalability
Outsourcing software development also helps in scaling the team very fast. When you need to grow your in-house software development team, you have to go through the entire HR drill again. In-house hiring means you repeat the complete process to hire a new resource. It is time consuming and eats up resources. There is a chance that you don't get the desired result. Sometimes you don't have time on your hands to wait.
That's where IT outsourcing works well. You just contact the offshore software development company working for you and they get the job done. They either have the right person available or they know where to get one. Your company doesn't have to go through the painful process. Outsourcing software development means easy scalability. You can hire as many dedicated resources as you want without much fuss.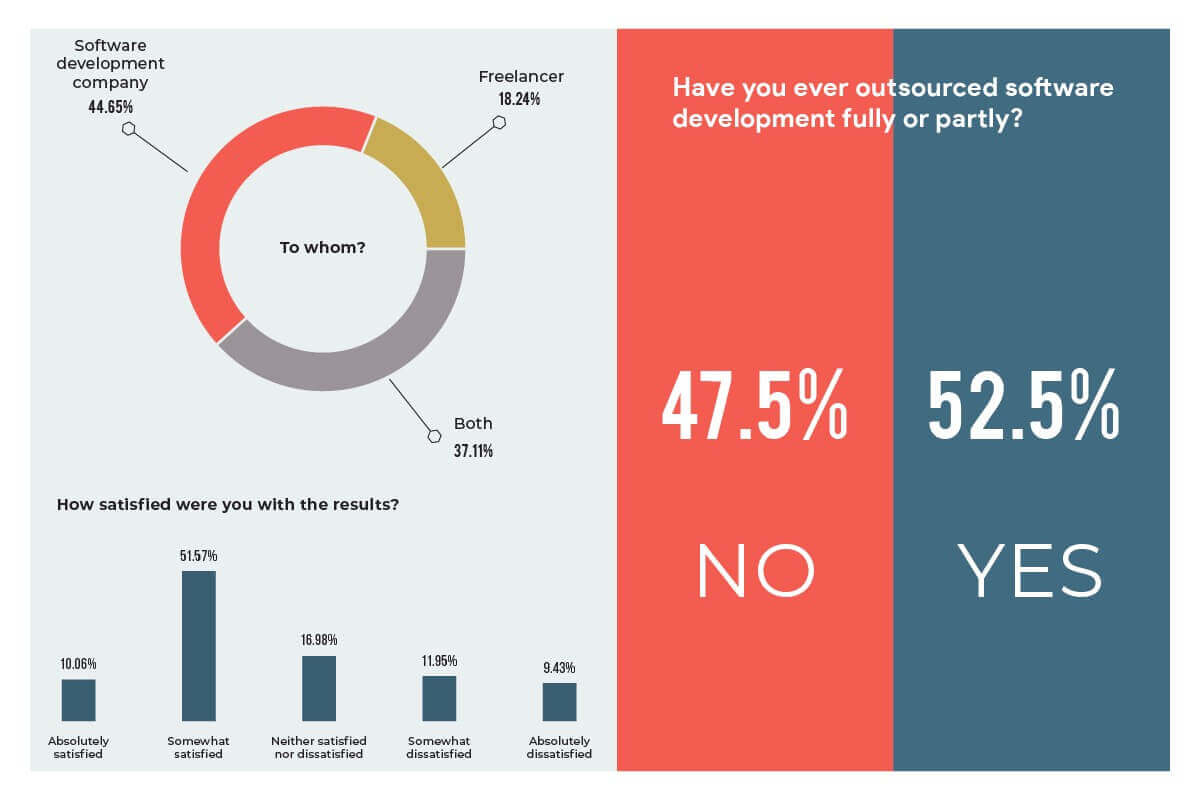 Source : State of software development report
Capacity problem is something that businesses face hard and outsourcing can handle this problem well. Again here you can see that outsourcing software development services has been a satisfying affair for many businesses in different ways.
3) WORK FACTORS
Way of working in In-house and outsourced software development is different. From work flow to delivery, everything is carried out in a different way. In some areas, in-house development holds the upper hand. In others, IT outsourcing offers a better solution. Depending on the nature of your business, you can pick either. Entrepreneurs usually search for "offshore company near me" to find out Nearshore companies or offshore companies in India, depending on the needs. Or you can also go with the hybrid approach. Hybrid method means you employ in-house developers as well as outsource some portion of the work.
Major points that separate both types of development include:
(

I

) Workload Sharing and Allocation
When you have a team of in-house developers, you know the skill set of everyone. That allows you to assign right work to the right person. While in outsourcing you rely on the agency to allocate work to the software developers adequately.
This could either be a positive or negative. A company that doesn't know your requirements first hand can deliver ineffective results. On the same note, your company may not have enough resources to assign the work to a competent person.
(

I

I

) Quality Control
With in-house development team you have more control over the quality of work. You can monitor the progress and quality at any time. Outsourcing means you only get to monitor the work when the offshore company shows it to you. Quality control is more flexible when employing in-house software development team.
However, nowadays there are various processes and tools which helps you to outsource and still closely monitor the progress and remain in sync with the software development team even on a day-to-day basis.
(

I

I

I

) Collaboration
It's much easier to collaborate with your own team. People who work within the company can be communicated with face to face. Both the employer and the employee are in a better position to understand each other.
With IT outsourcing, collaboration can be a bit sketchy. There may be communication and cultural barriers. These hurdles can decrease the quality and effectiveness of communication.
(

IV

) Guaranteed Results
Software development of any type doesn't guarantee results. Your in-house team may get stuck with a problem. Offshore Software Development Company may also fail to figure out an algorithm. Though they are in a better position to come up with a workaround as they would have worked with many customers from the same industry as yours, so they have a better industry exposure.
Neither solution guarantees your work will be completed the way you want. However, with outsourcing software development you have the option to withhold the payment. This can be huge cost saving proposition where you only pay for the results and not for errors.
(

V

) Professional Quality Assurance and Testing
This is where outsourcing excels. Development agencies have dedicated QA departments. All that department does is assessment of code, usability testing, functional testing and lot more. QA results of a professional agency are difficult to replicate in-house. Your company will need to hire QA engineers.
Read also : Why People prefer Software Development Outsourcing across different Time Zones?
4) COMMUNICATION
If you hire offshore software development company, it comes with challenges. Getting your point across could be a barrier in outsourcing. With in-house development team, you are in a better position to communicate. Working with a company will require regular effective communication.
Imagine finding a bug in the code. It is always easier to talk to the person sitting in the building. This is one aspect where outsourcing lacks. Ineffective communication can result in delays and substandard results.
To maintain quality communication, companies should:
Build channels. Designate a person who will take updates.
Be proactive. If you think there is something the development agency should know, tell them. Don't assume they will figure it out.
Have a plan. In the event of project not going in the right direction, have a second plan.
Overcome language or cultural barriers.
5) STRESS AND CHALLENGES
Outsourcing enables you to pass challenges to others. From cost of infrastructure to finding right resources and tools, everything is taken care of. In-house development doesn't allow for such luxury. You have to finance the hardware as well as the software. Not to mention the resource hunt that can be expensive and time consuming.
According to Credit Donkey,
US outsources 300,000 jobs every year.
With software development outsourcing, you transfer your problems to the offshore development company. Every one of your challenges becomes their challenge.
6) BUSINESS FOCUS
IT Outsourcing also allows you to focus on the big picture. When you are not busy managing financial and human resources, you can use that time for more constructive purposes. Outsourcing software development enables strategic focus that can greatly benefit your business.
"If you deprive yourself of outsourcing and your competitors do not, you're putting yourself out of business." [Lee Kuan Yew]
Read also – Let's check out top IT outsourcing trends that are emerging on the horizon for your business growth.
7) OVERHEADS
When you don't have to incur human resource and hardware expenses, your overheads decreases drastically. In contrast, managing your own development requires space, equipment, electricity and other fixed costs. This means additional workload and financial load for the accounting department as well as company. It is also an increased hassle for the managers.
8) ACCESS TO PROVEN SOFTWARE DEVELOPMENT TOOLS AND RESOURCES
Relying on a top software development agency means you get access to successful and latest tools and resources. You don't have to spend money on buying all types of different software. Sometimes companies spend thousands of dollars on software that they have limited use for. With a software development firm working for you, it's them who incur the cost for you. This shares the financial burden and you can spend the same money on something more valuable to your business.
Many times it is also a challenge to realize what software you need. Or even if such software exists that can help your development team! But since development agencies stay ahead of the curve, they always have the modern solutions. Along with the tools, they also possess the resources and experience to use them to full potential.
9) ONE STOP SOLUTION
An Offshore Software Development Company like WeblineIndia is usually a one stop IT solution provider. It means that you can get multiple jobs done at a single place. Imagine searching competent resources for coding, QA and consultancy. How much time and resources would that take? Outsourcing software development allows you to get all the services in one place. It is convenient and cost friendly. There is a reason why outsourcing has been beneficial for startups.
"The important thing about outsourcing or global sourcing is that it becomes a very powerful tool to leverage talent, improve productivity and reduce work cycles". [Azim Premji]
FINAL WORDS
Whether it is in-house or outsourced development, what will suit you is determined by your specific requirements. In-house can be costly and limiting, while outsourcing can bring up communication challenges. That being said, overall analysis and global experience suggests outsourcing software development as a much favored option. The minor challenges associated with outsourcing can be surely overcome with some time investment and setting up appropriate processes. With modern productivity and project management tools, you can stay up to date in real time. That's why software development outsourcing is becoming increasingly popular.
Unless your work requires a huge in-house team at your beck and call; it would be wiser to seriously consider outsourcing your software requirements.