The world of E-commerce development has experienced a sudden surge of competition. If you are in the industry, you would know that there are many players who are vying for the same customers. This makes it imperative to develop and executive marketing strategies that work. Trial and error is good to catalyze innovation, but tried and tested strategies need to be adopted too.
Paid search is among the popular marketing strategies for eCommerce business. Firms, in the industry, have used this as a way to improve their conversion rates. However, you need to make sure that you are differentiating yourself and standing out amidst the crowd. Here are some strategies that we believe can enhance the success potential of paid search:
Brand Name: The first few words of your ad decide whether the customers will click on it or not. Therefore, it is always important to put the bigger brand name first. To put things in perspective, if you are a small eCommerce store selling Samsung products you need to put Samsung right there on the top. Also, you need to include those unique propositions that you offer to the customers. In short, why should customers buy a Samsung product from you instead of buying the same from a competitor? The answer to this question holds immense value.
However, this does not completely ignore your brand's value either. Your brand has to be emphasized at some time because it, after all, is a great way of differentiation. If your brand wasn't in the picture ever, people would just know you as a vendor of Samsung products. This means that your customers are never really loyal to you, because they never got to know you. Every now and then, it is important that you put your brand forward. Better still, you can always put your brand name in the second or third line of the advertisement copy.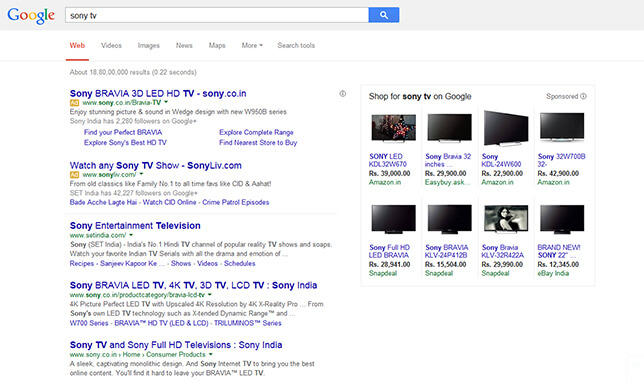 Specific landing pages: A click on your advertisement doesn't make it successful. The real success lies in the volume of sales that it drives for your business. Hence, your storefront has to also take the responsibility of catering to the needs of the customers. We frequently run into ads which talk about one specific product, but the landing page is a crowded category page. One needs to take the pains of locating where that particular product is. Hence, you might either decide to create individual landing pages for the products or build filtered category pages. For example, your website visitors can land on a specific product page but that can be expensive. Therefore, you can create specific segments like Sony T.V.s or 40 inch televisions. This isn't really bad either because there are very few products that the customers get the browse. Additionally, s/he receives additional choice in the product category of his/her choice.
Value of valuable keywords: Keywords can't be absolutely ignored when it comes to paid search. In fact, any kind of online activity has to have a connection to keywords. Many businessmen tend to believe that they need to creative. That isn't the case actually. You never need to be creative with keywords. You just need to locate those keywords that your target audience is searching for. Additionally, it is always good to consider long tail keywords. Again, these keywords need to be specific instead of being absolutely generic. For example, you might want to say Sony 40' Smart TVs instead of saying Smart TVs.
Google shopping ads: There are two types of advertisers online. One – who don't know about Google Shopping Ads and others – who know about it but ignore it. Both of these are losing a massive potential that lies to be explored. We need to know that Google Shopping ads are not the same as the Google Adwords. They have their own unique points which can bring results to eCommerce business store owners. If you wish to explore its potential, you can set up an account and link it with your Adwords account.
Simple shopping: Your goal should be to make your customers' job simpler. Instead of hoping that they purchase something, you must guide them on what to buy. In the last couple of decades, we have heard extensively about being a consultant. That is what needs to be done. Your landing pages can develop comparisons between products in those categories. All products can carry information about specific topics and that makes it simple for the customers to make a decision. Eventually, customers generally buy for the experience more than anything else.
In-stock items: You need to advertise for items that in-stock. Some eCommerce stores run campaigns for products and manage to sell large quantities of the same. In such scenario, the next customers who visit the landing page might not find the product of their choice available. This certainly leads to loss of reputation. Additionally, it is also a waste of your money as you are advertising for a product that is not in stock anymore. The best way to keep a track of this is to take a stock of all yours ads once a week and see if there are any irrelevant ads that need to be eliminated.
The power of mobile devices: Finally, this is one of the most crucial points that one needs to keep in mind. The world is moving towards mobile devices. Increasingly, people are viewing ads and websites through mobile phones or tablets. In this era, you cannot afford to create desktop only websites. Let us draw up a story to understand this concept better. If you wanted to buy a mobile phone and clicked on a pertinent advertisement, you would expect the eCommerce store to be up to your expectations. What if the website came up all cluttered on your mobile device? Your first impression about that company would be distorted and that sows the seed for a long term impression about your brand that can hardly change. Therefore, you need to ensure that your landing pages and the entire eCommerce business site works seamlessly on mobile devices.
Summary: Paid Search is being used extensively for eCommerce business. However, it has to be accompanied by a solid strategy to generate results. One needs to emphasize on the known brands to get the attention of the audiences. Moreover, all the differentiators and offerings have to be clearly laid out. Also, the right keywords need to be used and one has to make it a point to make shopping simpler for the visitors to the website. All these strategies can go a long way in improving results.
You might like: