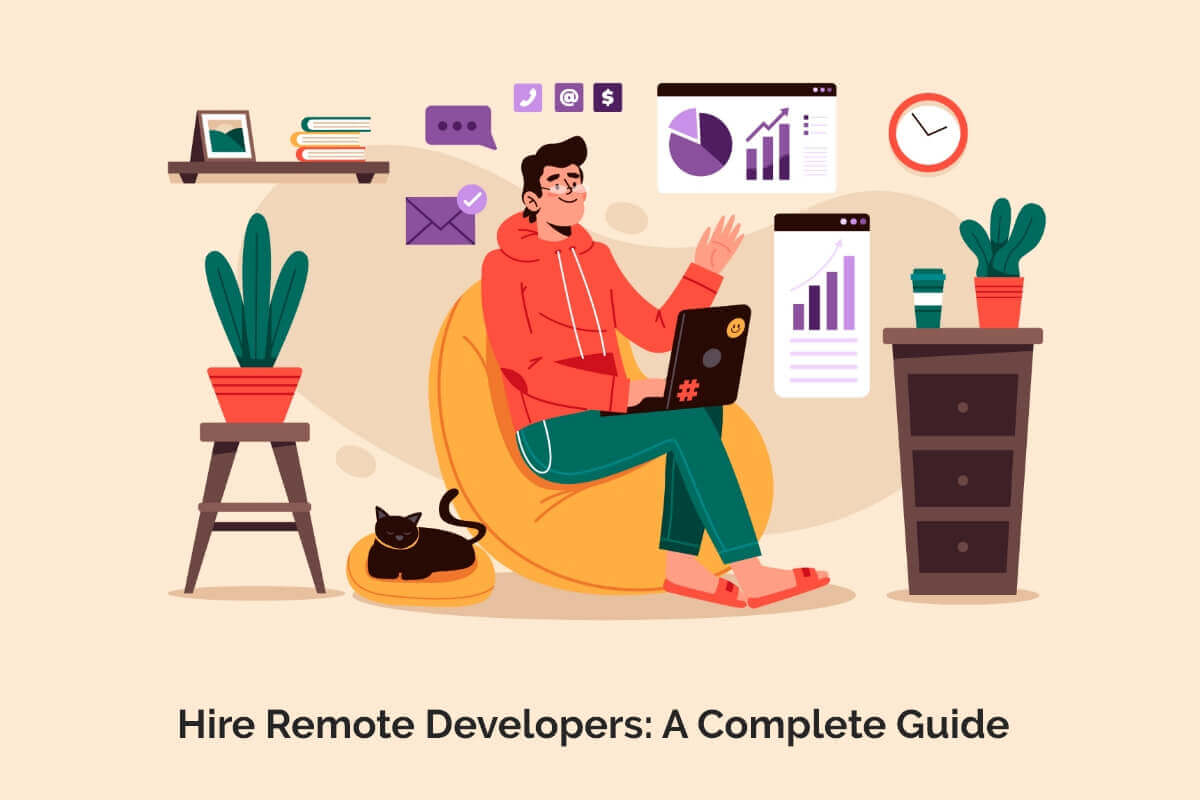 There is no doubt that remote work can be just as productive and successful as in-office labour. In some circumstances, hiring remote developers/software engineers appears to be a viable alternative and the best one. This is especially relevant in the context of today's worldwide pandemic. This form of collaboration offers numerous advantages to startups and businesses. And in order to get the most out of your remote web developer, you must effectively arrange all processes, from locating and hiring specialists to onboard and administration.
Why Entrepreneurs are getting more interested in Remote Product Development?
Remote teams frequently work around the clock and in multiple time zones. Furthermore, due to the unpleasant pauses and active work ethic, remote development tends to have fewer distractions. Remote development allows for continuous product development with skilled talent.
To maximise productivity and quality, hire part-time remote software developers/engineers who can adhere to a strict work schedule. This allows you to concentrate on important business challenges. As a result, both enterprises and remote software developers benefit from this arrangement.
According to research and surveys, remote developers are significantly more engaged than those who work in offices. Remote developers who work in an office atmosphere often feel more connected with the help of current video conferencing services.
Increased Development Capabilities
When you go remote, you have a better chance to hire remote developers from India at a low cost. Remote teams have far greater development capabilities than in-house professionals. They have more time to adapt to and update all of the changes required to be competitive in this market.
You can indirectly enhance your reach by collaborating remotely with developers in different geographical regions of the world.
People who work in a remote development environment are happier and more productive than those who work in a regular office setting.
Also read our post on Dedicated Developers for Hire
Factors To Consider Before Hiring Remote Developers
Clearly State Your Development Requirements
You must first evaluate your development needs in order to determine the type of resource you require before recruiting a remote developer. Depending on your business needs, you may either hire part-time remote software developers, a whole dedicated remote development team or engage remote freelancers.
Extensive Remote Developer Screening Procedure
You must comprehend a remote developer's expertise and passion. Creating a rigorous remote web developer screening procedure including technical interview sessions can assist you in evaluating a developer's capabilities.
Communication Channel Simplified
Collaborating on a project can be difficult with different time zones, varied work schedules and language hurdles. This will allow you to manage a remote team more effectively and achieve the best results when outsourcing web development services.
Scalability and Adaptability
When working remotely, it is preferable to be adaptable and scalable. When a skilled remote front-end developer joins your team, he will infuse your project with his innovative thoughts and suggestions. The remote team may even devise novel approaches to incorporating flexibility and scalability into your project.
Read similar posts on Hire Java Programmers
A Step-by-Step Guide to Hiring Remote Software Engineers
1). Create a Job Description That Is Specific
Determine who your ideal applicant is before developing a job description for a remote web developer. What talents and expertise are you looking for in a candidate?
2). Candidates Can Be Found Through Remote Job Portals
There are several online remote job portals that market remote positions, such as remote.co, Upwork and freelancer. You can browse all of the remote job openings on the sites and choose ones that meet your company's needs.
3). Skills Evaluation for Remote Software Engineers
Once you've identified suitable applicants for a remote job, you must evaluate their remote developer skills. It is critical to determine whether a job candidate's skills match those required for a remote role.
4). Conduct a Video Interview with the Selected Candidates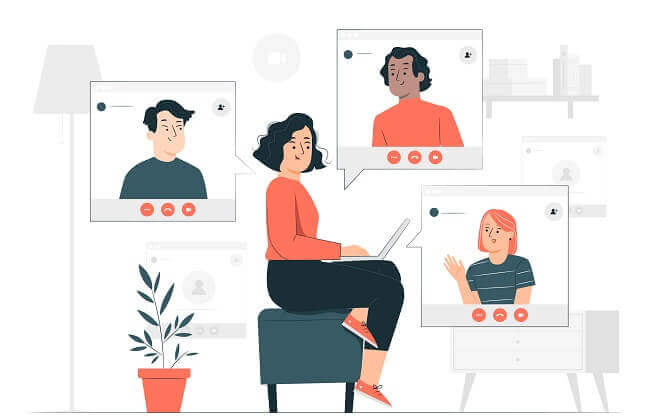 After the selection of candidates, the following phase is a face-to-face interview via video chatting.
Tips When Hiring Remote Web Developers
Find the Best Fit For a Specific Skill
Hiring remote personnel entails searching for certain abilities required to excel at remote development. Communication skills, strong cooperation skills, organisation skills, technical abilities and time management skills are some remote working qualities that can be used to screen candidates.
Clearly State Your Expectations
Candidates' key remote working qualities play a larger significance in remote recruiting. Many potential applicants may be turned down because they do not feel like a good fit.
Choose the Best Platform to Find a Remote Developer
Because so many candidates are actively seeking remote working options, they are already aware of the "top go-to places," which are not job boards like Monster and Indeed or LinkedIn networks. So, if you want to obtain the appropriate candidate, don't post your remote positions on these networks.
Check if Remote Developer is Compatible with the Company's Culture & Values
How will you assess someone's cultural and value fit? First, you must define your culture and ideals. Then, translate these concepts into assessment exams, surveys or interview questions that will allow you to assess your candidate's abilities.
Discuss SOW (Statement of Work)
The SOW document assists in matching the proper and desired skill set required for the project to be completed with the candidate's potential. The job description should include the timeframe, parameters and technical project needs.
Benefits of Remote Work/Reasons Why it is Still Important
One of the most significant benefits of remote work is that employees obtain a better work-life balance.
Employees who set their own flexible schedules are more likely to begin work at their most productive hours.
When it comes to remote cooperation, a potential team member's time management abilities become even more important.
Absenteeism and Turnover Have Been Reduced
Remote jobs are a perk that often drives people to stay in their existing work, increasing employee retention and decreasing absenteeism.
Business owners can save a lot of money on traditional office space and resources by having few people in the office. Rent, energy, equipment, furniture and amenities like coffee and snacks are all included.
Where to Find Remote Developers
A Reliable Software Development Firm
Joining forces with a reputable software development company can supply you with professional and talented remote web developers from all around the world.
Upwork assists businesses in locating competent workers who are in high demand. All you have to do is publish a job profile on the platform and it will provide a shortlist of independent pros based on the specifications of your project.
Freelancer is the largest freelancing website on the globe. You are free to publish your project here and you will automatically begin collecting bids from freelancers or remote developers.
You can browse developer profiles online or you can post a position and wait for applications.
Why Is It Better To Hire Remote Software Developers Over Freelancers?
Productivity is Important
Remote developers are much more productive because they work only for one firm. They work on a single client assignment at a time and are less distracted.
Hiring a freelancer is usually less expensive than investing in a remote developer. Investing in a remote employee can offer you an engaged and committed team member who will develop into their role with specific duties if done right.
Developing Strong Relationships
Building excellent relationships with clients and workers is also a key consideration when choosing a remote web developer over a freelancer.
This comparison will help you understand why remote developers are preferable to freelancers.
| Factors | Remote Developer | Freelancers |
| --- | --- | --- |
|  Security | A remote developer/software engineer will sign an agreement to keep the project confidential and to provide support. | Because a freelancer is an independent employee, you cannot rely on them to keep your information private. |
| Result Satisfaction | The remote web developer ensures that the solution offered meets the client's requirements. | Once the project is completed, the freelancer's responsibility is complete. You shouldn't put too much trust in them. |
| Time | Remote developers must adhere to strict deadlines and procedures. | The freelancers have numerous clients to deal with and do not adhere to the company's policies. |
| Commitment | A remote developer should be expected to show a high level of dedication. | You cannot expect complete dedication from every freelancer. |
Conclusion
New situations require new methods and solutions. Hiring front-end developer remote professionals is not only a regular practice around the world, but it is also a rapidly expanding worldwide trend for the future. Regardless of the project's complexity, duration, direction or particular, selecting the correct remote developers is critical to its success.
Social Hashtags:
#remotedevelopers #hireremotedevelopers #remotesoftwaredevelopers #remotesoftwareengineers #remotewebdeveloper #parttimesoftwaredeveloperremote #hireremotedeveloperguide #hireremotewebdeveloperstips
Frequently Asked Questions
What factors should I take into account while employing remote developers?
When hiring a remote professional, consider the following factors:
– Project complexity and business goals
– Technical competence of your team
– Level of immersion of remote developers
– Communication channels
– Features and workflow management methods
Why should you hire remote software developers?
Hiring a remote developer appears to be sensible for the following reasons:
– Enhancing productivity
– Meeting any business or project needs
– Profitability
– Adaptability and flexibility
– The possibility to execute any collaboration model
How do I go about finding a remote developer?
Hiring a remote employee involves several stages, including:
– Identifying development needs,
– Setting goals and priorities,
– Fully understanding the position and describing the ideal candidate,
– Searching for candidates while considering various hiring options,
– Screening them,
– Making a job offer and onboarding.
What are the benefits of remote work?
– Flexibility and the flexibility to put in place the ideal collaboration model.
– Providing the necessary technologies and tools.
– Changing consumer preferences and giving first-rate service
– Finding fresh prospects and turning a profit
– Having access to a global workforce, talent pool and the necessary capabilities
What does it cost to engage a remote developer in various countries?
Consider the expense of in-house technicians (in the United States) against distant professionals (in Ukraine). If a project manager in the United States is paid $75/hour, a remote specialist in Ukraine will cost $28/hour.
Hire Remote Developers Guide INFOGRAPHIC